The Synod's official periodicals, Reporter and The Lutheran Witness, were honored in April by the Associated Church Press (ACP) — winning a combined total of five awards for work published in 2010.
Founded in 1916, the ACP is the oldest religious interdenominational press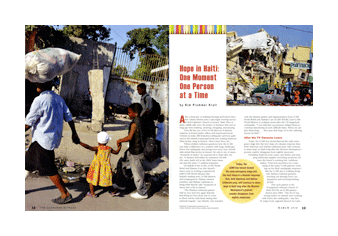 association in North America, with a membership of more than 200 publications, websites, news services and individuals.
At its annual convention, April 27-29 in Chicago, the ACP presented two "Best of the Christian Press" awards to Reporter:
Award of Merit (second place) in the category of "Convention or Meeting Coverage: News Service/Newsletter/Website/Blog" for "Women discuss leadership issues at WLI conference" (posted April 28, 2010), by Reporter Staff Writer and Reporter Online Editor Paula Schlueter Ross.
Award of Merit in "Theological or Scholarly Article" for "Confirmation: more than a 'graduation'" (September 2010 issue), by Dr. Marvin Bergman, emeritus faculty member of Concordia University Nebraska and lay ministry coordinator for the LCMS Nebraska District.
The Lutheran Witness magazine received three ACP awards:
Award of Merit in "News Story: Magazine," for "Hope in Haiti: One Moment, One Person at a Time" (March 2010 issue), by Kim Plummer Krull, a freelance writer in St. Louis and editor-at-large for the magazine.
Award of Merit in "Convention or Meeting Coverage: Magazine," for coverage of the 2010 LCMS convention in Houston (for story samples, click here and here). Named on the award are Adriane Dorr, managing editor of the magazine, and freelance writers Linda C. Hoops of St. Louis, Roland Lovstad of Perryville, Mo., and Sandy Wood of St. Louis.
Honorable Mention (third place) in the "Department" category for "Lifeline," by various authors (click here for sample); Adriane Dorr, managing editor; Vicky Schaeffer, the magazine's senior designer.
Judges for the competition included working and retired journalists and journalism professors, editors and graphics designers.
To read more about the Associated Church Press and its annual competition, visit www.theacp.org.
Posted May 16, 2011