The Rev. Robert L. Jackson, who served as president of the LCMS Oklahoma District from 1988 to 1991, died May 15 at a hospice facility in Springdale, Ark. Jackson, 84, had recently been diagnosed with advanced cancer.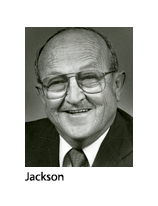 A funeral service was held May 18 at Salem Lutheran Church in Springdale.
Jackson was a 1962 graduate of Concordia Theological Seminary, then in Springfield, Ill. He served as pastor of congregations in Colorado, Kansas, North Carolina and Oklahoma, and in retirement served vacancies at congregations in Oklahoma and Arkansas.

While serving as district president, Jackson continued to serve as founding pastor of Holy Trinity Lutheran Church in Edmond, Okla.

Jackson "loved to meet people," said the Rev. Barrie Henke, current Oklahoma District president and pastor of Holy Trinity, Edmond. "He would often talk about his pre-ministry years as a used-car salesman, which well prepared him for outreach work when he accepted the call to a new church plant in Edmond, Oklahoma.

"He never hesitated to roll up his sleeves if work was to be done, whether it included wielding a hammer with the Laborers For Christ or a broom to clean the church.

"From his youth he was dubbed with the nickname of 'Stoney' Jackson," Henke continued. "This was a very fitting moniker for his ministry, as he unwaveringly defended Lutheran doctrine. He was noted for his powerful preaching and teaching, and his great love for shepherding God's people."

The Rev. Mark Krause, pastor of Salem, Springdale, recalled that in recent months Jackson enjoyed coming into the church office "at least once a week just to chat" and "would often offer challenging questions at our adult Bible class on Sunday morning to get people thinking."

Survivors include a daughter, Jennifer (Ted) Jantz of Newton, Kan.; three sons — Steve (Susan) Jackson of Arnold, Mo.; Greg Jackson of Springdale; and Cris Jackson, who is serving in Afghanistan; eight grandchildren, 11 great-grandchildren and two great-great-grandchildren.

Jackson was preceded in death by his wife, Barbara Jean.

Memorials may be made to "DCE Ministry," c/o Salem Lutheran Church, 1800 W. Emma Ave., Springdale, AR 72762.
Posted May 17, 2012 / Updated May 18, 2012