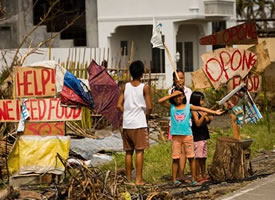 Witness how LCMS Disaster Response has partnered with the Lutheran Church in the Philippines (LCP) to bring mercy to people following record-breaking Typhoon Haiyan (Yolanda) which struck the Philippines on Nov. 8, 2013.
The storm displaced 4 million people, killed nearly 6,000 and destroyed everything in its path. Emergency food provisions and rebuilding homes and churches on the island of Leyte are part of the ongoing relief efforts by the LCMS and the LCP.
View Video
To learn more and make a gift, visit www.lcms.org/disaster.