Lutheran high school graduates who meet certain criteria now are guaranteed admission to a Concordia University System (CUS) college or university — and $1,000 per semester in scholarship aid — thanks to a new program called "Concordia Choice."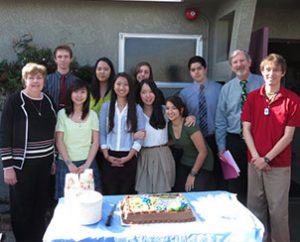 The program, launched last fall by the CUS office in St. Louis, now includes nine of the 10 CUS schools and 22 of the 90 LCMS high schools nationwide as partners.
It is intended as a way to encourage Lutheran high school students "to consider continuing their education at a Concordia," according to Dr. Gayle Grotjan, director for Cooperative Services with the CUS.
The CUS schools "are excited about connecting more closely with the Lutheran high schools," added Grotjan. "They have always tried to recruit students from Lutheran high schools, but this just makes it an intentional relationship."
The idea for "Concordia Choice" came from Mary Flett, a teacher at Pacific Lutheran High School in Torrance, Calif., and an alumna of Concordia University Chicago, River Forest, Ill. Flett, a former college counselor at an inner-city high school, shared her vision with Pacific Lutheran Principal Lucas Fitzgerald, who "contacted the right people" and got the ball rolling.
"We know that Christian education is so important for these formative years," Flett said. Students typically "get so much secular indoctrination elsewhere. Concordias are a safe place to develop ideas and mature."
Three of the 16 seniors set to graduate this June from Pacific Lutheran have been accepted into the Concordia Choice program, according to Flett.
"We display a list of college acceptances to celebrate with the students," she told Reporter. "It's great to see a Concordia on the list because we know they will receive a quality education from a Christian worldview. We also know that beyond the quality education, they will find a place where their faith can grow and they can meet lifelong friends."
Participating CUS schools are Concordia College — New York, Bronxville, N.Y.; Concordia University, Ann Arbor, Mich.; Concordia University, Irvine, Calif.; Concordia University, St. Paul, St. Paul, Minn.; Concordia University Chicago, River Forest, Ill.; Concordia University, Nebraska, Seward, Neb.; Concordia University Portland, Portland, Ore.; Concordia University Texas, Austin, Texas; and Concordia University Wisconsin, Mequon, Wis.
Together they offer more than 160 undergraduate programs in areas such as education, health care, communications and public relations, counseling and psychology, social work, sports management, theater and theology.
Acceptance to the "Concordia Choice" program is based on GPA, class rank and ACT/SAT scores, and the $1,000 scholarships are provided by the participating CUS schools.
Students interested in "Concordia Choice" are encouraged to visit lcms.org/cuscampuses to find out more about participating schools and their programs of study, church-work vocations and financial aid. Students should contact their high school principal or counselor to find out if their school is a "Concordia Choice" partner.