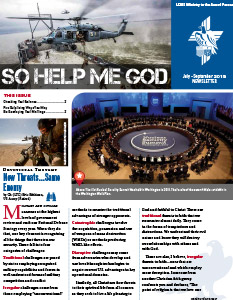 In this issue of So Help Me God from the LCMS Ministry to the Armed Forces, the ongoing need for married couples to discuss with each other where they are emotionally is discussed. An article suggesting to married couples what they can do to avoid destroying their marriage is also provided. In addition, a devotional thought to encourage readers in their faith is shared.
Download So Help Me God Newsletter
Visit lcms.org/armedforces to learn more about this ministry and the resources it provides.