By Roger Drinnon
Although 2016 brought its share of devastating disasters, the year's calamities allowed people distressed by tragedy to experience Christ's mercy and the comfort of the Gospel, thanks to caring Lutherans across the Synod.
Disaster-recovery efforts continue in Baton Rouge, California, the Carolinas and Haiti — all struck by untimely catastrophes this year.
Baton Rouge deluge
An unexpected deluge fell on the Baton Rouge, La., area Aug. 11-12, leaving houses, streets, businesses and cars underwater. More than 150,000 homes in the Baton Rouge area reportedly took on water. Some 110 homes of members of Trinity Lutheran Church in Baton Rouge were flooded; 91 of 220 homes with students attending Baton Rouge Lutheran School (BRLS) and Trinity Lutheran Child Development Center (TLCDC) were flooded; and 16 church staff members of Trinity, BRLS and TLCDC were flooded.
In the aftermath, residents and volunteers had to quickly cut away moldy sections of flood-damaged walls and remove insulation and other debris during the "muck-out" phase of flood recovery so rebuilding could begin.
"Very few people have returned to their homes [as of Nov. 7]," said the Rev. Dave Buss, Trinity's pastor. "The work is slow, the demand for building materials greatly outpaces the supply and reputable contractors are scarce. But the spirit of the people of Louisiana is strong, and God is at work providing hope through His people."
Buss helped establish Camp Restore—Baton Rouge soon after the flooding with the help of an $85,000 LCMS Disaster Response grant made possible by designated gifts from around the country. Since then, he said, the camp has hosted over 600 volunteers who have helped in more than 200 homes. He said he is thankful for the love shown to the people of Baton Rouge from across the country as the recovery continues. Care was also shown for BRLC families through emergency tuition assistance made possible by a separate LCMS Disaster Relief grant.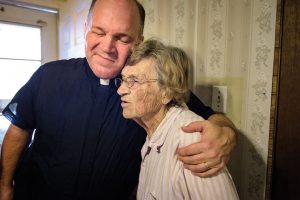 Thanks to generous, caring people in all parts of the country, LCMS Disaster Response provided over $235,000 in grants and other aid to help with recovery following both the Baton Rouge flood and this year's California wildfires. This includes providing gift cards for victims' immediate needs; supplying funds for Camp Restore—Baton Rouge; and grants to help families with children attending BRLC.
Buss said he also has distributed over $70,000 from a third grant through gift cards and Trinity has distributed some 70 "We Care" tubs. These are large tubs filled with items needed to set up a home, such as a toaster, coffee maker, silverware, plates, Bibles, catechisms and also devotional material provided by LCMS Disaster Response. The idea for the tubs came from Ellie Menz of the LCMS Iowa District West in collaboration with Lutheran Church Charities, he said, noting the gratitude expressed recently by a Trinity member who received a We Care tub and $400 in gift cards sent from across the country.
"When I went to pick up my [We Care tub], I had no idea of what I was receiving," said Trinity member Angela Phillips. "God truly blessed me in so many ways. I know I left the church for a few years. When I came back, everyone made me feel so welcome.
"And the blessings just keep coming. God has proven to me over and over He is always with me, even when I have stepped away from Him. I am blessed to be a member of this amazing church."
"Please continue to pray for the people of Baton Rouge. Please continue to come to Louisiana to volunteer —
it's a great place to visit. Your gifts of time, talent and treasure are sincerely appreciated," Buss said.
California wildfires
Not long after the flooding in Baton Rouge, wildfires ravaged homes and the landscape in the hills above San Bernardino, Calif. LCMS Disaster Response immediately partnered with the Pacific Southwest District and local congregations in Southern California to care for evacuated residents and firefighters.
"We have these fires every year, and they seem to be getting closer each year," said Arlene Hogan, a member of Faith Lutheran Church, Hesperia, Calif. "But the church has always been there for us."
Hurricane Matthew wreaks havoc in Haiti
Less than seven years after a magnitude 7.0 earthquake devastated Haiti, the Caribbean country again found itself reeling from calamity — this time by Hurricane Matthew, which fell on the Tiburon Peninsula in southern Haiti Oct. 4.
Thanks to people in the LCMS who responded in the days following each disaster, coupled with some funds already on hand for disaster-response work, two aircraft were chartered to airdrop some 60,000 packaged meals and supplies to the people in the hardest-hit areas of Haiti. On Oct. 6, LCMS leaders approved a $10,000 grant for a partner organization to coordinate the vital airdrop. To date, LCMS Disaster Response had provided $20,000 for 120,000 meals.
An additional 60,000 meals were provided by other partner organizations.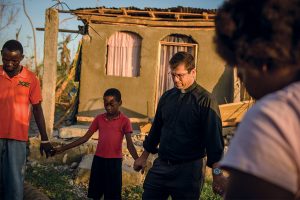 Just days after the hurricane struck, LCMS Disaster Response Director Rev. Ross Johnson traveled to Haiti to see the aftermath first-hand and help determine how best to provide additional aid to Haitian victims, including pastors and members of the LCMS partner church, the Evangelical Lutheran Church of Haiti.
"We then decided to focus on aid that government and other responding agencies were not providing to avoid duplication of effort where possible," said Johnson.
In the wake of Matthew's fury, many dwellings left standing in Haiti remain exposed to the elements, as the hurricane ripped roofs off while leaving other homes in shambles with its destructive winds of up 140 miles per hour. To make matters worse, an outbreak of cholera soon followed, leaving people struggling to find safe, clean water. LCMS Disaster Response continues to work through partner agencies to focus on providing tin roofs for pastors and churches, water wells for clean water, food and medicine.
"We began a phased response to help victims in the longer term. This also allows us to continually assess the progress of the response and adjust where needed to ensure we're responding effectively where it matters most," said Johnson. "We are partnering with [Recognized Service Organizations] and [nongovernmental organizations] that have a long track record of effectively working in Haiti and that have a good working relationship with the LCMS Office of International Mission Latin America Region."
He said the first phase began with a grant of $10,000 for emergency medicine for cholera and malaria to be distributed through Lutheran communities, $10,000 for food and $50,000 to provide roofs for the homes of 50 pastors. The food also is being distributed to Lutheran communities, materials have been purchased locally and construction has begun on 40 pastors' homes, with two homes completed. Another $10,000 was provided to help with subsistence farming, including for 1,000 laying hens and coops to shelter them, as part of a long-term sustainable food project. Johnson said LCMS Disaster Response is in the process of providing a grant for five deep, clean-water wells near the churches.
"We made an intentional choice to drill water wells near churches and to focus on stabilizing the personal situation for pastors in an effort to draw people in close to where they can hear the life-saving Gospel and receive spiritual care," said Johnson. "We do all of this in Jesus' name, because we want people in distress to hear the Gospel and receive Christ's comfort. These people experience the Lutheran church as part of Christ's Body, the very Savior who cares for them long after other relief agencies and news crews are gone."
Johnson said the second phase could begin as early as February and likely will involve as many as five more deep wells at an estimated cost of $25,000 and roofs for some 10 church properties at an estimated cost of $50,000. He noted that the extent of the Synod's response is contingent upon the funding God provides through the people of His Church.
After strengthening to Category 5, Hurricane Matthew later became a Category 4 storm as it moved through the Caribbean toward the U.S. southeastern coastline, eventually making landfall in the Carolinas.
Matthew douses the Carolinas
Not long after Johnson left for Haiti, LCMS Disaster Response Manager Rev. Michael Meyer joined LCMS Southeastern District President Rev. Dr. John Denninger, so the two could travel together through some of the hardest-hit areas in North and South Carolina, which took on torrents of rain and fierce winds as the hurricane moved up the coastline.
"In North Carolina, it was primarily a flood event," said Meyer. "Lumberton and St. Paul areas had some of the worst flooding, and we were providing spiritual care for families living in emergency shelters and distributing gift cards for essential, immediate needs."
"In South Carolina, they had a lot of rain, but they also had more wind, so there are a lot of trees down, so tree and debris removal will be key to ensuring the safety of victims in the area," said Meyer, who at the time was visiting someone who had a tree fall on her house. "We partnered with Shepherd's Heart Ministry to have chainsaw crews remove trees all up and down the coast for homeowners who are facing difficulties with insurance providers and local contractors in the aftermath of the hurricane."
"Trees were just blowing back and forth and back and forth, and I said, 'Oh boy, this is going to be scary,' " said Marion Bogle, a member of Risen Christ Lutheran Church in Myrtle Beach, S.C., as she recalled the night the hurricane struck. "Also with that was the noise of all the branches and pine cones hitting the top of my roof, which sounded and felt like a war zone. The next morning, it looked like a war zone. I had a very tall tree fall on my house; but luckily, it didn't hit my windows."
Again thanks to compassion conveyed by people across the Synod in response to the Synod's call for disaster donations, LCMS Disaster Response was able to provide more than $50,000 in grants and other essential assistance for people in the hardest-hit areas of the Carolinas.
Southeastern District disaster responders continue to call for volunteers to cut and remove tree debris and to help with home repairs, especially for the Lumberton, N.C., area. Those interested in volunteering may call Kathy Mathews at (813) 215-8098, or email Joel Matthews at Joel@MercyDisasterResources.org.
Although last year's severe floods in the Midwest and Texas are no longer making headlines, efforts to assist the affected communities carried over well into 2016. As Midwest communities struggled to recover from flash flooding in late December 2015, giving in early 2016 allowed LCMS Disaster Response to provide grants totaling nearly $98,000 and to spend nearly $67,000 to help congregations assess the damage from these disasters and to coordinate assistance for people in their communities.
St. Mark's Lutheran Church in Eureka, Mo., received one of the larger grants — $20,000 to continue flood-relief work in Eureka and its neighboring communities, as well as $5,000 to purchase a disaster-response trailer. New Beginnings Lutheran Church in Pacific, Mo., received a $10,000 grant to continue flood-relief work in its surrounding communities and also $5,000 for a disaster-response trailer. Also, Johnson purchased and delivered $11,000 in supplies to congregations in Pacific, Eureka and Watseka, Ill. He also provided a total of $6,000 in gift cards for these congregations to distribute to their neighbors with immediate needs for clothing and food.
LCMS Disaster Response also was able to provide a $14,939 grant to Lutheran Church Charities and the LCMS Northern Illinois District to purchase commercial-grade pumps and the trailers to move those pumps. LCMS Disaster Response also was able to provide more than $74,900 in grants in the aftermath of last year's flash flooding in Texas.
Recovery and relief efforts continue, even as the Synod's financial resources have been stretched by the ongoing response to this year's events and recovery work from the previous year's disasters. Contributions to support LCMS Disaster Response may be given online at lcms.org/givenow/disaster. Please make checks payable to "The Lutheran Church—Missouri Synod" (or "LCMS"). On the memo line, write "Disaster Response/Relief." Mail your donation to The LCMS, P.O. Box 66861, St. Louis, MO 63166-6861.
Gifts also may be designated for responses to specific disasters and/or affected areas by stipulating it in the memo line of checks or by specifying the designation in an email to Mission.Advancement@lcms.org. Gifts are tax-deductible, as allowed by law.
Posted November 22, 2016 / Updated December 19, 2016 to correct the Southeastern District volunteer phone number to (813) 215-8098.