By Roger Drinnon
Sudden flooding in Louisiana and homes burnt to the ground from California's wildfires have put affected congregations, districts and LCMS Disaster Response to the test, as 2016 brings its share of calamities.
Louisiana flood victims' rescue and recovery
The unexpected deluge that fell on the Baton Rouge area Aug. 11-12 left many houses, streets, businesses and cars underwater. Even as the flood subsided over the weekend, mold and various other hazards immediately threatened residents who had to be displaced until the hazards could be mitigated.
"When it started, everybody was hunkered down, then the next morning, we woke up to a lot of flooding behind our house, and I answered a call from a neighbor to launch a boat and start rescuing people out of their houses," said Carlo Paternostro, a member of Trinity Lutheran Church in Baton Rouge. "We had to find any place alongside the road where we could launch [boats] from."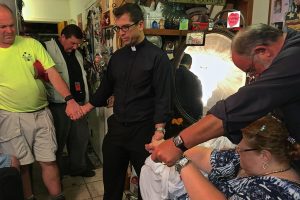 Paternostro said his boat alone brought more than 150 people to safety along with some residents' pets, and he had to be wary of hazards like the surging current, gas meters, fences and cars that sometimes were visible only by the top of an antenna.
In the aftermath of the flooding, local community residents have been looking after one another, and members of Trinity have been assisting victims while also organizing and strategizing recovery efforts.
Nearly 90 households of Trinity members alone have water in them, according to the Rev. Dave Buss, Trinity's pastor. "We had members also going out and getting people out of their [flooded] houses and into shelters and other [safe] places."
As of Aug. 23, assessments showed about 140 families of Trinity members and those who are part of its staff and school were affected overall, and about 40,000 homes were impacted by the flooding.
Thanks to generous contributions from people from across the Synod that already are making a difference in the lives of flood victims, LCMS Disaster Response was able to grant an initial $85,000 for the first phase of the response and additional opportunities for relief work are being identified. That includes $35,000 to help fund the first two months of a volunteer camp, with as many as 80-100 volunteers per week expected in the coming weeks — and more volunteers are needed. Lutheran teams already have "mucked-out" over 40 homes and they averaged 40 volunteers per day in the first week alone.
Another $35,000 grant will help families with children attending Trinity Lutheran School by supplementing their tuition through scholarships managed by the school.
"Approximately 20 percent of the students' families at Trinity Lutheran School have flood damage, and all of those families have unexpected costs, which strain their ability to keep their child in Trinity Lutheran School," said the Rev. Ross Johnson, director of LCMS Disaster Response. "The school is playing a vital role of spiritual care for the children by bringing God's word of comfort and peace to them."
Those contributing through the LCMS also are supplying essential tools, equipment and disaster-response training for volunteers during the initial muck-out phase, which involves removing hazards and debris, mitigating mold and tearing out damaged drywall and insulation in the flooded homes.
Put our own oxygen mask on first
Buss said part of the recovery strategy is to "put our own oxygen mask on first" – taking care of Trinity members along with immediately responding to the most urgent situations in the community, then Lutherans are better suited to help others over the long haul toward recovery.
"As in the past, we've been so blessed to be surrounded by very caring people who understand what the mercy of God is all about and the importance of showing mercy in the name of Jesus Christ to those who are truly in need," said the Rev. Kurtis Schultz, president of the LCMS Southern District.
"There are always three things that are necessary [after a disaster]: prayer — we always say that, but it is truly an important factor — that by far is the most precious thing we can receive from people; volunteers will be necessary; and always gifts that are available are important — those gifts allow people to have the basic subsistence of life."
Paternostro said one issue compounding the problem of recovery is that a lot of local residents dropped their flood insurance this past year, as much of the local area recently was designated as a no-flood zone.
"The first time [my home flooded] was in 2001 and was caused by Hurricane Allison — it just kind of came and sat over this area," said Joseph Parker, also a member of Trinity.
"But this flood has [affected] everybody. Now, all the insulation has to come out, and we have to peel away the walls and dry everything out. Everything that's wet has to come out, or it will mold. The longer you wait, the worse off you are. If we don't get in here and do it [soon], we lose it all."
Volunteer with Camp Restore, Baton Rouge
For more information, call 504-242-2636 or email info@camprestore.org.
California wildfires raging
As wildfires ravaged homes and the landscape in the hills above San Bernardino, Calif., LCMS Disaster Response partnered with the Pacific Southwest District and local congregations in Southern California to care for evacuated residents and firefighters.
"A lot of our members are in the fire zone, and a lot of people have been evacuated," said the Rev. Brad Viken, pastor of Faith Lutheran Church in Hesperia, Calif. "This is one of the most unusual fires these firefighters have ever fought — they haven't seen one this aggressive in the way it moves and turns … causing so much sudden destruction."
As of Aug. 26, the fires had been completely contained, leaving more than 150 homes destroyed. Early assessments showed six Lutheran families were evacuated from the fire zone and a total 82,000 people have left the area.
Once again, generous contributions from across the Synod have allowed LCMS Disaster Response to distribute $4,000 in gift cards to help families that were displaced and those who missed work and lost wages due to fires.
LCMS Disaster Response also expects more grant requests for continued response in the coming weeks. Donations also will allow for a five-day "Camp Courage" event for local children to be held as early as next spring. The VBS-style program helps kids renew their faith in Christ in the aftermath of tragedy. Local LCMS churches also are planning for an appreciation event honoring local police and firefighters.
Red sky, blood moon
"We have these fires every year, and they seem to be getting closer each year," said Arlene Hogan, a member of Faith Lutheran. "It's the scariest thing to look up at the sky and see it's red. The other night, the moon looked like a blood moon. But the church has always been there for us."
Hogan said even people whose homes have not burned down are suffering, as many roadways are blocked, so they cannot work and are without their normal wages.
In both Louisiana and California, LCMS Disaster Response is looking to partner with affected districts and congregations not only for immediate relief but also for long-term recovery.
"A lot of what we are doing right now involves assessment and initial relief assistance," said Johnson, who was on-scene in the immediate aftermath of both disasters. "But it's important for people to know that recovery, rebuilding and healing go on long after the initial responders have gone, and these disasters are no longer in the media's headlines. In many cases, it takes several years to recover."
Video update
Louisiana floods and California's wildfires put Synod congregations, districts and LCMS Disaster Response to the test. See victims, volunteers and responders discuss the latest recovery efforts. Watch video.
How you can help
Pray
Give
Congregational resource
A Disaster Response bulletin insert is available for helping congregations respond to disasters. Color and black-and-white versions are available.
---
Roger Drinnon (roger.drinnon@lcms.org) is director of Editorial Services and Media Relations for LCMS Communications.
Posted August 19, 2016 / Updated August 22 and 23; August 26; and September 22, 2016