The LCMS has joined an amicus brief for the Washington Supreme Court in support of a Richland, Wash., florist and the principle that the government cannot force Americans to use their abilities and vocation to perform services that violate their faith and conscience.
The Washington Supreme Court agreed in March to hear the case of floral designer Barronelle Stutzman, whom the state attorney general and the American Civil Liberties Union (ACLU) sued for acting consistently with her faith.
The ACLU and the Washington attorney general allege that Stutzman, the sole owner of Arlene's Flowers in Richland, is guilty of unlawful discrimination because she acted consistent with her faith and declined to use her creative skills to beautify the same-sex ceremony of a long-time customer, Robert Ingersoll, and another man, Curt Freed.
Alliance Defending Freedom (ADF) attorneys are representing Stutzman and her business in the lawsuits State of Washington v. Arlene's Flowers and Ingersoll v. Arlene's Flowers. Oral arguments are set for Nov. 15.
Although Stutzman is not an LCMS Lutheran, the outcome of her case has significant ramifications for the Synod and its affiliated institutions.
Potential ramifications include lawsuits against churches that refuse to accommodate same-sex marriages and an expanded authority for government institutions to coerce people toward violating their consciences in their vocations.
Among the parties participating in amicus briefs are 13 states, various constitutional scholars and legal experts, a wide range of religious organizations and denominations, as well as an international association of Christian photographers.
"Barronelle and many others like her around the country have been willing to serve any and all customers, but they are understandably not willing to promote any and all messages," said ADF Senior Counsel Kristen Waggoner.
"The briefs that have been filed in support of Barronelle encourage the court to affirm the broad protections that both the U.S. Constitution and the Washington Constitution afford to freedom of speech and conscience. These freedoms protect Barronelle in the same way that they protect an atheist painter's right to decline to paint a mural for a church, or a pro-same-sex-marriage print shop owner's right to decline to print materials for a rally promoting marriage as the union of one man and one woman."
According to ADF, a lower court ruled that Stutzman must pay penalties and attorneys' fees for declining to use her artistic abilities to design custom floral arrangements for the same-sex ceremony. Rather than participate, Stutzman referred Ingersoll to several other florists in the area who were comfortable promoting and participating in their ceremony.
"This case is not about refusing service on the basis of sexual orientation or dislike for another person who is preciously created in God's image. I sold flowers to Rob for years. I helped him find someone else to design his wedding arrangements. I count him as a friend," Stutzman wrote in an op-ed for The Seattle Times. "I want to believe that a state as diverse as Washington, with our long commitment to personal and religious freedoms, would be as willing to honor my right to make those kinds of choices as it is to honor Rob's right to make his."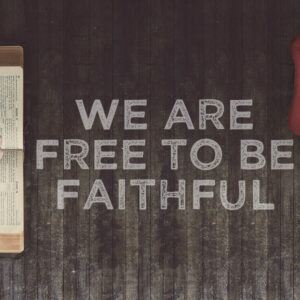 "This country has a rich history of protecting the rights of conscience and the free exercise of religion," said Arkansas Attorney General Leslie Rutledge, who led a 13-state coalition that filed a brief in support of Stutzman.
"Unfortunately, these rights have recently come under a sustained and coordinated assault even though they are the very reason many came to this country in the first place. Along with my colleagues, I am urging the Washington Supreme Court to recognize that the actions of the defendant are not discriminatory or unlawful but rather reflect sincerely held religious beliefs that should be accommodated in our pluralistic and tolerant society."
Earlier this year, the Synod in convention adopted Resolution 14-01 to encourage intentional leadership in matters of religious freedom.
To learn more about what the Synod is doing regarding religious liberty, visit its "Free to be Faithful" webpage.
To read the amicus brief the LCMS joined, click below or go to lcms.org/board/amicusbriefs.
Read amicus brief
ADF is a non-profit legal organization that advocates for the right of people to freely live out their faith.
Posted October 12, 2016