By Cheryl Magness
RIVER FOREST, Ill. — "Write the vision; make it plain on tablets, so he may run who reads it" (Hab. 2:2).
More than 350 church workers and laypeople gathered July 25-28 at Concordia University Chicago, River Forest, Ill., to take part in The Lutheran Church—Missouri Synod's triennial Institute on Liturgy, Preaching and Church Music.
For four days they studied, prayed and sang God's Word while pondering the conference theme, "The Just Live by Faith: Make This Plain in Sermon, Service, Song."
The Rev. William Weedon, director of LCMS Worship, said the theme was chosen in conjunction with the 500th anniversary of the Reformation: "We thought right away of the seminal text for Luther's joyous Gospel 'aha!' That led us right to Habakkuk and there it was, staring us in the face."
Serving as bookends to the conference were two new arrangements of Divine Service, Setting Five, which uses chorales in place of the ordinary, or regular, canticles of the liturgy.
Jacob Weber, cantor at Emmanuel Lutheran Church and School in Dearborn, Mich., composed a version suitable for congregations with smaller musical resources, and Jonathan Kohrs, assistant professor of music at Concordia, Chicago, composed one for those with more extensive resources.
Both versions are available for purchase from Concordia Publishing House ($65 each, plus shipping).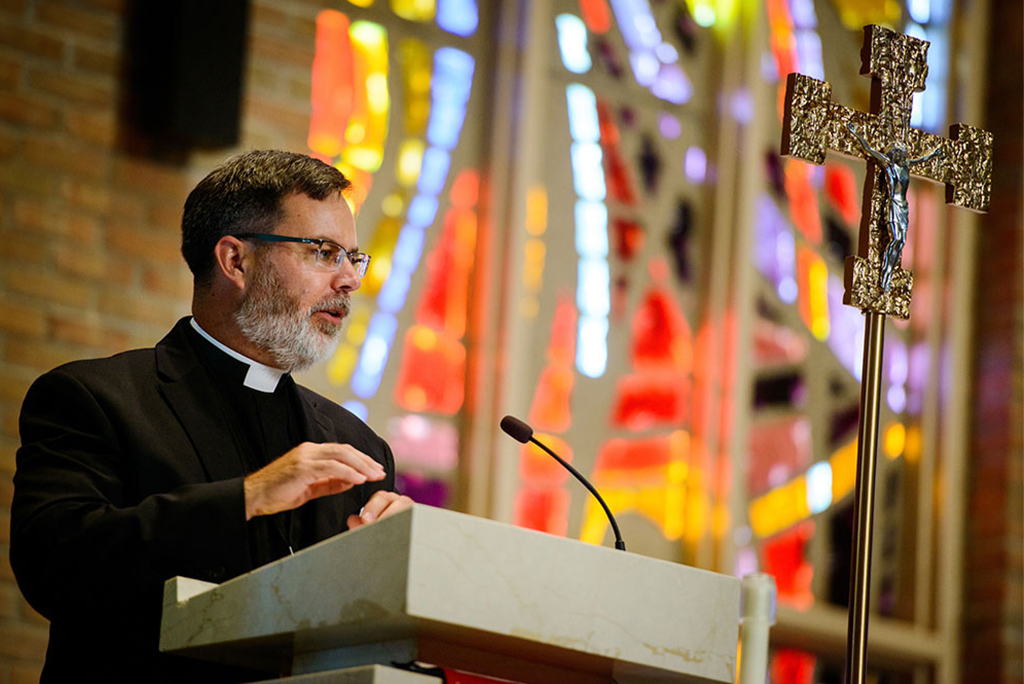 Making it plain in sermon, service and song
The "make it plain" theme was prominent throughout the conference, particularly in the three plenary addresses. The Rev. David H. Petersen spoke about making it plain in the preaching; the Rev. William M. Cwirla about making it plain in the liturgy; and Kantor Kevin Hildebrand about making it plain in music. (The plenary presentations will be posted online by LCMS Worship in September.)
The Rev. Dr. Daniel L. Gard, president of Concordia, Chicago, provided daily Bible study on the book of Habakkuk, noting that Habakkuk himself was a preacher, liturgist and musician.
Also featured were over 50 presenters teaching on such varied topics as acoustics; catechesis; children in church; engaging youth in music ministry; singing the psalms; instruments in worship; strategies for organists, choir and handbell directors; day school chapel; chanting; and bilingual worship.
There were also reading sessions enabling participants to experience new musical resources for organ, voices and instruments.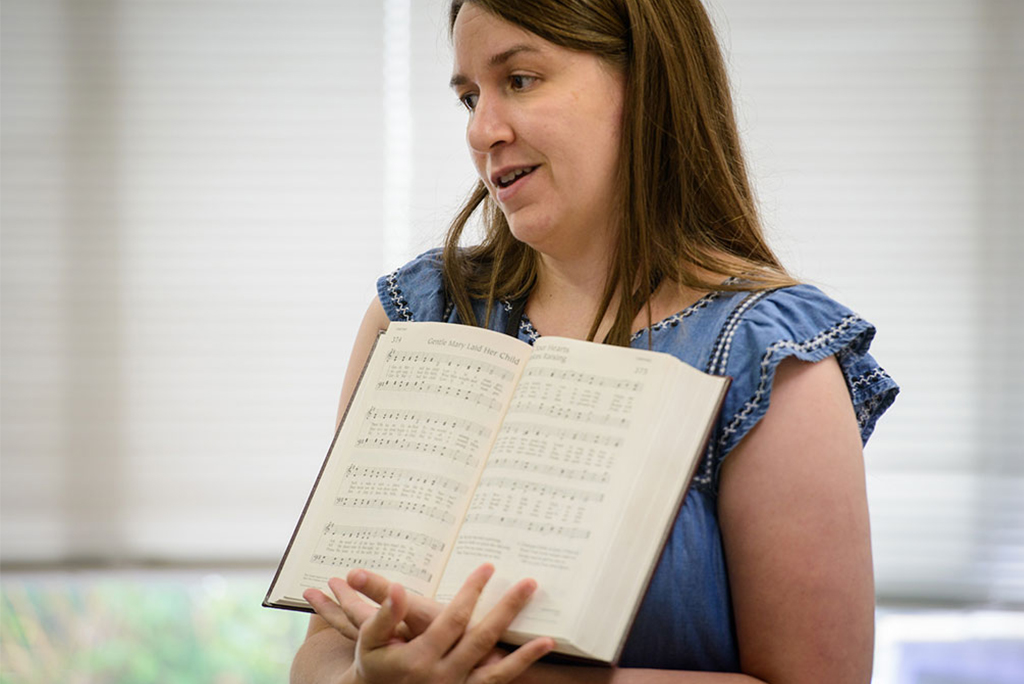 Serious study, serious fun
Not only was there serious study at this year's institute, but serious fun as well.
A high point of the week was a concert by The National Lutheran Choir under the direction of David Cherwien. The program, "Una Sancta," was an uninterrupted musical meditation on the work of the Holy Spirit, with applause held until the very end.
Selections ranged from Palestrina, Luther, Schütz and Bach, to Widor, Hogan, Orbán and Arnesen, celebrating the Spirit as the One who calls, gathers, enlightens, sanctifies and sustains the Church. In an insert to the concert book, LCMS Worship expressed its gratitude to Dr. Robert H. Duesenberg for his contribution to making this event possible.
There were also lunchtime recitals by organists Samuel Eatherton and Dr. Tom Mueller; multiple opportunities for worship, including Matins, Evening Prayer and Corporate Confession and Absolution in addition to the opening and closing Divine Services; and nightly Gemutlichkeit ("good cheer") receptions underwritten by Lutheran Church Extension Fund, the LCMS Foundation, the Lutheran Federal Credit Union and MorningStar Music Publisher.
On the conference's final evening, participants celebrated the hymn writing of Martin Luther in a festival that included adult and children's choirs, brass, percussion and, of course, organ. The assembly joined in singing many beloved Luther hymns, including "Dear Christians, One and All, Rejoice"; "Come, Holy Ghost, God and Lord"; "A Mighty Fortress Is Our God"; and "Christ Jesus Lay in Death's Strong Bands."
In addition, a lute and recorder trio added a medieval flavor to the assembly's singing of "From Heaven Above to Earth I Come" — all 15 stanzas!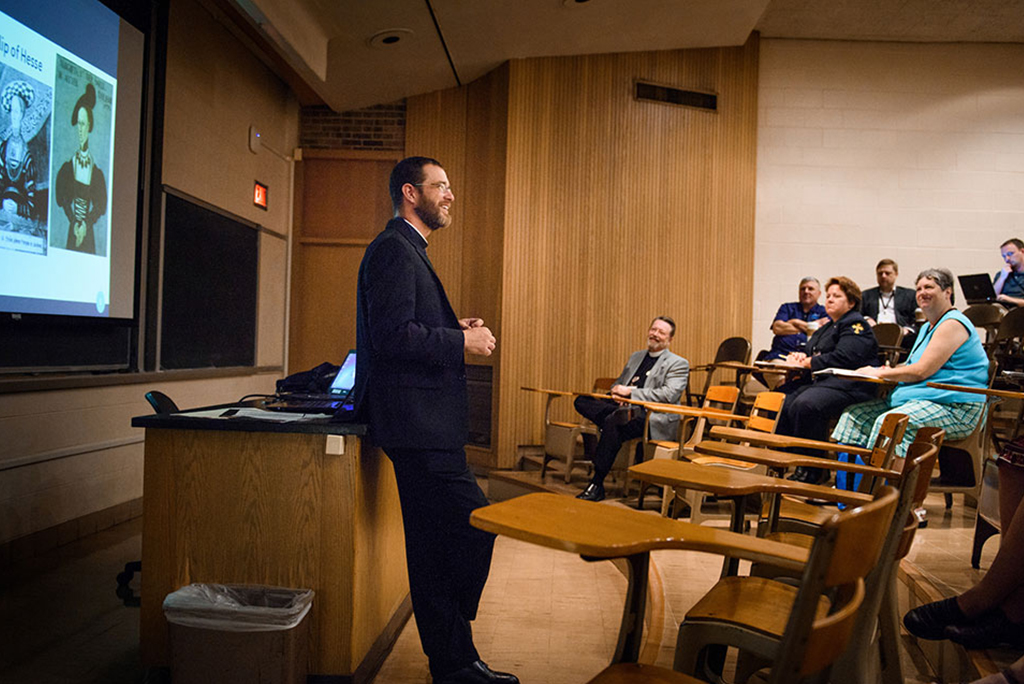 'Beating heart of the Gospel'
In his greeting to conference registrants, LCMS President Rev. Dr. Matthew C. Harrison described the event's theme of justification as "the beating heart of the Gospel … that prompted an explosion of song and renewal in worship . . . [that] reverberates to this day."
That same reverberation is what Weedon stated he most wanted participants to take home from the week, as he urged them to continually ask, "What do our sermons, our services, our music actually confess?"
According to the 2017 institute, the answer is plain: "Jesus Christ it is!"
Cheryl Magness (clmagness@gmail.com), a freelance editor for LCMS Communications, will join the staff Aug. 16 as staff writer and editor of Reporter Online.
---
Worship Institute video interviews
Hosted by Peter Slayton of LCMS Communications
View photo gallery
Posted August 7, 2017 / Updated August 8, 2017