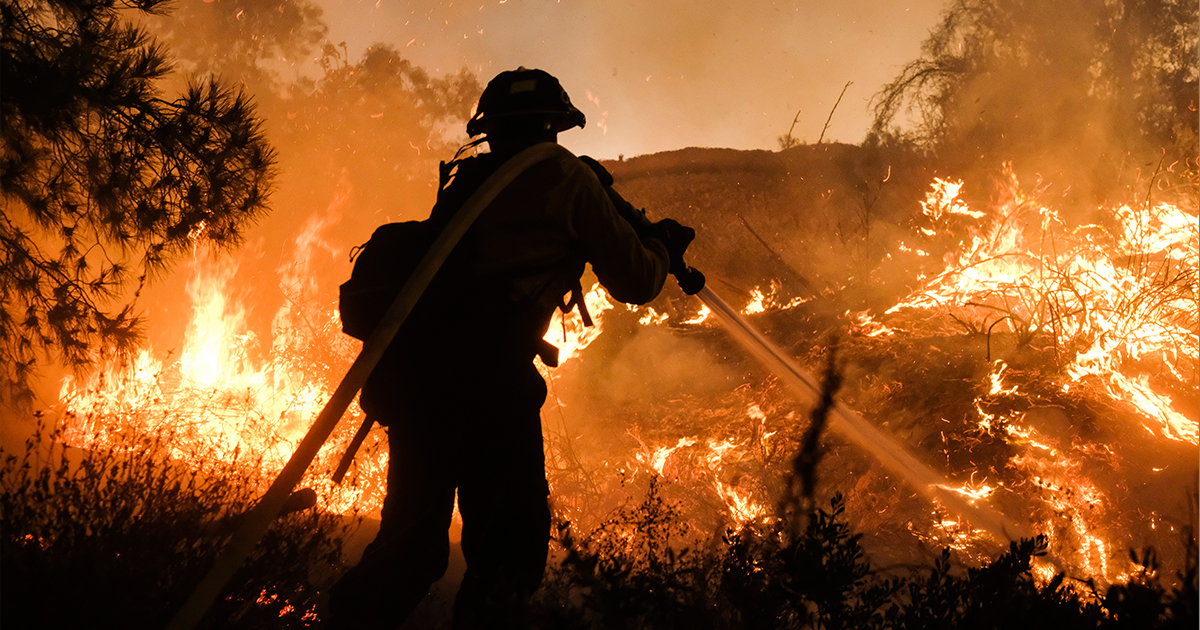 By Tiffany Silverberg
California is on fire.
Since mid-July, a group of complicated and ever-changing wildfires have destroyed the landscape and property in their paths, notably the Carr Fire in Shasta and Trinity counties and the Mendocino Complex Fire covering Colusa, Lake and Mendocino counties.
On Aug. 7, the Mendocino Complex Fire became the largest wildfire in recorded state history, spanning nearly 300,000 acres. As of this writing, it is 69 percent contained
The Carr Fire currently covers over 200,000 acres with 61 percent containment. It has taken the lives of at least eight people, including two firefighters.
Several LCMS congregations have been affected directly by these fires. Trinity Lutheran Church and Early Learning Center in Redding, Calif., is only two miles from the flames of the Carr Fire.
According to the Rev. Brian Cummins, pastor at Trinity, 44 church members have had to leave their homes.
The Rev. Chris DelCol, pastor at First Lutheran Church in Lucerne, Calif., reports that not only was the church evacuated, but all of First Lutheran's members also had to leave their homes.
And while St. John's Lutheran Church in Clear Lake, Calif., remains open, some members had to evacuate.
Carr Fire
According to the Rev. Philip Zabell, district disaster response coordinator for the LCMS California-Hawaii-Nevada District, the Carr Fire "appears to be winding down."
At its height, over 30,000 people were displaced from their homes. Most, except those in rural areas, have returned.
Over 1,000 homes, however, were destroyed, leaving many on the long road to rebuilding. There are still active firefighting efforts underway, with almost 5,000 personnel assigned to this fire.
Trinity, Redding, is the LCMS church most impacted by the fire. Cummins reports that while none of his church's members have lost their homes, some of their extended family have.
Cummins stresses that his goal is to keep as much normalcy as he can for his congregation and the community. Church services, Bible studies and visitations have stayed on schedule, and the preschool remains open.
Cummins is in contact with the members who evacuated, many of whom are staying with other church members. He is encouraged by the mutual support and constant prayers he sees among his congregation.
"God is the only place for us to turn for peace," Cummins says. "It is important for us as individuals and as a congregation to be Christ to each other and our community."
LCMS Disaster Response has sent 300 of its devotional booklets, "The Lord's Mercy Endures Forever," to Trinity, along with funds for purchasing gift cards to serve the immediate needs of those displaced. The Synod has also approved an emergency grant of $10,000 for Carr Fire Assistance.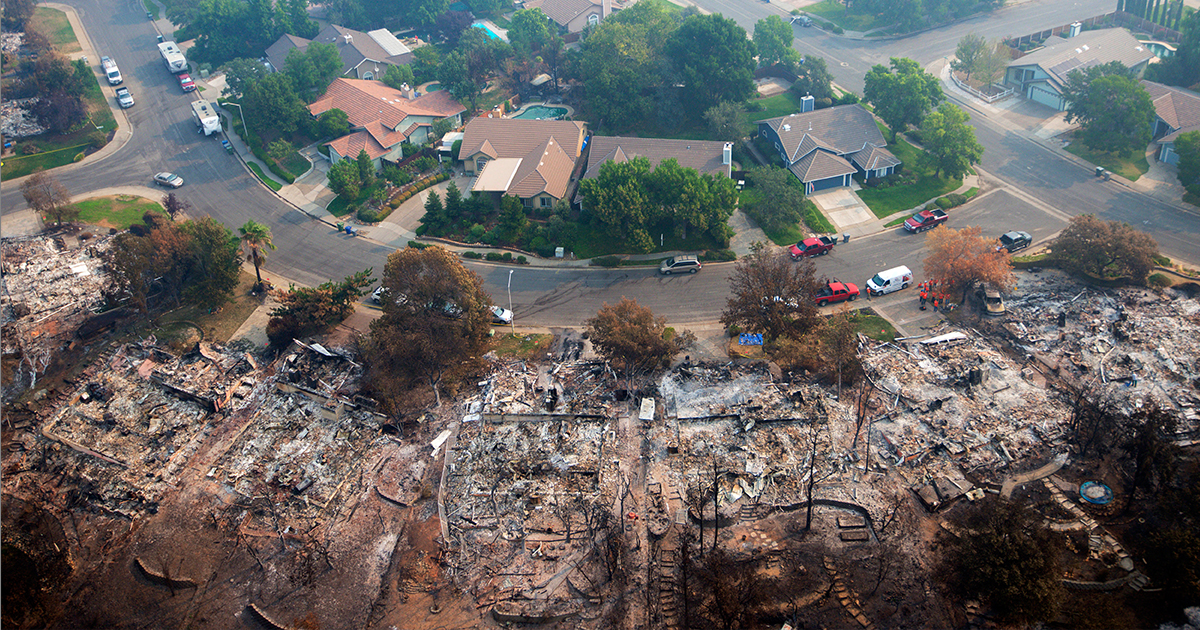 Mendocino Complex Fire
According to Zabell, the Mendocino Complex Fire — three hours southwest of the Carr Fire in an economically impoverished area — is "becoming increasingly more threatening."
At the height of the blaze, over 40,000 people were forced to evacuate. As of Aug. 8, 116 homes had been lost, and over 10,000 structures were still threatened.
DelCol explains that the area, one of the poorest in California, has been hit by fires multiple times over the last few years, making rebuilding and recovery daunting.
With the power grid currently down, DelCol expects that the most immediate need is food.
First Lutheran shares frozen goods with residents every third Sunday of the month. When the town was evacuated, the food was left behind to spoil.
Due to the evacuations, the church hasn't held services in weeks. DelCol requests prayers "that we can soon bring everyone back [to their homes] and return to Word and Sacrament ministry."
When people are able to return to what's left of the towns, they will need help with housing and daily needs.
First Lutheran has set up a fire recovery fund at the Umpqua Bank in Lakeport, Calif. Those interested in donating can contact the bank directly at 707-263-7500 or visit flclucerne.org for more information.
Comfort dogs bring encouragement
Lutheran Church Charities (LCC) K-9 comfort dogs and their handlers arrived on the scene of the fires July 28 and have been offering encouragement to firefighters and first responders as well as victims.
"When you pet a dog, it lowers your heart rate," explains LCC President and CEO Tim Hetzner. "[We] talk with the dog and then the human. And then … we have a quiet prayer with them."
As fires change, move or emerge, the dogs and their handlers also move near those needing comfort. LCC rotates dogs every five to seven days and plans to stay on-site with the dogs as long as they are needed.
In addition, LCC partners with local LCMS churches to funnel donations to victims of the fires through those congregations and their contacts. Hetzner notes that things don't immediately return to normal once the fires are out.
Instead, he says, "there will have to be a new normal. But in the midst of crisis, God works in mighty ways."
To learn more about donating to disaster relief or to California wildfire victims specifically, go to lutheranchurchcharities.org.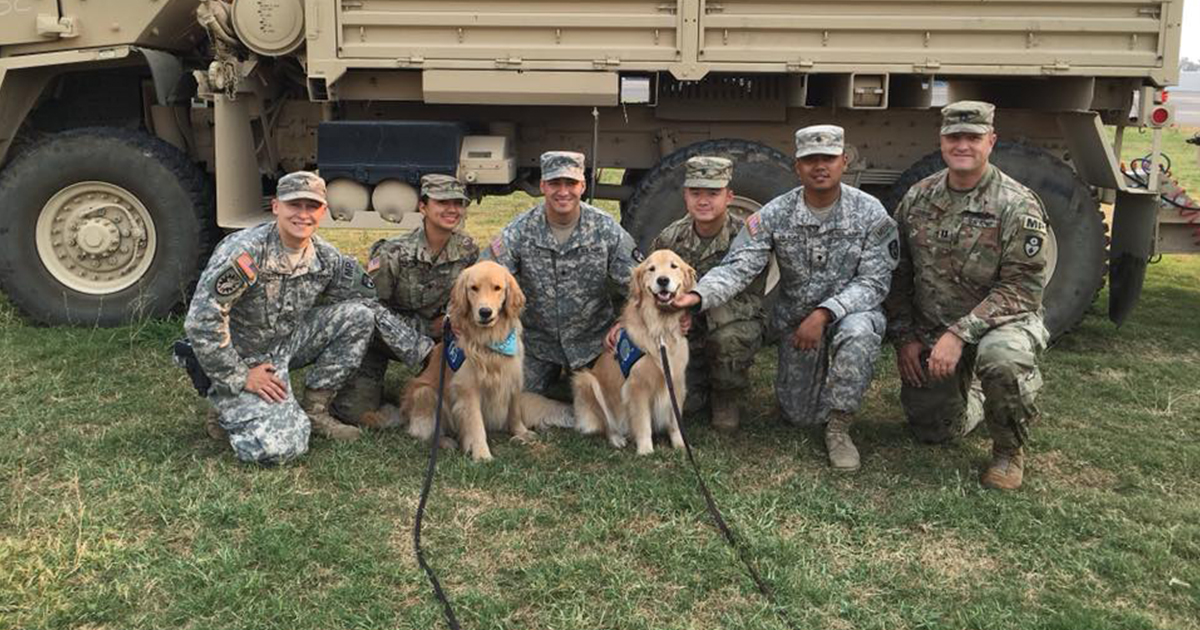 More ways to help
California-Nevada-Hawaii District President Rev. Michael Lange reminds those interested in helping that the recovery is slow and long for these types of situations. The immediate needs of people include food and grocery cards as they begin to return to what is left of their homes.
Over time, they will require housing assistance and other aid. The district has committed to donating funds collected in August to the victims of this summer's fires. To learn more about how to help, go to cnh-lcms.org.
"I would encourage people to pray, very intentionally, for firefighters and linemen," Lange urged. "They are out there for days. It's exhausting and dangerous. Let's continue to pray for them and their families."
Tiffany Silverberg is a freelance writer and copy editor who covers a range of topics. 
Posted Aug. 16, 2018