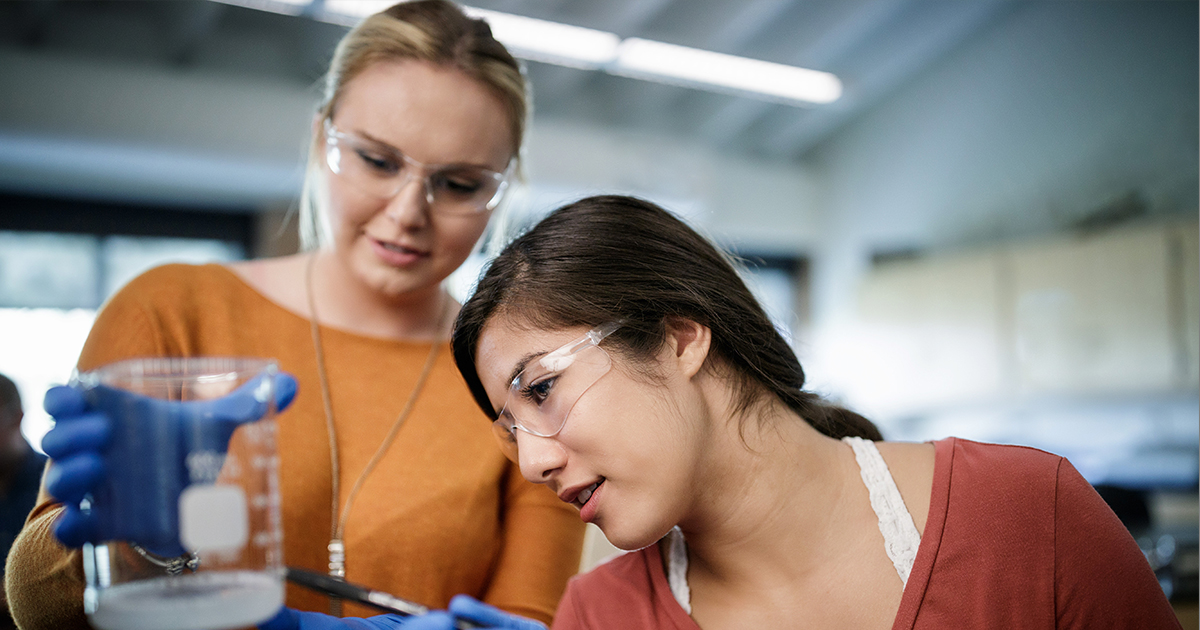 By Jayne Sheafer
"In the very competitive context of higher education, our gifted CUS presidents and their recruitment teams have achieved continued growth through agility in their academic programming and commitment to excellence," says Concordia University System (CUS) President Rev. Dr. Dean O. Wenthe.
Although recent years have brought significant challenges and changes, most notably the closing of Concordia College Alabama, Selma, Ala., Wenthe notes that the universities of The Lutheran Church—Missouri Synod (LCMS) continue to fulfill their mission.
"Not only the academic offerings, but the entire culture and life of the institutions are made all the more attractive by the commitment to Christ 'in whom all things hang together' [Col. 1:17] — including all learning and clear Lutheran identity."
A 'commitment to Christ'
That "commitment to Christ" is exactly what brought freshman Jess Muehler to Concordia University Chicago (CUC), River Forest, Ill.
"As soon as I set foot on campus at CUC," Muehler said, "I knew that [God's] ways are so much greater than my ways. After experiencing the love of Christ that so many people on this campus embody, I understood that my vocation in life was to educate others, not only academically, but also in the love that God has for us."
CUC welcomed 395 freshmen this fall, its largest freshman class ever. In addition, CUC's combined graduate and undergraduate enrollment reached an all-time historic record of 6,005 students.
CUC President Rev. Dr. Daniel Gard attributes the growth to "collaboration and coordination among all university departments" and a faculty and staff that ensure "a high level of personalization in all interactions with all our students — those returning to Concordia, Chicago, and those who have chosen to enroll for the first time, either to pursue an undergraduate or graduate degree."  
New programs, opportunities
CUS schools are developing a variety of new initiatives.
Concordia University, Nebraska (CUNE), Seward, Neb., plans to launch a hands-on agricultural science degree in 2019 that includes internships with local farmers, ranchers, land owners and agribusiness companies. Students will gain real-world experience in the agricultural field while taking classes from experts who have worked in agriculture and agribusiness.
"I am most excited … because of the opportunities of a small ag program at a Christian college," says student Joshua Schick. "Agriculture is a beautiful gift from God because we get to see His creation every day. Whether that may be studying genetics in corn breeding or in cattle, or learning how certain organisms contribute to soil health, we learn that God is in everything."
CUNE is the only Lutheran higher education institution to offer an agricultural program such as this. The program's launch is planned for 2019, pending accreditation from the Higher Learning Commission. 
Serving Hispanic students
Meanwhile, with full-time equivalent Hispanic undergraduate enrollment at 30 percent — the largest Hispanic student population of all CUS schools — Concordia University Texas (CTX), Austin, recently acquired Hispanic Serving Institution status from the Hispanic Association of Colleges & Universities.
"The cool thing … is that if you want to start something, it's pretty simple to get it going on campus," says Grace Nemec, a current CTX student. "Everyone is so open to supporting new ideas and activities. … We are able to experience our culture and share it with others."
Expanding health-care training
Several other CUS schools are expanding how they prepare future health-care workers.
Concordia University, Ann Arbor (CUAA), Mich., recently added another state-of-the-art, pediatric mannequin to its simulation lab. CUAA is among the first universities in the nation to acquire the latest sophisticated piece of medical training technology. It will be utilized by students in Concordia's nursing and child-life programs to help them practice and prepare for real-life situations.
Students at Concordia, Ann Arbor's, sister campus, Concordia University Wisconsin (CUW), Mequon, Wis., are benefiting from new learning space with a multi-functional lab for practicing clinical skills. The lab, which was carefully created to mimic a real clinical setting, is being utilized by students in the Occupational Therapy, Physical Therapy and Physician Assistant programs.
Older students and career-changers have a valuable option in the Post Baccalaureate Nursing Program offered at Concordia College New York (CCNY), Bronxville, N.Y. The program allows people who already hold a four-year degree to complete a Bachelor of Science in Nursing in 15 months.
The Doctor of Physical Therapy degree from Concordia University, St. Paul (CSP), Minn., is one more route for future health-care workers. CSP graduate student Maddy Swaim, who is halfway through the program, believes it is preparing her well.
"Classes are always hands-on," Swaim says, "and we are learning the most up-to-date skills for treating patients. Physical Therapy is a rewarding career, and I'm excited for a future of helping people and building relationships with clients."
Enhanced learning through partnerships
Partnerships between CUS schools and outside agencies and institutions are also creating more opportunities for students.
Concordia University, Portland (CUP), Ore., is increasing students' access to the latest technology curriculum, thanks to a growing collaboration with Tech Academy, a Portland trade school. Tech Academy serves as subject matter experts and content creators, while CUP is responsible for curriculum design, instruction and assessment of student learning.
After a successful pilot-program launch in 2017, CUP students now have increased access to a five-course sequence in computer and software development through the university's School of Management.
"After taking Concordia and Tech Academy's computer and software fundamentals online, I realized these are lifelong skills that all business majors can benefit from," says Judd Lewis, a CUP senior and accounting major. "Employers are definitely looking for graduates who are tech-savvy and can get things done faster and more accurately."
Another West Coast school, Concordia University, Irvine (CUI), Calif., is committed to a transfer pathway between the Association of Independent California Colleges and Universities (AICCU) and the California Community Colleges Chancellor's Office. The pathway is designed for community college students graduating with an Associate of Arts for Transfer or an Associate in Science for Transfer from a California community college, guaranteeing them a spot when transferring to a participating AICCU four-year independent, nonprofit college or university.
"Concordia's commitment creates new opportunities for transfer students to access and attend a university that best fits their educational goals and values, and increases their ability to succeed," says CUI Provost Dr. Peter L. Senkbeil.
Upturns in enrollment
In addition to CUC, several other CUS schools are reporting enrollment increases. CUAA has reached its highest enrollment mark ever, and is also boasting a 10 percent increase in its retention rate.
CCNY reports a 9 percent increase in fall enrollment, and CSP has exceeded the 5,000-student mark in total enrollment for the first time in its 125-year history.
Meanwhile, CUNE welcomed 428 new undergraduate students for the fall term, leading to a full-time undergraduate enrollment of 1,247 students on the Seward campus, the highest enrollment in 45 years.
The November Lutheran Witness "State of the Synod" issue includes full CUS enrollment figures for 2017–18. Final figures for 2018–19 will be tabulated this spring. 
CUS offers a variety of academic programs to prepare men and women for successful careers. But CUS President Wenthe stresses that "beyond excellent academic programs and robust social/sports opportunities, the crowning jewel of the student experience at a Concordia University is the care that is expressed for each student's soul … [with] every aspect of campus life … enriched by the conviction that every human being is made in the image of God and the object of God's affection in Christ.
"A beautiful world unfolds for each student as they serve God and neighbor in light of God's saving work and the gift of eternal life," Wenthe notes. "This is in marked contrast to the prevailing assumption in many segments of higher education that men and women are only material and transitory creatures with no future beyond the present experience of this world."
To learn more about the Concordia University System, visit cus.edu.
Jayne Sheafer (sheafer88@gmail.com) is a writer and editor in Fort Wayne, Ind.
Posted Dec. 4, 2018