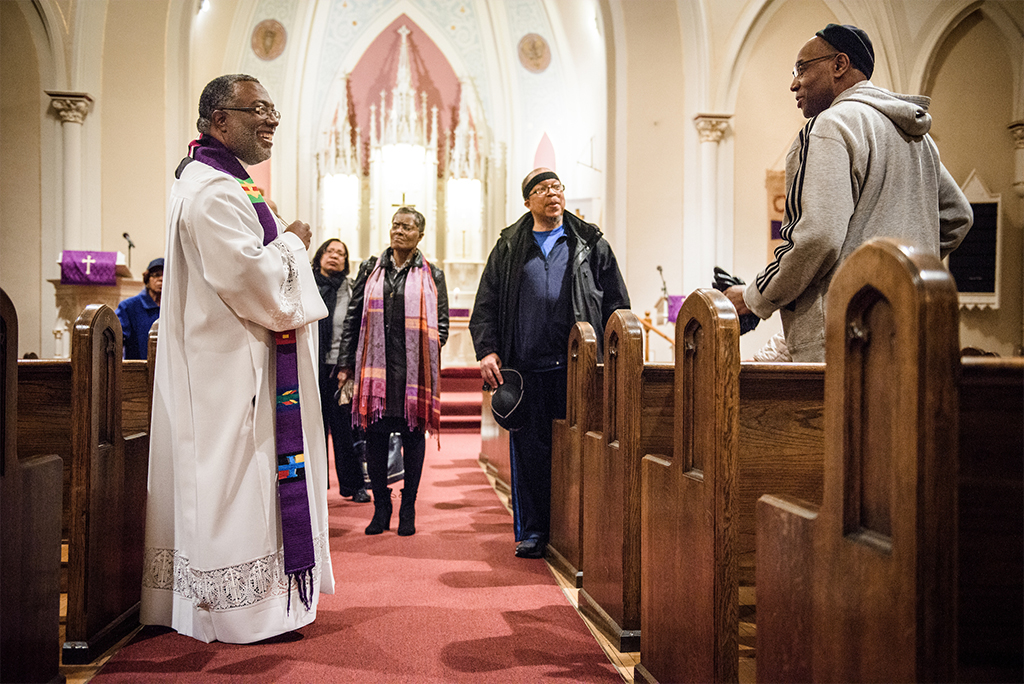 By Jeni Miller
Planting a new church may seem like an insurmountable task, but there is now a new online training resource that "anyone can use," says the Rev. Dr. Steve Schave, director of LCMS Church Planting and Urban & Inner-City Mission with the Office of National Mission.
The resource, available at lcms.org/churchplanting, consists of four one-hour video and audio training modules that lead individuals and congregations through all the material in the 2017 guidebook, Mission Field: USA — A Resource for Church Planting.
The four modules — which follow the guidebook's framework of Witness, Mercy, Life Together — are:
Module 1: A Resource for Church Planting,
Module 2: Life Together in Church Planting,
Module 3: Mercy in Church Planting, and
Module 4: Witness in Church Planting.
According to Schave, this resource is a "companion piece to the new print guidebook, but it is the first of its kind for the LCMS. This self-paced tool is simple to use and can be completed fairly quickly. It provides the theological background needed for church planting and also a nuts-and-bolts, step-by-step approach to chartering a new congregation."
He adds that the tool includes "new multimedia, reflection questions and interactive quizzes," and the online learning platform remembers the user's progress so he can come back to continue the module and finish at his convenience.
This online tool comes at a time when new church plants are needed more than ever. Schave emphasizes that the United States is the "third-largest mission field in the world," and opportunities to share the Gospel abound, especially in urban areas. "The development of this resource is in keeping with the rapidly changing landscape of the U.S., as the world is literally coming to our doorstep."
While the church planting online tool and guidebook are, in some ways, one-size-fits-all, Schave believes the tool is flexible enough to "fit around any context."
"This new resource is being made available to assist congregations and districts to start new missions to new people in new places," explained Schave. "Whether it is planting, replanting, or a new mission to serve the community, this tool can help. It is a single resource, but was developed to be flexible enough to fit an individual context."
The online tool is part of an initiative called Mission Field: USA that is focused on equipping churches to engage in planting new missions in the United States.
The 2017 guidebook, which was mailed early last year to all LCMS districts and other church-planting entities and is available online, provides a framework for understanding the why, what and how of planting new LCMS churches in the United States. The print resource is available from Amazon.com for $14.99 plus shipping.
According to the foreword of the guidebook, the resource "aims to provide the theological underpinnings for doing Lutheran missions in order to help a core group in developing their shared identity in what it is to be the Lutheran Church" as well as offering a "practical step-by-step approach to go from forming a core group to chartering a new LCMS congregation."
To do this, Mission Field: USA comes alongside the districts of the LCMS to help congregations identify the needs in their community and strategize to bring Word and Sacrament ministry to those who would otherwise go without.
The e-learning tool and guidebook are a jumping-off point for preparing congregations for this work, but it's not the end of the support from LCMS Church Planting.
"While learning the content is extremely valuable, LCMS Church Planting is also there to help with the ongoing coaching that will be needed," adds Schave. "This new resource, then, is one of many important pieces to reaching the least and the lost through Word and Sacrament ministries that serve their neighbors in love."  
Additional details about the guidebook and training resource are available online.
More information about Mission Field: USA will be available as a four-page insert in the March issue of Reporter.
Deaconess Jeni Miller (mrs.jenimiller@gmail.com) is a freelance writer and member of Lutheran Church of the Ascension in Atlanta.
Posted Jan. 19, 2017