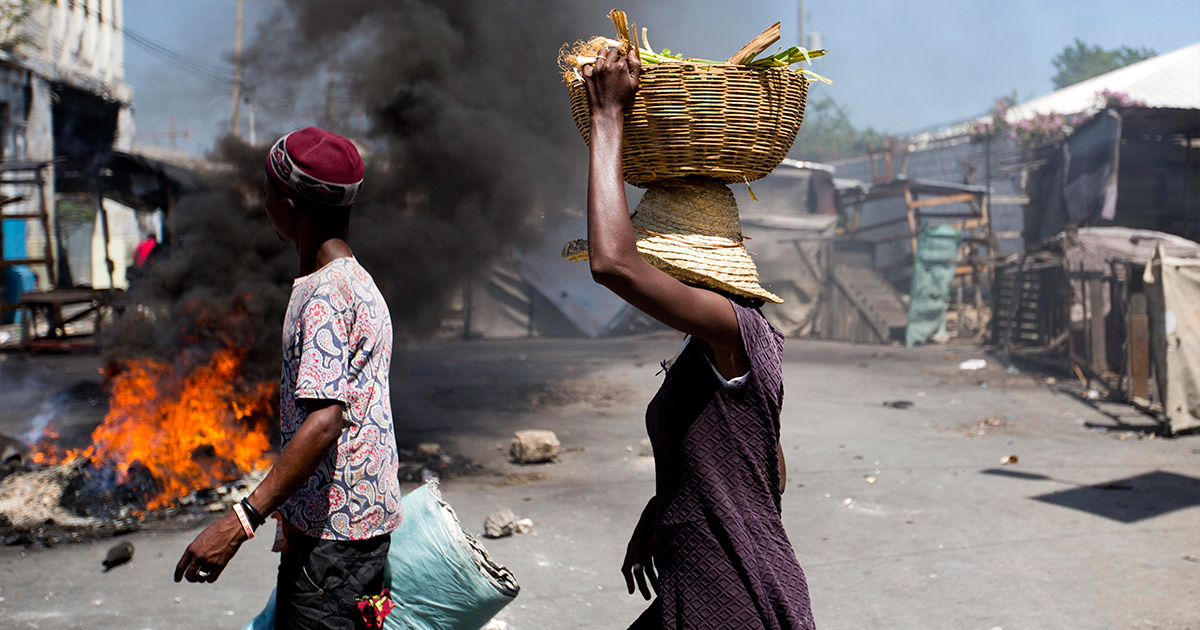 Download "Know Before You Go"
By Cheryl Magness
"I … thought I was going to die."
So said Savannah Peek, member of a mission team from North Albermale Baptist Church, Albermale, N.C., following her return to the states after being caught up in the recent violence in Haiti.
Peek and her companions were staying at a Port-au-Prince hotel when protestors broke in with guns and attempted to set the building on fire.
"We heard gunshots start and they were very close," Peek recalled. "[W]e all dropped immediately to the ground. We're all on our hands and knees. Everyone's screaming, everyone's crying."
The protestors were rioting in response to the Haitian government's intention to raise gas prices by 50 percent. The price hike was later suspended, but protests continued.
As numerous mission and church groups tried to make arrangements to leave the country, some airports were temporarily closed, complicating efforts of the groups to get home.
The Synod is not aware of any workers or congregation members currently in harm's way in Haiti. However, on July 9, the U.S. State Department increased Haiti to Level 4, or "Do not travel," on its travel advisory scale.
On the same day, the U.S. Overseas Security Advisory Council described the situation in Haiti as one of "widespread civil unrest," warning that "protests, tire burning, and road blockages are frequent and unpredictable" and that "the U.S. government has limited ability to provide emergency services to U.S. citizens" at this time.
The Rev. Ted Krey, regional director for LCMS mission work in Latin America and the Caribbean, said of the unrest:
"We pray for our brothers and sisters … that the Lord would shield them from bodily harm and grant them His peace as they trust in Him in this most uncertain of times. We pray for a return to stability and that the Lord would bring quick resolution to this crisis."
The situation in Haiti highlights for Christians how important it is not only to show mercy to the suffering, but also to be guided by wisdom while doing so. 
Unrest and violence typically come at the hands of the few, not the many, but those few can put many at great risk.  
Weighing risks and rewards
Erin Alter, director of LCMS Short-Term Mission Teams, says that the question for a mission group considering whether to travel is always a matter of weighing the risks against the rewards:
"Risk entails how likely it is that something dangerous will happen, and if it does, what the consequences are. Those consequences have a ripple effect.
"They start with the individual involved, but they spread out dramatically — to the congregation … the leaders in charge of the trip, to the families that are impacted, to the partner organization on the ground. Not all are necessarily bad consequences, but they have to be considered.
"Then you have to weigh that risk against the reward that would come if you went. Is it worth it to risk that for the sake of a water project? What about for the sake that someone might hear the Gospel? Is that the only time they will have the chance to hear the Gospel? Could it be done later? If it all goes wrong, what are the long-term impacts to that ministry vs. the immediate negative impact of having a team cancel?"
At the least, before planning a trip, whether for mission work, business or pleasure, all travelers should fully research conditions in the area to which they are traveling.
Preparing for travel
Concilium, a Christian security training, analysis, and consulting organization, published a report earlier this week stating:
"In our opinion, this crisis should further motivate Christian organizations and churches in the future to
1) brief their teams, including every volunteer, on contingency plans for various types of emergencies in order to minimize shock and panic;
2) establish private relationships in advance that can be used to quietly arrange shelter or evacuation in a crisis;
3) educate their teams, especially every volunteer, on wise social media usage; and
4) ensure that teams traveling to Haiti have a comprehensive travel insurance plan that includes both medical as well as geo-political evacuation coverage."
The LCMS has developed a "Know Before You Go" list of suggestions and resources that may be helpful to those contemplating travel abroad. That list is now available at lcms.org/service.
Those planning travel abroad should first check with the State Department to find out current conditions, as well as with the Centers for Disease Control and the U.S. Embassy in the country of travel.
Anyone interested in learning more about how to travel safely abroad is invited to contact the Church Information Center at 888-843-5267 or infocenter@lcms.org. If there is sufficient interest, a webinar will be planned for a future date.
Download "Know Before You Go"
Posted July 13, 2018