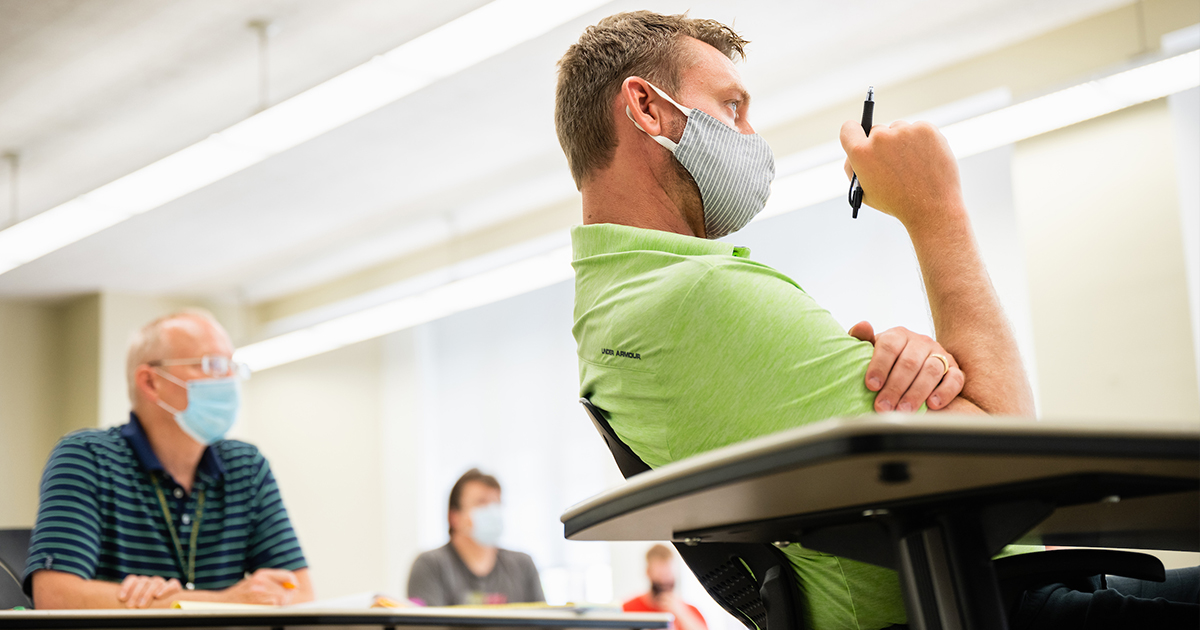 By Cheryl Magness
The Lutheran Church—Missouri Synod's (LCMS) institutions of higher education had to close their campuses in March due to the national COVID-19 shutdown, but that didn't stop them from serving students through alternative forms of instruction. 
Now, as they face variety of continuing guidelines and restrictions, the schools of the Concordia University System (CUS) and the two seminaries are making plans to return to class as safely as possible this fall. As circumstances are changing rapidly, please consult each institution for the most up-to-date information. 
An 'uncommon return' to class
"We have an obligation to our students, our state and our society to continue to fulfill our mission of preparing students 'for thoughtful and informed living, for dedicated service to God and humanity, for enlightened care of God's creation, all within the context of the Christian Gospel,'" said the Rev. Dr. Brian Friedrich, president of Concordia University, St. Paul (CSP), St. Paul, Minn. "As we navigate the coming months, the measure of our success is not just to get through this pandemic, but to emerge from it stronger."
The Rev. Russ Sommerfeld, interim president of Concordia University, Nebraska (CUNE), Seward, Neb., said, "The health and safety of the Concordia community — her students, faculty and staff — as well as our ability to maintain an integrated physical learning and development environment, depends on a mutual commitment of caring and looking out for others."
Friedrich's and Sommerfeld's sentiments are widely shared among their colleagues, who seek to continue delivering meaningful instruction while keeping staff and students as safe as possible. Campus reopening plans are not identical across the Synod's higher education landscape, but some common features include:
A wide mix of learning approaches with options for online delivery where possible and appropriate.

Smaller class sizes, with groupings of students rotating between classroom and distance instruction.

Early semester openings, allowing for students to complete on-campus activities sooner and remain home after Thanksgiving break.

Clearly marked physical-distancing guidelines, such as one-way hallways and specified entry and exit points.

Reconfiguring of both public areas and dorms to maintain physical distancing.

Widespread access to hand sanitizer and frequent disinfecting of surfaces.

Face mask requirements in public areas and/or when physical distancing cannot be maintained.

The use of physical barriers, such as plexiglass (in classrooms) and hospital-grade curtain dividers (in sleeping quarters), to prevent the

spread of respiratory particles.

Registration for chapel services.

Minimizing of large gatherings, with online formats offered instead.

Extra screening measures for those involved in athletics.
In a reopening plan shared earlier this summer, the Rev. Dr. Patrick T. Ferry, president of Concordia University Wisconsin (CUW), Mequon, Wis., and Concordia University, Ann Arbor (CUAA), Mich., described an "uncommon return" to the CUW and CUAA campuses, one committed to being "mindful" of student health and well-being as well as "nimble and flexible" to meet the changes that are still likely to come. "We're super excited to welcome you back in August," Ferry told students in a video that accompanied the reopening plan.   
Concordia College New York (CCNY), Bronxville, N.Y., Vice-President of Academic Affairs Dr. Rachel Eells said, "Our guiding principle has been to ensure that our students do not experience any interruption on their degree path at Concordia. Fortunately, our small scale and close-knit community [is] uniquely well-suited for the flexibility and quick adaptation this situation demands."
Campuses quiet, but still busy
Even though on-campus activity has been limited in recent months, there is still much news coming out of the Synod's colleges, universities and seminaries. Here are a few highlights.
CUNE diversity commission
CUNE has created a Commission on Racial and Ethnic Diversity to develop and submit a comprehensive racism and diversity plan to CUNE administration by Oct. 31. It will be led by Von Thomas, CUNE's multicultural program specialist.
"The priority of this commission is to assess, draft and propose a plan … to ensure students, faculty, staff, alumni and friends of color know they are valued and loved members of Concordia's Christ-centered community," said the Rev. Russ Sommerfeld, CUNE interim president.
To introduce the commission, Sommerfeld and Thomas led a listening session for faculty and staff on July 9. 
Lessing joins CSP faculty
The Rev. Dr. Reed Lessing has accepted a call from the CSP Board of Regents to serve as a professor of theology. An active writer and speaker, Lessing has delivered presentations throughout the LCMS and has also written for The Lutheran Witness. He currently serves as senior pastor of St. Michael's Lutheran Church in Fort Wayne, Ind., and previously served as professor of Old Testament at Concordia Seminary, St. Louis. 
CUC College of Business accredited
Concordia University Chicago (CUC), River Forest, Ill., has earned accreditation of its Master of Business Administration programs from the Accreditation Council for Business Schools and Programs (ACBSP) Baccalaureate/Graduate Degree Board of Commissioners. The accreditation decision follows an in-depth, three-year institutional analysis by ACBSP using the criteria of teaching excellence, student learning outcomes and continuous improvement. CUC's College of Business accreditation is the culmination of several years' work by faculty, past and present.
"This milestone achievement is one that provides our MBA graduates a competitive edge in the global marketplace," said Dr. Claudia Santin, dean of the College of Business. "We aspire to create leaders who transform the lives and organizations they serve. In order to implement our college's mission and vision, we must maintain a thriving learning environment that reflects our commitment to our students and the community at large."
New health department at CUI
In July, Concordia University, Irvine (CUI), Calif., announced the new CUI School of Health and Human Sciences. The school will bring all of the university's health-related programs together under one umbrella, including its nursing programs; graduate programs in health care administration, public health and coaching; and undergraduate programs in kinesiology and health care management. 
Support pre-sem students at CUW
CUW will welcome 15 new students to its pre-seminary program in 2020–21. The campus annually graduates the most pre-seminary students of any school in the Concordia University System. The Saleska Scholarship Endowment (concordiabible.org/saleska) supports those pursuing pre-seminary education at CUW. Contact the Rev. Dr. Ron Mudge at ronald.mudge@cuw.edu or 262-243-4301 for more information.
CUAA director helps write spine-injury statement
Tim Neal, MS, AT, ATC, CCISM, director of athletic training at CUAA, was selected to serve on the writing group for the newly released National Athletic Training Association statement on spinal injuries. This statement will have implications for all levels of football play, from high school to the National Football League. Neal previously served as head athletic trainer for Syracuse University and has contributed on multiple occasions to the language used for health and safety regulations for professional football. 
CCNY capital campaign rescheduled for fall
CCNY has had a record-breaking year of donations leading up to the public launch of its $12 million capital campaign, now scheduled for Oct. 17 during Homecoming Weekend. 
The Central Atlantic Collegiate Conference (CACC) Presidents Council announced that intercollegiate competition will not occur during the Fall 2020 season due to safety concerns stemming from the COVID-19 pandemic, a decision supported by the CCNY Athletics Department. 
CCNY Director of Athletics Kathy Laoutaris said, "The action to delay fall competition … was an incredibly difficult decision that was made after numerous conversations about what is best for the health and wellness of our student athletes. This remains our top priority.  Our coaches and staff are passionately committed to creating the best student-athlete experience possible, and Concordia will continue to work closely with the CACC Presidents Council on future plans as we move through these difficult and unprecedented times."  
CTX adds online health programs 
Concordia University Texas (CTX), Austin, Texas, is looking toward the future of health care. With its creation of a new College of Health Sciences last year, Concordia chose to develop two fully online programs to join its highly ranked nursing offerings: Master of Public Health (MPH) and Bachelor of Science in Respiratory Care. 
Enrolling now for fall 2020, the MPH is a competency-based, ethics-focused graduate program to help meet the demand for public-health knowledge and leadership. The B.S. in Respiratory Care provides an advancement degree for the many respiratory therapists with two-year degrees who find themselves in new leadership roles as they provide ventilator support to a high percentage of COVID-19 patients.
Seminary news
CSL
With the launch of a new online Deaconess Studies Program, Concordia Seminary, St. Louis (CSL), is making the possibility of deaconess service accessible to more women. The four-year program will prepare women to share the Gospel through works of mercy, spiritual care and teaching the Christian faith. Students who complete the program will be eligible for placement as commissioned deaconesses in the LCMS. Applications for the first cohort, to begin in spring 2021, are being accepted through Aug. 31. For more information, visit csl.edu/ods.
CTSFW
The Summer 2020 issue of For the Life of the World, the quarterly publication of Concordia Theological Seminary, Fort Wayne (CTSFW), is now available. The issue includes articles on the topics of marriage, singleness and family; the newly endowed Dean O. Wenthe Chair in Old Testament Theology, named in honor of CTSFW President Emeritus Rev. Dr. Dean O. Wenthe; and plans for CTSFW's 175th anniversary celebration, which begins in September. To access the For the Life of the World archive, manage your subscription or download the current issue, go to ctsfw.edu/resources/for-the-life-of-the-world. 
Posted Aug. 3, 2020