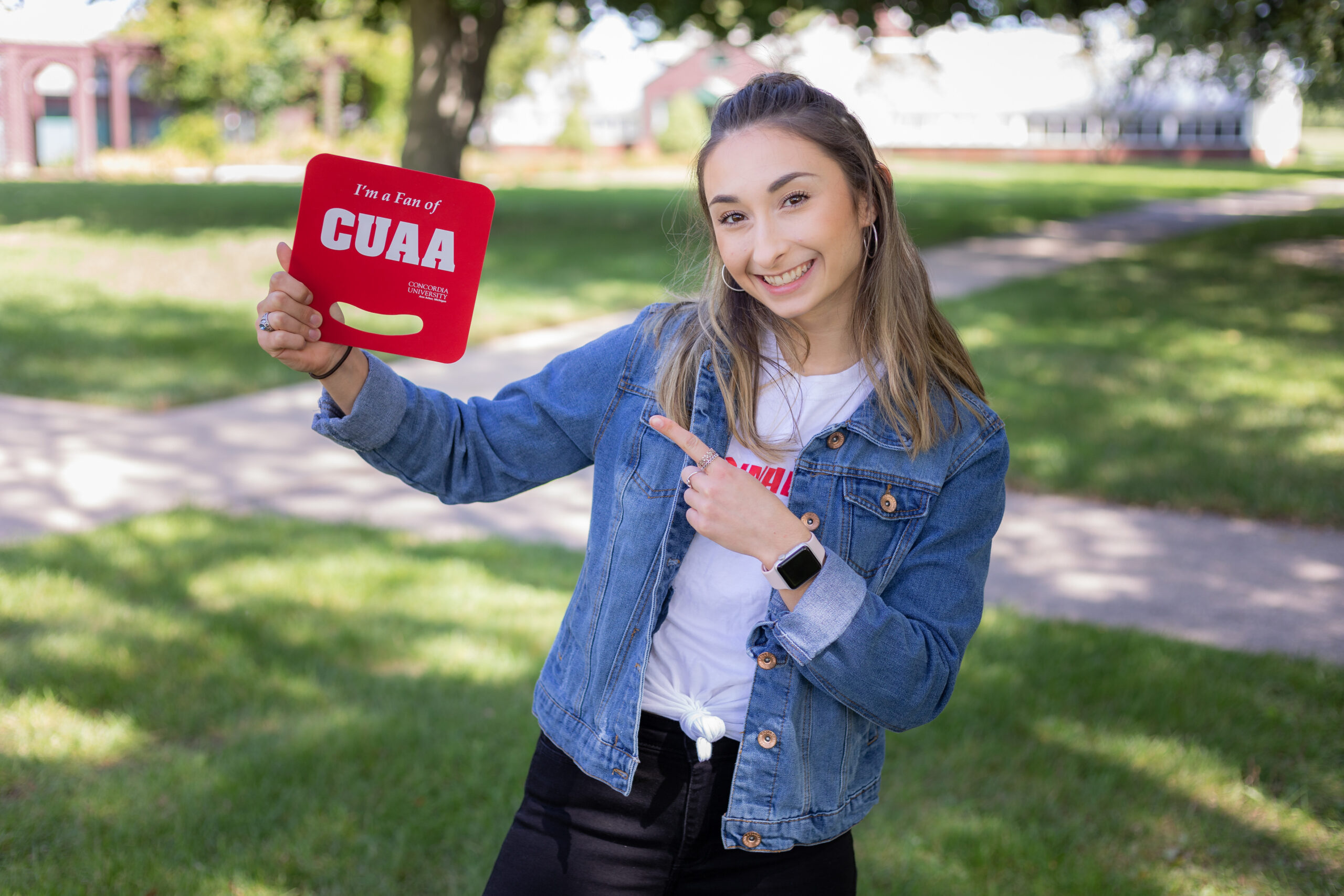 Face mask initiative
Concordia University Chicago (CUC), River Forest, Ill., specially delivered 250 face masks to Holy Family School, Chicago, a university partner through Chicagoland Lutheran Educational Foundation. 
CUC President Dr. Russell Dawn presented the masks for faculty and staff to Dr. Candace Smith, Holy Family's principal, on behalf of the CUC Alumni Association. "What a joy to experience … Holy Family's thriving ministry! Today's visit was a blessing in the midst of these challenging times," said Dawn. "I'm proud that CUC alumni and friends have chosen to support and encourage educators like the leaders at Holy Family."
CUC's Alumni Association launched their "Buy One, Give One" face mask initiative in June to support fellow graduates. Within the first 48 hours, alumni and friends purchased more than 100 masks. Proceeds from this initiative provide personal protective equipment to faculty and staff at university partner schools and support current undergraduates through the Gard Student Assistance Fund. Additional "mask drops" will be made in the future.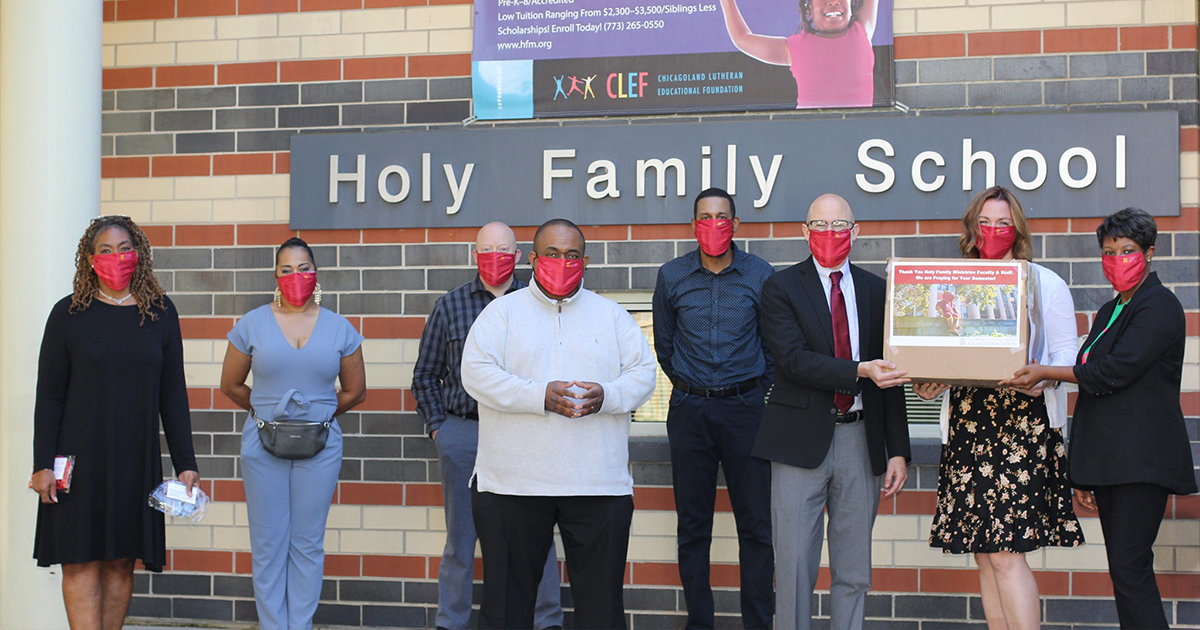 New music space
The music department at Concordia University, Nebraska (CUNE), Seward, Neb., will soon have a new collaboration, practice and study center.
"Concordia's music department has a long-standing tradition of excellence and a respected reputation dating back to the university's early days," said the Rev. Dr. Russ Sommerfeld, CUNE interim president. "Providing our students and gifted faculty with an updated facility will further enhance their experience on campus as they prepare to share their God-given talents with churches, classrooms and audiences around the world."
With 46,544 square feet, the remastered music center will enhance the spaces supporting CUNE's music program while creating new capacity and opportunities. The building will include 22 practice rooms and 13 teaching studios outfitted with the latest technology and designed for state-of-the-art acoustics and aesthetics. 
The project includes renovations to the 200-seat recital hall and the addition of a recording studio. The university's drama program will also benefit from a new 100-seat theater. With these improvements, Concordia's performing arts departments will have opportunities to increase academic offerings and co-curricular experiences for students. 
Enrollment record
Despite pandemic-driven plunges in undergraduate enrollment for colleges nationwide, Concordia University, Ann Arbor (CUAA), Mich., has reason to celebrate this year with a record high enrollment. The Fall 2020 total undergraduate enrollment count for CUAA — 1,010 — is up 34 students from last fall's census number, and CUAA's 250-person freshman class beats out last year's total by 27. The CUAA freshman class also has the highest average GPA since the merge with the Mequon campus in 2013. Learn more at blog.cuaa.edu/enrollment.
New academic offerings
COVID-19 didn't stop Concordia University Wisconsin (CUW), Mequon, Wis., from starting new programs in 2020. Within the past year, the university launched, or made progress toward starting, more than a dozen academic offerings for all levels of learners. Included in the list is the Doctor of Business Administration (DBA), a predominantly online program that is designed to be completed in as few as three years. It's one of only two programs of its kind in the state of Wisconsin. See all programs at blog.cuw.edu/new-programs. 
Christ-centered resources
Concordia University, St. Paul (CSP), St. Paul, Minn., has launched the Center for Biblical Studies.
CSP's Professor of Theology and Ministry Rev. Dr. Reed Lessing will lead the center, providing Christ-centered biblical resources that align with the Lutheran confession of the Christian faith.
"Regrettably, there is often a divide between the academic world and the church, between biblical scholarship and people in our churches," Lessing said. "Rightly understood, however, biblical scholarship exists for the sake of
the church."
"One of our strategic goals is to accent our Christ-centered purpose as a Lutheran university," said CSP President Rev. Dr. Brian Friedrich. "That means we are serious about serving the LCMS — the center is now an additional way for us to do just that."
Lessing added that the new center is more than a series of annual seminars and workshops. Rather, it will be grounded in the work of CSP and actively engage students, faculty, alumni, local pastors and others.
"We want to be responsive to any gaps in available resources and needs among those whom we hope to serve," he said.
Career week
Concordia University Texas (CTX), Austin, Texas, joined forces with four other Austin-area colleges and universities to provide the educational components of a Virtual Career Week and Hiring Expo for veterans, service members and their families Nov. 16–19. 
CTX led workshops on resume writing and interviewing. CTX Student Veteran Association President Monica Rios also moderated a student-alumni panel discussion with student veteran alumni from several participating campuses. The event culminated in a career/internship fair. CTX has 44 veterans registered for Fall 2020.
Dual business program
This fall, Concordia University, Irvine (CUI), Calif., launched a new dual degree program in partnership with Zhejiang Financial College (ZFC) in Hangzhou, China. The program, which already has 76 students enrolled, leads to an Associate of Arts in Business Administration: Accounting.
Zoom with the president
This year, Concordia College New York (CCNY), Bronxville, N.Y., President Rev. Dr. John Nunes has added a new element to a century-old CCNY tradition. For generations, Concordians have gathered in the chapel for a 20-minute morning reflection each weekday. Seizing on this year's addition of a Zoom-in option, Nunes has instituted a monthly interview with a leader whose life exemplifies CCNY's mission of passion, purpose and service. In November, the interviewee was 2008 alum Stéphane Laroche, a foreign affairs professional currently serving at the U.S. Agency for International Development. 
Seminary news
Pre-Lenten workshop
Concordia Seminary, St. Louis (CSL) will hold its annual Pre-Lenten Workshop from 9 a.m. to 4 p.m., Jan. 22, 2021. Titled "'O Love, How Deep, How Broad, How High': God's Enormous Mercy," the workshop will be hosted by the Rev. Dr. Thomas Egger, the Gustav and Sophie Butterbach Professor of Exegetical Theology and chairman of the seminary's Department of Exegetical Theology. Designed to help pastors develop their worship resources for Lent, the workshop will help attendees learn how to illuminate different facets of God's mercy to their congregation during the Lenten season. Registration is $50 and includes lunch and complimentary access to the series of sermons. The registration deadline is Jan. 8. 
For more information, visit csl.edu/pre-lenten-workshop or contact CSL Continuing Education at 314-505-7286 or ce@csl.edu.
Register for Symposia
The annual four-day Symposia Series at Concordia Theological Seminary, Fort Wayne (CTSFW), explores exegetical theology and the Lutheran Confessions with faculty and guest speakers from CTSFW and other institutions. The 2021 Symposia is set for Jan. 19–22. For more information, or to register, visit ctsfw.edu/symposia.
Posted on Dec. 4, 2020