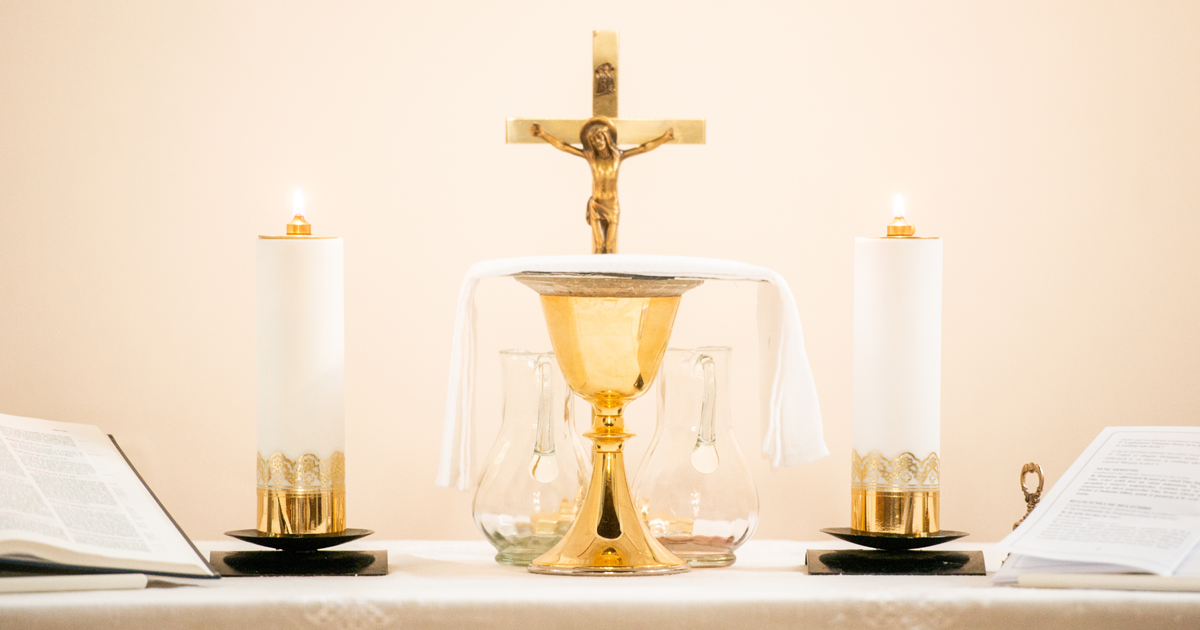 PASTORAL LETTER
Holy Week, A.D. 2020
---
A Message to the Pastors of the Missouri Synod
"For Christ, our Passover lamb, has been sacrificed.
Let us therefore celebrate the festival,
not with the old leaven, the leaven of malice and evil,
but with the unleavened bread of sincerity and truth." (1 Cor. 5:7–8)
Dear Brothers in the Office of the Ministry,
Grace, mercy and peace be unto you, from God our Father and our Lord Jesus Christ. Amen.
"I looked, and behold, a pale horse! And its rider's name was Death." (Rev. 6:8)
Once again, the "pale horse" of pestilence, whose rider's name is Death, courses over the earth — a piercing call to repentance and a harbinger of the return of Christ (Luke 21:28). "Amen. Come, Lord Jesus!" (Rev. 22:20). O Lord, we wait but "a little longer" with Your martyrs "until the number of their fellow servants and their brothers should be complete" (Rev. 6:11). Let your blessed Gospel fly freely, Lord, even now — even from us — for the salvation of many more.
We pastors struggle with a barrage of changes, of unanswered questions, of rough edges, of theological thoughts and concerns, of practical problems. Many face financial challenges. We struggle with moving targets, changing health regulations and mandates. We want more than anything for our dear people to receive the forgiveness and consoling power of the Word of the Gospel, the Scriptures, and the very body and blood of Jesus. We struggle trying to sort out how it is that the very coming together to receive Christ's gifts may endanger the flock we seek to love and shepherd.
There are right now brother pastors who are lamenting, if not distraught, that because of quarantines, they have not been able to be at the bedside of treasured members of their flocks, as those faithful people have died from this terrible virus. A pastor is a bishop is a visitor, as Dr. Luther has so well taught us (Acts 15:36; "Preface to the Instructions for the Visitors of Parish Pastors," 1528).
"Jesus Only." (Matt. 17:8)
Dearest brothers, you have Jesus; Jesus only, but that is sufficient. "My grace is sufficient for you, for my power is made perfect in weakness" (2 Cor. 12:9).
Let's follow our Chief Shepherd into Jerusalem. With Him, let's turn from false and misguided praise and expectations of earthly glory. Let us enter Holy Week with Jesus — humble and knowing that in this life, His way, our way, is the cross. "Take up [your] cross and follow me" (Matt. 16:24). If Christ Himself ministered humbly through a cross, are we surprised when we must bear a few splinters?
On Monday, Jesus cleared the temple. The Law was on His lips. "Ye have made [my Father's house] a den of thieves" (Matt. 21:13 KJV). May the Lord scourge our hearts and chase out all that is unholy, uncharitable, ungodly and unbefitting His ministers of the Gospel.
On Tuesday, our Lord was beset with the traps of the religious leaders. They questioned His authority, His view on taxes, on the resurrection, on who He is as the Son of God. O Lord, in the face of the onslaughts of the devil, the world and our flesh, grant that we cling to You and Your Word only! Help us be jars of clay.
On Wednesday, our Lord must have rested. Nothing is mentioned of His activity in the Gospels. O Lord, even You took time to step away for prayer and rest. Forgive us our lack of care for ourselves and our loved ones in the midst of the high calling You give us to carry out. Lord, grant us rest, if just for a little while, in the midst our many tasks and worries. Give us patience and love for our families.
On Thursday, our Lord prayed in the garden, "Not my will, but thine, be done" (Luke 22:42 KJV). End this scourge, O Lord. If that be not Your will, use this plague for blessing as You used the suffering of Your holy cross for blessing. Many of us cannot now receive Your blessed Holy Thursday gift of the Supper. Cause us to cling to Your Word of forgiveness, and bring to mind the Gospel in the very Words of Institution: "Given and shed for you for the forgiveness of sins!" Bring our flocks together soon around You!
On Friday, beaten and bloodied, You went the way of the cross. "Father, forgive them, for they know not what they do" (Luke 23:34). Thus You spoke of those who crucified you. Grant us but a sliver of Your charity to those who sin against us. You said, "It is finished" (John 19:30). You have done the work. We are but heralds of the message, unworthy servants of the King. "But we have this treasure in jars of clay, to show that the surpassing power belongs to God and not to us. We are afflicted in every way, but not crushed; perplexed, but not driven to despair; persecuted, but not forsaken; struck down, but not destroyed" (2 Cor. 4:7–9).
On Saturday, our Lord's body rested in the tomb. Cause us, O Lord, not to fear death nor the death of Your saints, especially those to whom we have ministered in this vale of tears. Comfort us with the sure knowledge that death is but for our bodies a Holy Saturday of slumber, and for our souls, paradise with Christ. "Truly, I say to you, today you will be with me in paradise" (Luke 23:43).
On Easter Sunday, early, the angel said, "He is risen! Go to Galilee, just as He said!" O Lord, raised for our justification, when You ascended, You gave good gifts to men, including the Office of the Ministry which we bear. Give us Easter faith, joy and confidence, all to the service of Your blessed people, the church, that Your Gospel go forth on the lips of all, to all. In Your name, O Jesus, through the Holy Spirit, to the Father, Amen!
"I thank my God … because of your partnership in the gospel." (Phil. 1:3–5)
Our risen Lord Christ consoles us in manifold ways in these "dark and latter days." Not least of which is by giving us each other. In fact, such consolation is a dominical and apostolic mandate. Jesus said to Peter, "I have prayed for you that your faith may not fail. And when you have turned again, strengthen your brothers" (Luke 22:32). "And Judas and Silas, who were themselves prophets, encouraged and strengthened the brothers with many words" (Acts 15:32).
As I've watched and communicated with many of you in these past weeks, and heard from your people, I have never been more thankful and humbled to be a part of this ministerium. We are in this together! I have seen you bend over backward to serve. You have offered the Sacrament to very small groups, with a great deal of effort. I've seen you conversing with each other in your circuits. I've seen circuit visitors working together with you as you work with local laws and guidelines. I've seen you make painful decision after painful decision about worship. I've seen you scramble to offer your people the Word of God via Facebook Live. I've had a lot of contact with our district presidents and Synod vice-presidents, which has confirmed and re-confirmed all of this. We thank God for you!
Please, for your safety and well-being and that of your parishioners, refrain from regular congregational services. While we cannot gather together, many pastors are using the best technology to stay in contact with their people. Telephone, email, social media — you are staying in touch with each other, praying for one another, encouraging each other with the Word of God. It's very evident that you all honor the yoke under which the Great Shepherd of the Sheep has placed you as servants of the church of God. We thank God for you!
I encourage you to follow the local guidelines regarding social distancing. The government is not persecuting us (Fourth Commandment). These rules apply to all, as reasonably as possible. And it appears we are nowhere near the end of this.
In these unprecedented times, there is, as always, great flexibility in how local churches respond to the needs of their people and communities ("For freedom Christ has set us free" [Gal. 5:1]). We respect that. We must show charity to each other, particularly in these stressful times. I know there has been a very deep desire among some of the brothers to find some way to get the Sacrament to their people via the internet. Their motives are commendable. But I urge us all to refrain from new practices that cause particular concern in the church. I also urge love and patience toward all. "Keep loving one another earnestly, since love covers a multitude of sins" (1 Peter 4:8). "For you were called to freedom, brothers. Only do not use your freedom as an opportunity for the flesh, but through love serve one another" (Gal. 5:13).
"Doctrine is heaven, life is earth," says Luther rightly (LW 27:41). Doctrine does not change. The stuff we deal with on earth is constantly in flux. The Synod is not going to change its theological position on the consecration and distribution of the Lord's Supper. Please see the documents produced on this matter by the LCMS Commission on Theology and Church Relations and also by the systematic departments of the seminaries. (See links below.) I believe the Council of Presidents is committed to working through these issues. It is more difficult when we are not able to meet face to face. I ask that we all take a step back, in charity and patience, particularly during Holy Week. "But if you bite and devour one another, watch out that you are not consumed by one another" (Gal. 5:15).
We are in this together and, more importantly, Christ is together with us, to guide us by His blessed and inerrant Word. We are going to be OK! "He who keeps you will not slumber. Behold, he who keeps Israel will neither slumber nor sleep. The LORD is your keeper" (Ps. 121:3–5).
Stay the course, brothers! This is temporary. And we are learning things from the Word of God that we'd never thought we'd be paying much attention to!
Take care of yourselves and your dear wives and families, my brothers! I've seen a lot of disasters up close. This one is very unique and strange, but the pastoral fatigue, and even the PTSD that many of us will suffer, is very real. Seek the resources of circuit, district and Synod. Set your electronics aside at set times, and pay attention to "the wife of your youth" (Prov. 5:18).
Stay in the Word, brothers, and pray. Take comfort that Christ and His Spirit are praying for you! "Likewise the Spirit helps us in our weakness. For we do not know what to pray for as we ought, but the Spirit himself intercedes for us with groanings too deep for words. And he who searches hearts knows what is the mind of the Spirit, because the Spirit intercedes for the saints according to the will of God" (Rom. 8:26–27).
"I shall ransom them from the power of Sheol; I shall redeem them from Death. O Death, where are your plagues? O Sheol, where is your sting?" (Hos. 13:14).
Blessed Holy Week and Easter! I thank you for your many kind prayers and notes.
In the name of Jesus,
Rev. Dr. Matthew C. Harrison
President, The Lutheran Church—Missouri Synod
---
---
Coronavirus resources
The Lutheran Church—Missouri Synod, Concordia Plan Services, Lutheran Church Extension Fund, Concordia Publishing House, LCMS Foundation and other LCMS entities have compiled resources to assist congregations, schools, church workers and members during the coronavirus (COVID-19) pandemic.
Visit lcms.org/coronavirus