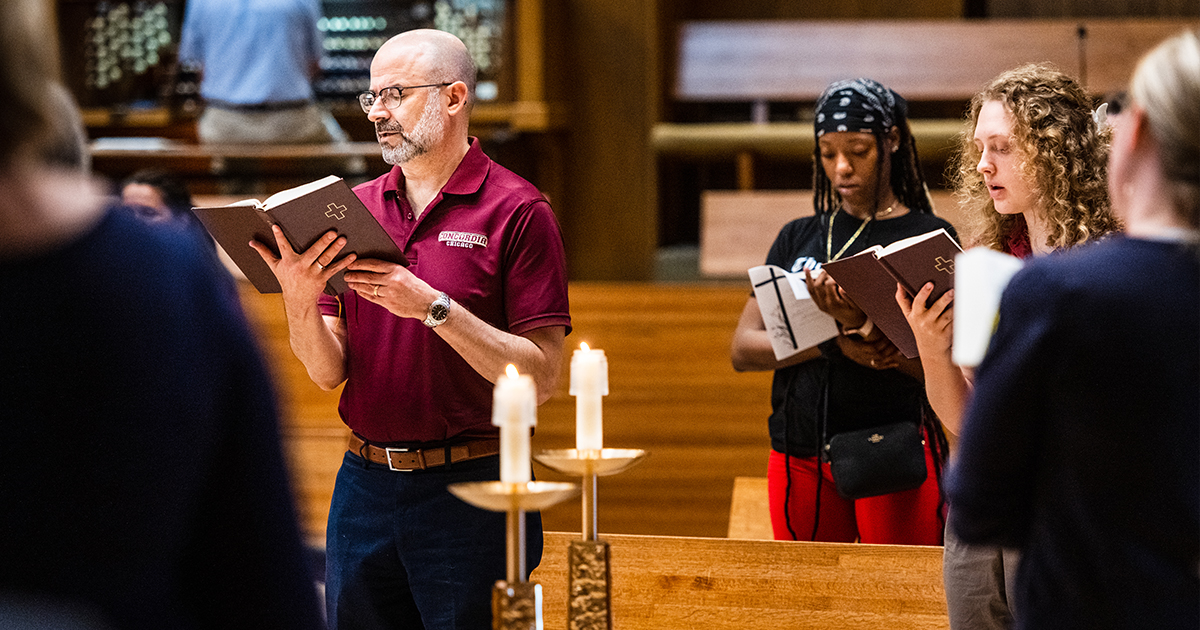 By Cheryl Magness
In the early days of the COVID-19 pandemic, the schools of the Concordia University System (CUS) responded to a rapidly changing educational landscape by developing new strategies for distance learning, seeking opportunities to serve their communities, and working to ensure the emotional and spiritual well-being of students and staff.
After a year of cancellations, postponements and multiple adjustments in classroom and campus life, CUS students are anticipating a more typical academic year. Yet as they look forward in hope, they also grieve what was lost.
'A sense of dismay'
Melody Lipke ('23) of Alamosa, Colo., an English major at Concordia University Chicago (CUC), River Forest, Ill., said that, for her, the biggest loss was "the disappointment that … I wouldn't get to see my professors face to face, that our Wind Symphony wouldn't get a live audience, and that we probably wouldn't even be able to sing in worship. I was continually praying for others' safety, financial struggles and academic worries, but for me, I was fighting a sense of dismay that I might look back to regret everything I missed out on in the year."
Reese Rountree ('22) of Spokane, Wash., is a student at Concordia University Irvine (CUI), Irvine, Calif., studying to be a director of Christian education. He, too, experienced many college-related frustrations over the last year.
"The most difficult part," he said, "was the challenges COVID created for the campus community. I was the men's ministry coordinator [a student leader who organizes Bible studies and other events], and the struggle to engage students, especially freshmen, was immense and very defeating. Due to the ever-changing world [of pandemic guidelines], we would gain traction only to have it stripped away. Community is one of the greatest aspects of college, and CUI provides a unique community. It was difficult to lose that connection."  
Creative solutions
Yet even as they struggled with disappointment, CUS students looked for ways to adapt and thrive. With classes taught remotely, on-campus activities cancelled and social activities limited, they came up with creative solutions for addressing the challenges.
Sophia Collins ('22), a volleyball player and nursing major at Concordia University Wisconsin (CUW), Mequon, Wis., worked with her teammate Jenna Chaussee ('23) to lead their fellow Falcons in working out via Zoom during the spring semester of 2020. Collins said that it was important to both her fellow players and herself to "hold each other accountable" by practicing as a team even while they were confined at home. When they returned to campus later in the year, the regular season was still on hold, but they kept practicing, following all required safety protocols. In the spring of 2021, they participated, with other teams in their conference, in a shortened but in-person volleyball season. Collins said that, in spite of all the changes, she and her teammates felt "blessed to have as many opportunities as we did."
Paxton Green ('22) serves as a campus ministry coordinator (CMC) at Concordia University Ann Arbor (CUAA), Ann Arbor, Mich. In her role as a CMC, Green mentors freshmen women in the residence hall — something that proved to be more challenging during the pandemic. One way she found to continue doing so was to contribute to a series of devotions written by students, for students. Green, a childhood cancer survivor, is studying to become a child life specialist, one who supports hospitalized children and their families during the hospitalization. In her role as president of CUAA's Child Life Association (CLA), she secured several guest speakers who might not have been able to visit campus in person but who were able to speak via Zoom. "That was one positive outcome," Green said.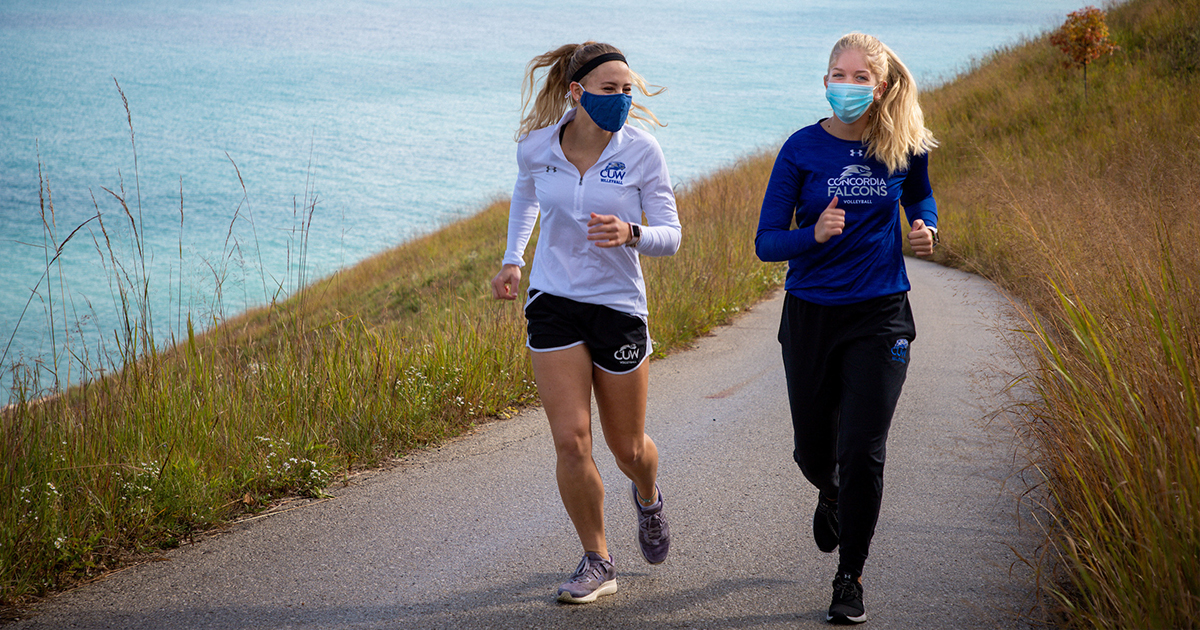 Blessings amid challenge
In addition to finding ways to continue to learn and to remain connected to campus life, CUS students drew encouragement from a variety of sources: their friends, their family, their faith and their college community. 
Theresa Meyer ('22), an elementary education major at CUW, discovered a "renewed appreciation" for the blessings of daily chapel, Sunday worship and time with friends. Even though these things looked different, requiring masks and social distancing, "they were things that I could still do." Meyer said she isn't sure how campus communities that are not centered on Christ survived the twists and turns of the last year.  
Both Carrie Black ('21) and Anna Royuk ('24), students at Concordia University, Nebraska (CUNE), Seward, Neb., gave high marks to their university for its handling of the pandemic.
Black, an English major from Highlands Ranch, Colo., credited the "willing spirit" of CUNE's leadership and students for maintaining in-person learning for most of the last 18 months. She said the administration "handled [the pandemic] in a way that … shows what the university values." She appreciated the continued availability of her professors and their willingness to have conversations with students. 
Royuk, a music major, said that, as a freshman getting her first taste of college life during a pandemic, she had nothing to compare it to. "People told me that it's usually a lot better," she laughed. Yet she appreciated the university's efforts to maintain as much on-campus life as possible. She didn't resent the rules — "I understood they were just trying to keep the campus open and everyone safe" — and she is looking forward to her sophomore year: "Even though it was really hard last year, and we felt so secluded, I think we're going to jump right in. … I'm hopeful that it's going to get better from here."
Going back to campus
CUS President Rev. Dr. Dean O. Wenthe praised all of the CUS leaders for "the manner in which [they] have led their institutions through the COVID pandemic by combining appropriate cautionary steps with a creative blend of in-person and online instruction. "Their agility and fidelity served faculty, staff and especially the students in an exceptional way during very challenging circumstances."
It is impossible to know what the future will bring. But the students, staffs and administrations of the CUS are hoping — and preparing — for the year ahead with their eyes fixed on Christ. Jesse Schultz ('23), an elementary education major at CUC, said his school continues to help him do that.
"I think the most beneficial aid in getting through the difficulties of the year," Schultz said, "could be seen in CUC's unwavering profession of the Gospel. Even though the world seemed to crumble around us, our campus community stood firm in the truth that Christ will never change. His life-giving death and resurrection allow us to live in the freedom of being a redeemed child of God. This Good News of our salvation is a constant source of comfort, peace and joy in a world that seeks to hide the light of Christ."
The Rev. Dr. Brian Friedrich, president of Concordia University, St. Paul (CSP), St. Paul, Minn., said CSP's theme verse will guide the campus through the coming year. "As we move into the 2021–2022 academic year under the theme 'He Restores My Soul' (Psalm 23:3), we do so with excitement," Friedrich said. "Face-to-face learning will continue, and we anticipate that more of our athletics and fine arts events will be held in front of live audiences. We also hope that students will have more opportunities for in-person service, learning, student activities and club meetings."
Dr. Donald Christian, president of Concordia University Texas (CTX), Austin, Texas, said that CTX "remains hopeful and joyful; even as we lived out our vocations in different manners this past year, we now return with a different sense of normalcy. At the end of the spring academic term, a freshman student related to me that 'this has been a great year — not quite what I expected but something I will always remember. I am looking forward to being in the classroom with my fellow students and teachers. Thanks for doing everything possible to keep us safe and provide a fantastic first-year experience for us.' "
Dr. Russell Dawn, president of CUC, said, "I feel very enthusiastic about the fall semester, but perhaps even more, I feel a sense of relief. We stand assured that God is working through each and every member of the university community to bless our students, the church and the world around us as campus reopens fully this fall. Optimism is in the air!"
Posted Aug. 18, 2021