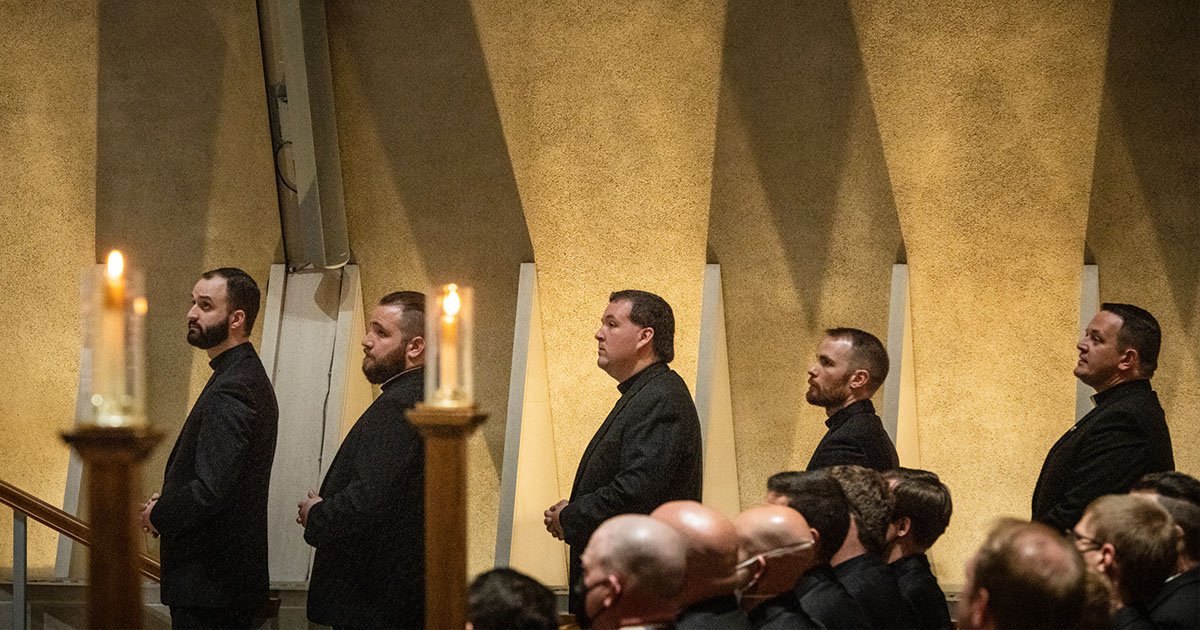 By Cheryl Magness
In 2020, due to the nationwide COVID-19 shutdown, the two seminaries of The Lutheran Church—Missouri Synod (LCMS) held their annual Call Day services online. In 2021, both Concordia Theological Seminary, Fort Wayne (CTSFW), and Concordia Seminary, St. Louis (CSL), were able, by God's grace, to return to holding in-person Call Day celebrations. See more photographs from Call Day services here.
'Feed my sheep'
CSTFW held its vicarage and deaconess internship assignment service on April 26 and its pastoral call service on April 27. Both services took place at 7 p.m. in Kramer Chapel on the CTSFW campus.
Preaching at the April 26 service, LCMS Fifth Vice-President Rev. Christopher Esget pointed students away from themselves and toward Christ: "You cannot bind up the wounds or recall the lost of your own strength or self or gifts. All you have is to point to the gifts that you, yourselves, have received and have been promised — the divine power of Jesus by which, St. Peter says, have been given to us exceedingly great and precious promises, that through these you may be partakers of the divine nature, having escaped the corruption that is in the world through lust. The world is corrupt, but Christ is incorruptible."
At the April 27 pastoral call service, LCMS Second Vice-President Rev. John C. Wohlrabe asked the candidates to consider why they wanted to receive calls, saying that the answer "has everything to do with what you as a pastor will have to offer the lambs and the sheep to whom you will be called to serve as an undershepherd of our Good Shepherd. Unless you learn the lesson that Simon, son of John, learned in our text [John 21:15–19], you will not properly feed and shepherd those sheep to whom you are called. …
"As long as [Simon] Peter trusted in his own love for Jesus, Peter wasn't trusting in Jesus' love for him. Peter now knows that his faith lies not in himself but in Jesus Christ alone. … You are called to be pastors … not because of your love for Jesus … [but] because Jesus loves you and all people."
CTSFW Director of Certification and Placement Rev. Dr. Jeffrey Pulse said that, although last year's and this year's Call Days looked very different, "the most important realities … remain. … The church still needs workers in the harvest field; congregations still need pastors to carry out Word and Sacrament ministry; your seminary needs you to move along and make room for the next class. … 
"My thanks goes out to the district presidents and their staffs, congregations and call committees, circuit visitors and pastors, the Council of Presidents and … Concordia Seminary, St. Louis. Together … we have managed to make the process work under these circumstances … by the grace of God and the guidance of the Holy Spirit."
Read more about Call Day at CTSFW here.
'A night of joy'
On April 28, CSL vicars and deaconess interns received their assignments during a 3 p.m. service in the Chapel of St. Timothy and St. Titus, while pastoral and diaconal candidates received their first calls at 7 p.m. 
"This year we are in person, but we are under some rather significant restrictions," said CSL Director of Placement Rev. Dr. Glenn Nielsen at the 7 p.m. service, noting that, due to county occupancy guidelines, each candidate was able to invite only one guest. "Next year, we hope, and we pray, we will be back to a full chapel — no masks, [with] handshaking, hugs [and] smiling faces. We want to acknowledge … the disappointment [and] thank you for understanding."
Preaching on 1 Peter 2:18–25 at the 3 p.m. service, LCMS California-Nevada-Hawaii District President Rev. Michael Lange told the students that it is "not always going to be easy or fun to follow the example of Christ" but encouraged them to count their blessings as servants "entrusted with the responsibility of giving an example of gracious action even during cruel treatment. … Christ is our example in this." 
The Rev. Dr. Thomas J. Egger, who recently began serving as the 11th president of CSL, preached on John 10:11–18. "Tonight is a night of joy," Egger said, "because of Jesus, the one Shepherd, and He is calling you to feed His lambs. What a glorious ministry, the ministry of the Gospel of Christ."
Read more about Call Day at CSL here. 
Posted May 27, 2021