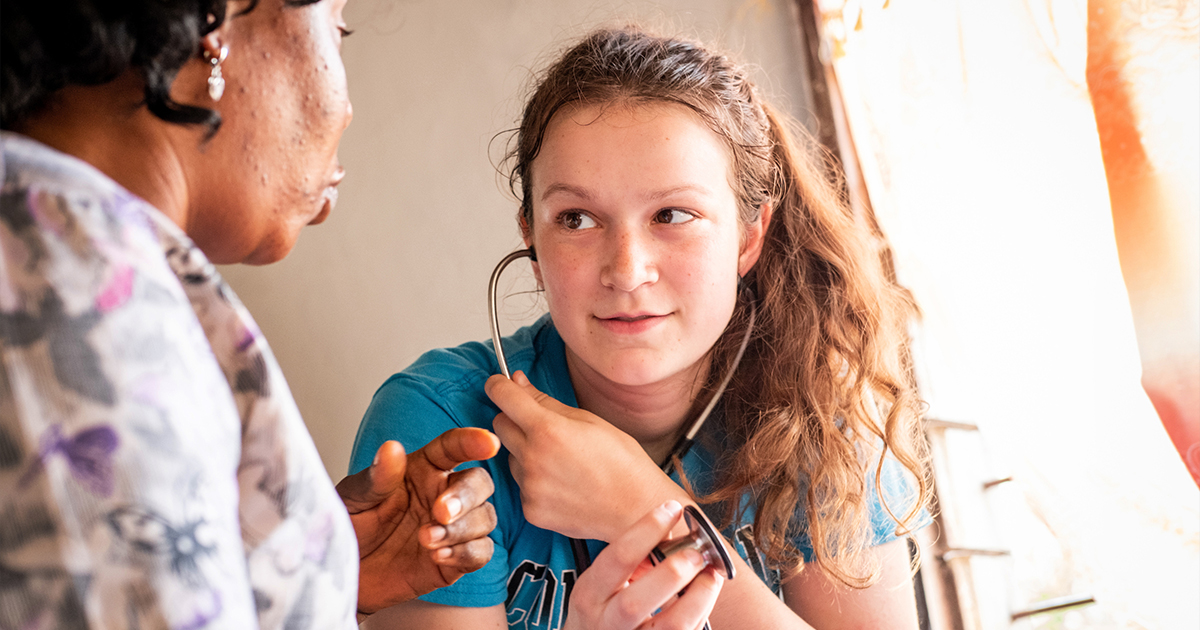 By Stacey Egger
Eight new LCMS missionaries completed a week of missionary orientation at the LCMS International Center (IC) in St. Louis July 19–23. 
The week was part of a two-month process for new missionaries that includes two weeks of orientation at the IC as well as a week of online training and intermittent online practicum sessions. 
The July session was geared toward preparing the missionaries for the first part of their work: visiting congregations and building a network of support. In daily training sessions, they learned how to communicate about their mission work through presentations, social media and the creation of introductory videos; and they received practical training on how to build a network and ask for support. 
The week also gave them the opportunity to visit the IC, meet the staff of the LCMS Office of International Mission (OIM) in person, and learn about the various resources that will be available to them as LCMS missionaries.  
A week of fellowship and training 
Five of the new missionaries will be sent to the Eurasia region, and three will go to the Latin America and the Caribbean region. They will serve in a variety of roles — from training seminarians to planting Lutheran churches. 
The Rev. Philip and Deaconess Rachel Jaseph, who both served as missionaries previously and met while on the mission field, will be serving in Uruguay, South America. Rev. Jaseph graduated from Concordia Theological Seminary, Fort Wayne, in May. 
"We didn't think we'd be back here at international service so soon, but we got the call, so here we are," said Rev. Jaseph, who will support existing Lutheran congregations in Uruguay while working to plant more.
"There are certain questions that I think about differently now, having been on the mission field before — questions I didn't know to ask at the beginning," said Deaconess Jaseph, who will assist the Lutheran Church of Uruguay with outreach and education. "Even though it's a small group [at orientation], I've really appreciated the mix of people and their experiences."
The Rev. Dr. Cory Rajek will bring his years of experience as an adjunct college professor to his new position as pastor and theological educator in Riga, Latvia, where he will assist with the Livonian Lutheran Project. Rajek will be accompanied by his wife, Jenny, and his daughters, Emiley and Alexis.  
"The growth of the [Livonian Lutheran Project] has been a blessing, and it's come with great need to make sure that the Gospel gets out into the communities. … And I think it's just so exciting to be able to be a part of that emerging area, where God is really at work," said Rajek. 
Hayden Rensner will serve as a teacher in the Czech Republic, tutoring Luther Academy, Riga, seminary students online in English and working with the local church. Rensner was able to begin some of this work — and to meet some of the students she will be working with — through her virtual senior capstone project for Concordia University, Nebraska, Seward, Neb., last year. The project involved teaching students in the Czech Republic virtually.
"I'm really excited to meet them in person and continue that work," said Rensner. 
The Rev. Tyler McMiller attended orientation along with his wife, Yanela, and their daughters, Lia and Alessia. McMiller previously served in Mexico and the Dominican Republic as a Globally Engaged in Outreach (GEO) missionary — an LCMS mission opportunity that includes at least 12 months of international service. The McMillers will now be going to Italy, where Rev. McMiller will serve as a pastor and theological educator. Some of his work will be with seminary students in the region who became interested in the LCMS after discovering the Synod online and seeing its commitment to Scripture. 
McMiller said he appreciated the opportunity to practice his mission presentation during orientation. "I've already done [it] a couple of times, and going through it and getting feedback has been really helpful," he said. 
The Rev. Nathaniel Jensen, along with his wife, Emma, will be traveling to Kaiserslautern, Germany, where Rev. Jensen will be installed as pastor of Kaiserslautern Evangelical Lutheran Church, which serves the large English-speaking community in the area. He served his vicarage at this congregation as well.
"There are at least 54,000 Americans in the region, and there is no permanent Missouri Synod pastor," said Jensen. 
"Polishing the presentation, learning what to say and where, was helpful," Jensen said of orientation, "as were all the resources that [the orientation leaders] made us aware of."
Ruth Maita, who formerly served as a GEO missionary in Puerto Rico, is transitioning to the role of a career missionary teacher there. She is married to the Rev. Gustavo Maita, an LCMS alliance missionary, and they have one daughter, Mikhaela. As an outreach for the church, Maita will be teaching English, music and art classes out of a mercy center in Puerto Rico.
"This orientation is focused on helping us prepare to present in the different congregations, so we're learning better communication skills. … This week is really important to lay the groundwork of understanding how everything works together, and how we are supported through the Synod," said Maita.
Joining in the training virtually was Chelsea Irwin, who is currently transitioning from her service as a GEO missionary in the Czech Republic to service as a career missionary there, working as a volunteer opportunity coordinator for programs such as the English Bible camps in Poland and the Czech Republic, and working year-round with programs for the Silesian Evangelical Church of the Augsburg Confession. 
'Receive from Jesus' 
During chapel at the end of the week, the Rev. Dr. Daniel McMiller, OIM executive director and Tyler's father, addressed the orientation participants in his sermon on Mark 8:1–9, the Feeding of the Four Thousand. 
"Are you feeling weakness, fear and trembling as you are to go out and speak to God's people about your needs? Do not rely upon your own calculations. Sit down. Sit in the presence of the Lord and receive from Jesus gracious and abundant provision. His strength is made perfect in your weakness," said McMiller. 
These missionaries and their families attended a second week of in-person training Aug. 23–27. On Thursday, Aug. 26, they were sent during a 10 a.m. "Service of Thanksgiving," and the work of several missionaries who are coming off the field was also celebrated. Watch for a future story on the August event.
Posted Sept. 10, 2021