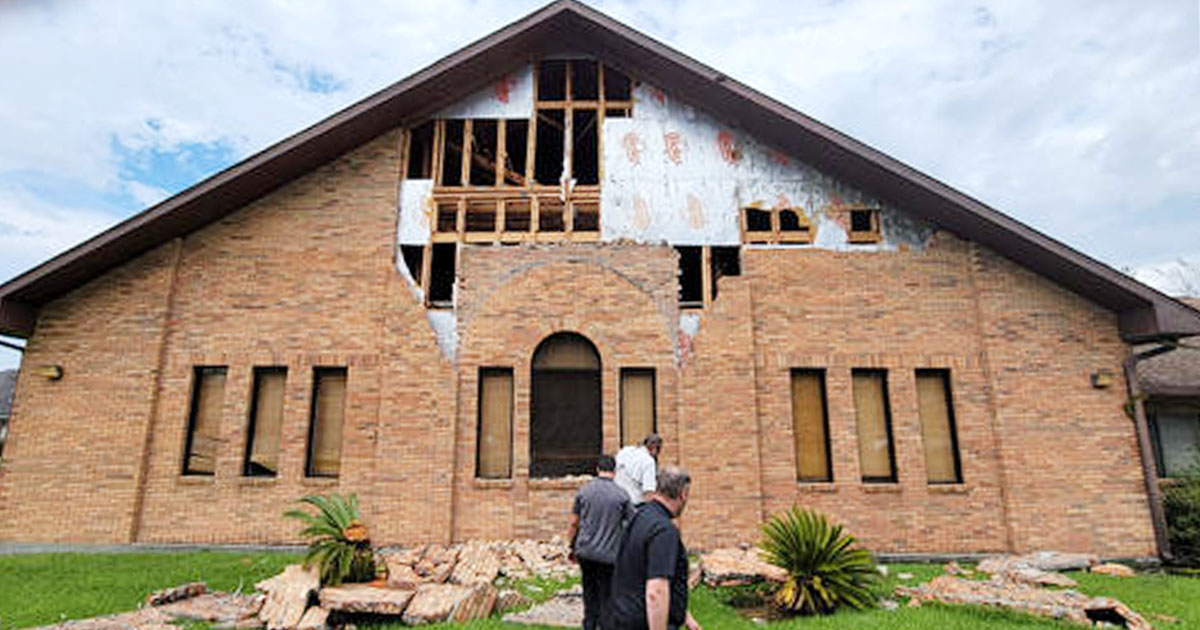 On Aug. 29, Hurricane Ida came ashore near Port Fourchon, La., as a Category 4 storm. In the days since Ida made landfall and continued inland across the Southern and Eastern United States, it is estimated to have caused at least 65 deaths and more than $50 billion in damages. As of this writing, an estimated 850,000 people are still without power in Louisiana. Flooding caused by torrential rainfall has led to multiple water rescues in New York, New Jersey, Pennsylvania and Maryland. The remnants of Ida have also resulted in extensive destruction from multiple tornadoes.
Louisiana response hampered by power outages
"The impact to the areas that were directly in the line of Ida was devastating," said the Rev. Eric Johnson, LCMS Southern District president. The district has already begun responding to damage done to multiple LCMS church and school buildings, flooding and wind damage at pastors' homes, and countless reports of tree damage.
Ed Brashier, district disaster response coordinator for the Southern District, reported that, while damage assessments have begun in the district, the district office is currently without power, water pressure and internet, complicating the effort to organize a response.
Currently, a small team of volunteers are working alongside district staff to get tarps, generators, gasoline, water and other essentials to impacted congregations and people.
"Right now, we've only got a select few volunteers that have the skill set of being able to build a recreational vehicle park for our long-term volunteers," Brashier said. "[Those volunteers] can't come down unless they have their own bed, their own shower, their own food. Totally self-contained teams are coming in right now, and it will probably be that way for the next two weeks.
"The absolute best thing [people] can do to support the response efforts is to give to LCMS Disaster Response so that there's a central location for donations, and people who are out here in the field can make their requests for specific needs. We have a lot of people who want to ship things down, but too often we get things that really aren't exactly what we need, and with funds, we can buy exactly what we need for this particular response."
The center of operations for the response was initially the Southern District office, but the response efforts will be moving soon to Atonement Lutheran Church in Metairie, La.
The Rev. Dr. Ross Johnson, director of LCMS World Relief and Human Care Disaster Response, said, "Despite Ida being a Category 4 hurricane, it thankfully didn't hit New Orleans directly. However, most of the roofs in the area need some kind of repair. Rev. Michael Meyer [director of volunteer training] visited Pastor Larry and Grace Beane [of Salem Lutheran Church in Gretna, La.] as they were cleaning up their church. Unfortunately, their school will probably need a new roof. Many of the area pastors had evacuated and haven't returned to assess damage to their congregations and houses. …
"Most of the damage [in Louisiana] was located outside of the highly populated areas. I met with President Johnson and Ed Brashier to assess the situation and plan a strategy for getting chainsaw volunteers and others to help. We hope to have a volunteer camp up and running by Sept. 13."
Eric Johnson said, "We're supporting each other, communities are supporting each other, and we just keep on looking towards the hope we have in Jesus Christ and in His church."
Remnants of Ida still causing damage
Ida may have weakened considerably by the time it reached the East Coast, but it still brought heavy rains and severe weather that caused widespread damage throughout the LCMS New Jersey District.
In Somerville, N.J., an LCMS pastor's house sustained significant damage when an explosion occurred at a neighboring residence in the late hours of Sept. 1. The area was being evacuated at the time due to rising floodwaters, and the pastor and his family were in the process of leaving when the explosion occurred. No one was seriously injured in the blast, and the pastor's family found temporary accommodations while the full extent of the damage is being determined.
That same day, the National Weather Service reported that at least seven tornadoes touched down throughout the area, including an EF-3 tornado that destroyed several houses in Mullica Hill, N.J. The home of the Rev. Dennis and Suzanne Bottoms was spared, but some trees were damaged. In addition, they lost their fence, some windows and some shingles. Only three houses down the street, the tornado destroyed one house and severely damaged another. Both the Bottoms and other pastors and churches throughout the area are still without power, making it difficult to conduct clean-up efforts.
LCMS New Jersey District President Rev. Stephen Gewecke also reported that several LCMS churches experienced minor flooding, although the situation is still being assessed.
"Right now, I have my circuit visitors contacting all of our pastors to make sure that they are OK, to see if there are any needs," Gewecke said. The district's disaster response team, coordinated by the Rev. Michael Dunne, is "helping those two pastors with securing generators and pumps and chainsaws and things like that. … They are assessing their needs right now, so we can be prepared to help them."
On Sept. 2, New Jersey Governor Phil Murphy wrote a letter to President Joe Biden, requesting a Major Disaster Declaration in the aftermath of the storm. "In parts of central New Jersey, it is estimated that more than a month's worth of rain, as much as 8 to 10 inches, fell in mere hours. As a result, numerous counties experienced flash flooding that has overwhelmed roadways, homes, vehicles, businesses, public facilities, and other infrastructure," he said.
Assessment underway in Atlantic District
On Sept. 2, the LCMS Atlantic District reported on social media that more than 15 churches in the district have been directly affected by Ida and that multiple church workers, parishioners "and countless others are scrambling to assess damage and ensure the safety of their loved ones." A giving page has been established for the response effort and may be found at facebook.com/adlcms.
"We are currently building a response plan," the page states. "Help equip the Atlantic District and her churches to give aid, recover and rebuild in the wake of this disaster."
LERT volunteer website
Ross Johnson noted that Hurricane Ida will be "the first disaster that we can use our new volunteer website for. This new site will keep volunteers connected with opportunities to serve and greatly improve our ability to get people the help they need." 
See the LERT volunteer website at lcms-lert.org.
Learn more about LCMS Disaster Response at lcms.org/disaster.
Posted Sept. 3, 2021