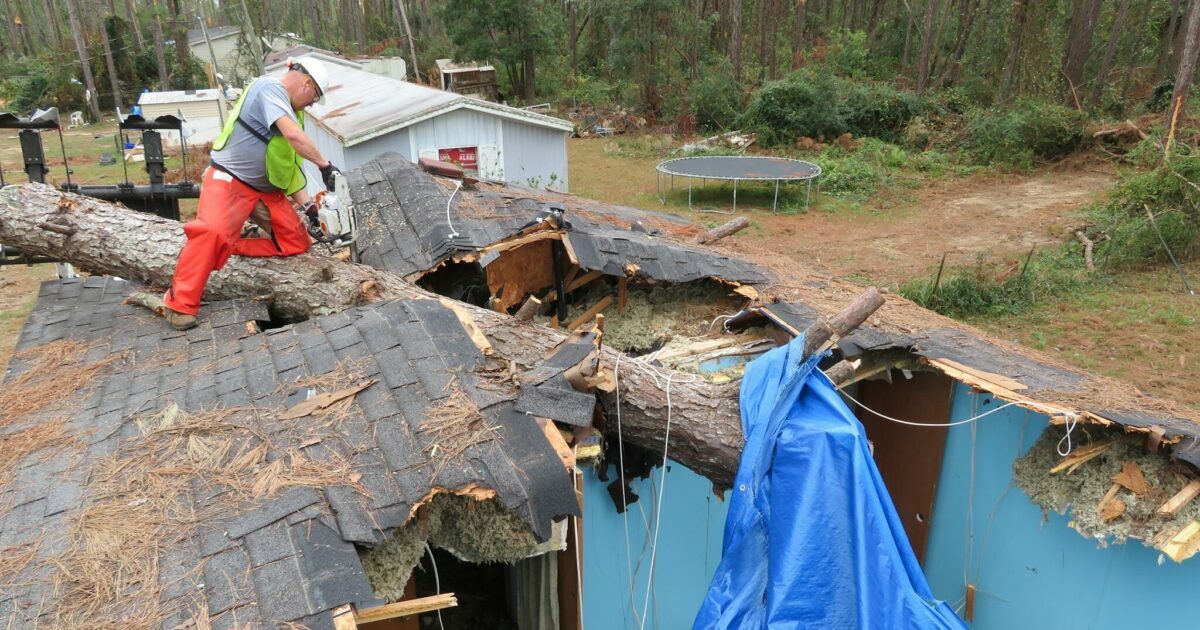 By Stacey Egger
Natural disasters are not slowed by the presence of a pandemic. Last year, during COVID-19, they continued to strike.
Likewise, for LCMS World Relief and Human Care Disaster Response, the work of caring for people in the midst of fear, suffering and loss did not stop. Disaster Response, in partnership with LCMS districts and Recognized Service Organizations (RSOs), responded throughout 2020 and into 2021 with mercy, aid and the message of hope found in Christ.
"Even as the entire world was distracted and overwhelmed by COVID, our response in time of natural disasters never ceased," said the Rev. Michael Meyer, director of disaster training for the LCMS. "We continued to be good stewards of what the Lord has given … through the many and various donations to Disaster Response in the past. We were able to engage in a significant response without asking the church at-large for additional assistance during a time of great uncertainty for so many in our church body."
2020 saw four major hurricanes across five southern states — Texas, Louisiana, Mississippi, Alabama and Florida — as well as devastating and deadly tornadoes in Tennessee, flooding in Michigan that led to the evacuation of thousands, and a huge derecho storm that tore through Iowa with hurricane-force winds.
After two hurricanes struck the LCMS Southern District in a matter of weeks over the summer — Laura on Aug. 29 and Sally on Sept. 16 — many were left with homes and properties devastated. After these storms, LCMS Disaster Response was able to help in two ways: by providing grants to cover certain repairs and insurance deductibles for LCMS congregations and pastors, and by supporting the work of a network of Lutherans across the country trained and prepared to provide hands-on assistance after disasters.
In the wake of this past summer's hurricanes alone, LCMS Disaster Response was able to provide $252,686 in grants to cover a portion of 15 LCMS congregations' and schools' insurance deductibles. Additionally, $42,900 was given to help 17 LCMS pastors in the affected region cover deductibles or repair costs.
In addition, Disaster Response was able to give another $137,500 in grants to support the work of local disaster response, covering costs such as emergency repair materials, emergency relief supplies, and site coordination for volunteers.
Rather than solely covering the cost of insurance deductibles or providing money for other expensive repairs, LCMS Disaster Response partnered with LCMS districts and RSOs across the country to make these funds stretch much further through the work of thousands of dedicated volunteers. These volunteer efforts help LCMS Disaster Response faithfully steward the money given to them by donors.
This past summer, for example, a grant of $58,000 was given to Shepherd's Heart Disaster Response Ministry, an LCMS RSO in Gardendale, Ala., for coordinating and overseeing multiple volunteer chainsaw camps involved in hurricane recovery work. With this grant and the coordination efforts of Shepherd's Heart, disaster response work was done on eight LCMS churches and 248 homes, including 10 LCMS pastors' homes. In total, 945 trees were cleared, and volunteers logged nearly 6,000 hours. According to the Rev. Dr. Ross Johnson, director of LCMS Disaster Response, the volunteer work enabled by this $58,000 grant saved the churches and homeowners assisted an estimated total of $1.5 million in clearing and repair costs.
Through the work of LCMS Disaster Response, LCMS congregations, members and pastors are supported by their church body in the wake of disasters. This work also serves as a means of outreach to the communities surrounding these congregations, Johnson said.  
"All of the work that we do with LCMS Disaster Response and volunteers is done in the name of Christ and of the local congregation, letting people know that in the midst of tragedy, there are people in the faith that care about them, love them and serve them in the name of Christ," said Johnson.
Ed Brashier, president of Shepherd's Heart and coordinator of disaster response for the Southern District, said: "Members of the LCMS felt the love of their denomination as volunteers came to clean up a debris field of devastation. Their friends and neighbors, as well as many community members, received the love of Christ through the hands and hearts of our LCMS volunteers from around the country."
As local disaster response teams have continued to engage in this good work throughout the country, LCMS Disaster Response has been able to partner in the work through the gifts of many generous donors. While much has changed in the world over the past year-and-a-half, Christ has not stopped giving the blessings of life and salvation to His church — and the church has not stopped responding to this gift by loving and serving its neighbor.
Posted April 19, 2021