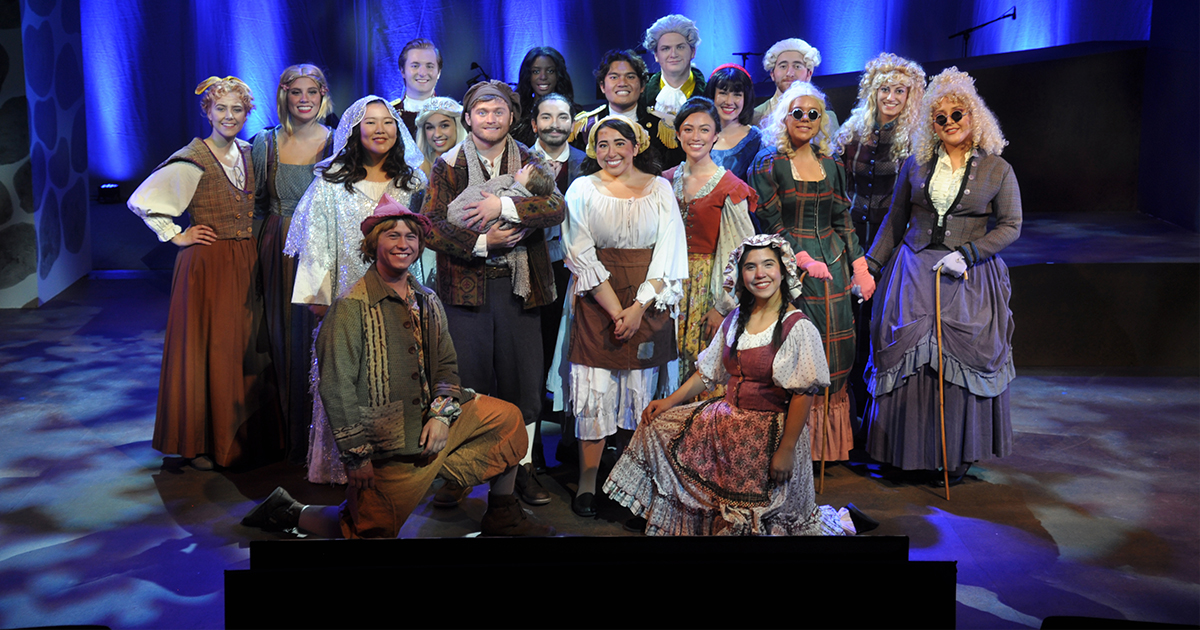 NADCE honors CUNE alums
Two Concordia University, Nebraska (CUNE), Seward, Neb., alums were recognized at the National Association of Directors of Christian Education conference in January. Dr. Mark Blanke received the Dale E. Griffin Master Statesman Award, and Christine Young was named Outstanding New DCE. 
The Dale E. Griffin Master Statesman Award has been awarded only three times in the last 34 years, including this year. Blanke, the DCE program director at CUNE, said he was "extremely humbled" at being in the same group with the prior recipients, including Griffin, Dr. LeRoy Wilke and Dr. William Karpenko. 
Young was one of the DCE students Blanke worked with at CUNE. She now serves as director of Student Ministries at Grace Lutheran Church in Menomonee Falls, Wis. "It was an incredible honor to receive this award," she said. 
Best online
Concordia University Chicago (CUC), River Forest, Ill., was nationally recognized for its online degree programs by U.S. News & World Report, climbing to No. 26 in the Best Online Bachelor's Program category. CUC also again made the lists for Best Online MBA Program, Best Online Graduate Education Program, Best Online Bachelor's Program for Veterans and, in a new ranking this year, Best Online Bachelor's in Business Program.
"These new rankings show that our online degree programs are truly reaching the students balancing their education with full-time jobs, family or both," said Dr. Erik Ankerberg, CUC provost. Online bachelor's programs were evaluated on factors such as graduation rates, financial benefits available to people with military experience, student debt upon graduation, and academic and career support services. 
Theater honors
Several members of the theater department at Concordia University Irvine (CUI), Irvine, Calif., came away with honors at the annual Kennedy Center American College Theater Festival, Region 8. Each year in mid-February, the festival brings together students and faculty from colleges in the western United States to see one another's work and share ideas on a wide range of topics, including playwriting, auditioning, voice, movement and scenery. 
Christopher Aceves Jr. won the National Costume Design Award for his work in CUI's production of Samuel Beckett's "Endgame." He also took home the Students' Choice Award for costume design. Other notable mentions include Matthew Cristobal and Anna Martin, who were chosen to take part in a musical theater festival performance, and duo Meg Rocha and Matthew Cristobal, who were selected as finalists in the Irene Ryan Scholarship Audition acting competition.
Record enrollment
Concordia University, St. Paul (CSP), St. Paul, Minn., already the second-largest private university in Minnesota, continues to reach new heights, with all-time highs in graduate, traditional undergraduate and international student enrollment for the Spring 2022 semester. "We are so grateful to continue to be in a position of growth," said CSP Vice-President of Enrollment Management Dr. Kim Craig. "It has been a challenging time for many, especially in higher education. … [CSP's] growth is a testament to the flexibility, focus and adaptability of our faculty, staff and, especially, our students."
Gold standard
The Concordia University Wisconsin, Mequon, Wis., Veteran Service Department moved from Silver to Gold status in the Military Friendly® Schools ranking, also receiving a "Top 10 School" designation. Institutions earning the designation were evaluated using public data sources and responses from a proprietary survey. More than 1,800 schools participated in the 2022–2023 survey. Learn more at cuw.edu/veterans. 
Cardinal connections
Concordia University Ann Arbor, Ann Arbor, Mich., will host its first-ever Cardinal Connection Day series. These on-campus events, designed for new, incoming students who are enrolling for the Fall 2022 semester, will take place May 11, June 16 and 29, and July 26. Learn more at blog.cuaa.edu/cardinal-connection-day. 
Seminary news
Busy month for CTSFW 
Mark your calendar for these upcoming events at Concordia Theological Seminary, Fort Wayne:
April 24, 4 p.m. — Easter Hymn Festival 
April 26, 7 p.m. — Vicarage and Deaconess Internship Assignment Service
April 27, 7 p.m. — Candidate Call Service 
All events will take place in Kramer Chapel. Visit ctsfw.edu/events for more information. 
Adams named to professorship
The Rev. Dr. David Adams has been named the W.G. Ray and Louis J. Rechtzigel Professor of Biblical Studies at Concordia Seminary, St. Louis (CSL). A member of the CSL faculty since 2000, and former director of the Concordia Center for Archaeology, Adams has extensive experience on archaeological expeditions in Israel. He has excavated at Qarqur in Syria and was a member of the excavation staff at Khirbet Qeiyafa in Israel, a site of critical importance in the debate over the rise of the monarchy in Judah and the location of the battle between David and Goliath in 1 Samuel 17. Adams will be installed during CSL opening day chapel on Aug. 26.
Posted April 8, 2022