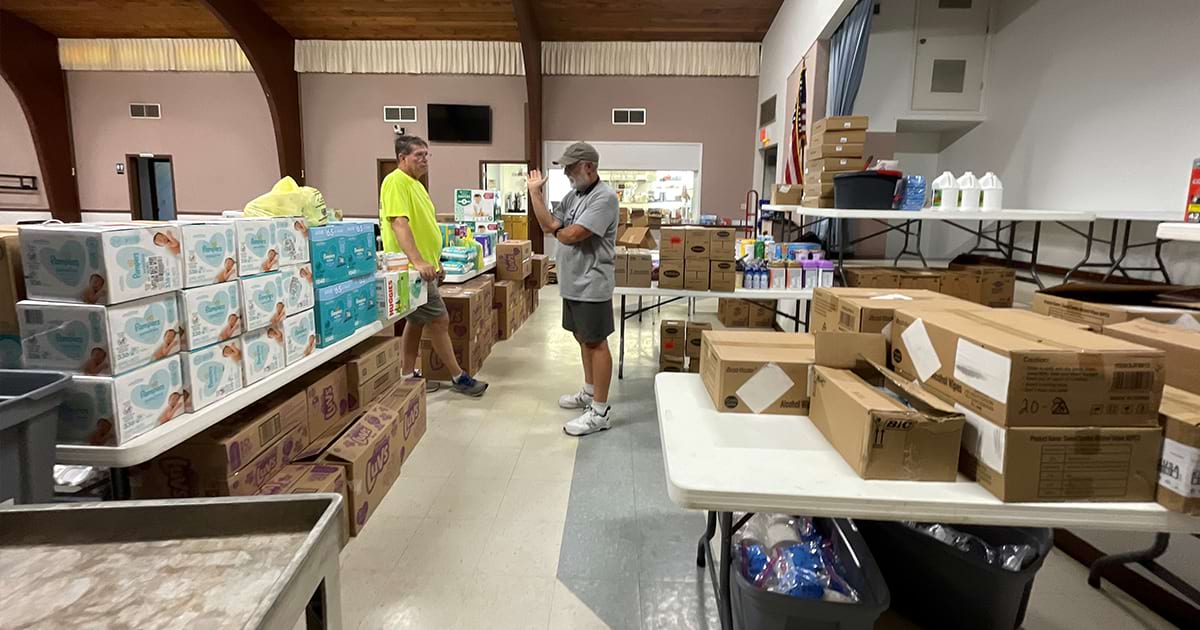 The first Amazon shipments of supplies, purchased with donations from the people of The Lutheran Church—Missouri Synod (LCMS), are stacking up at Zion Lutheran Church in Fort Myers, Fla. Many of the boxes contain baby supplies — diapers, wipes, baby food and formula — that will be delivered to various distribution centers nearby. Others contain gear such as work gloves for cleanup or cots for volunteers to sleep on.
A Lutheran Early Response Team (LERT) coordinated by Joel and Kathy Matthews, members of Abiding Savior Lutheran Church in Gainesville, Fla., is stationed at Zion. The team will organize and distribute the donated supplies to distribution centers nearby. These distribution centers, established after Hurricane Irma in 2017, make it easier for people affected by Hurricane Ian to find what they need in one place.
An LCMS Hurricane Ian Relief Amazon wish list will be available soon so that people can order supplies to be sent directly to Zion.
Today, LERT volunteers have begun cleaning out houses and dragging debris to the curb for disposal. A chainsaw crew is also at work. Yet many more volunteers are still needed. 
Volunteer to serve on a Lutheran Early Response Team.
Visit the LCMS Disaster Response page.
Individuals and congregations in the LCMS, including those in the Florida-Georgia District, who wish to assist with the response are encouraged to contact the district office at flgadistrict.org/lert or call 407-857-5556 or 877-457-5556 (toll-free).
Individuals, congregations and groups wanting to donate to the Synod's response may:
Text the keyword LCMSHURRICANES to the number 41-444 from your text-enabled smartphone or tablet.
Visit lcms.org/givenow/hurricane.
Make a check payable to The Lutheran Church—Missouri Synod, and write "Hurricane Response" on the memo line. Send to The Lutheran Church—Missouri Synod, P.O. Box 66861, St. Louis, MO 63166-6861.
Call 888-930-4438.
The Florida-Georgia District is also receiving direct contributions to support its hurricane response at flgadistrict.org/give. (The LCMS is not sending direct donation appeals into the Florida-Georgia District so that individuals and congregations there do not experience duplicate or competing solicitations.)
For additional assistance or to ask questions about donating, please call LCMS Mission Advancement's Contributor Care Line at 888-930-4438.
Posted Oct. 10, 2022