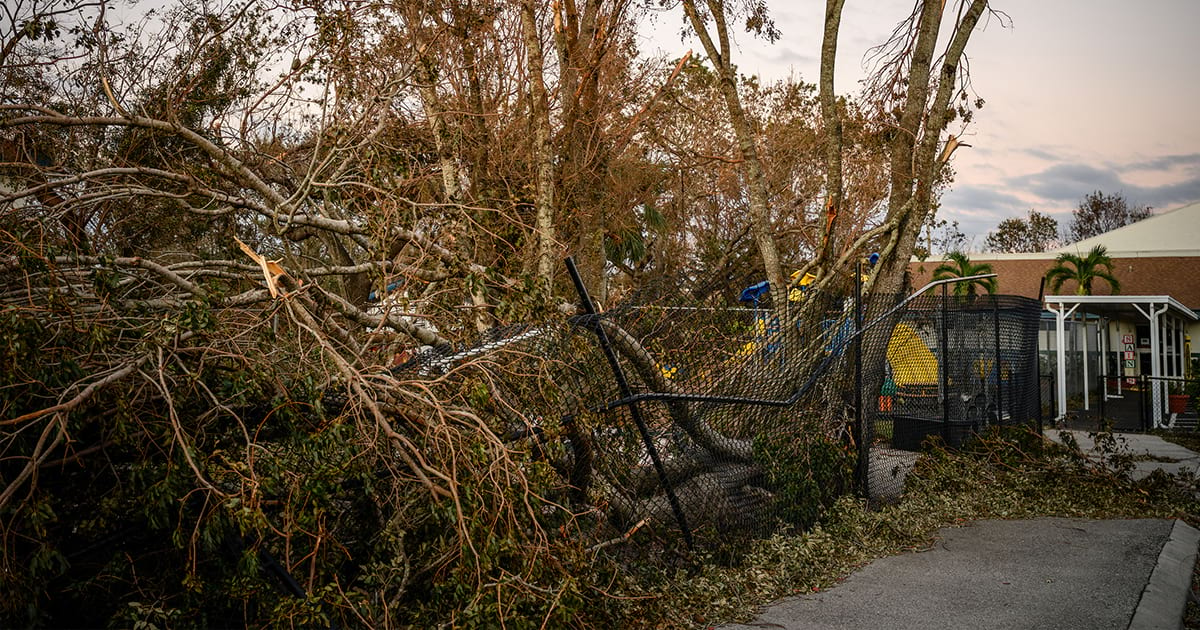 Hurricane Ian has come and gone. Initial reactions and attention are already waning. Now, the long work of cleanup and restoration begins.
"We'll start with the church[es]," said Jay Wendland, district disaster response coordinator for the LCMS Florida-Georgia District. "The most important thing is to get [them] free of debris first so that people can receive Word and Sacrament."
A Lutheran Early Response Team (LERT) camp at Zion Lutheran Church in Fort Myers, Fla., which will host cleanup volunteers, will be up and running soon. Their work will extend to the congregation members and church workers in need in the greater Fort Myers area. 
Wendland said volunteers are "desperately needed."
Cleanup will include chainsaw work to clear downed trees and remove large branches still hanging from standing trees. Volunteers will also muck out houses and pick up debris.
Volunteer to serve on a Lutheran Early Response Team.
Visit the LCMS Disaster Response page.
Below, watch an on-the-scene look at the aftermath of Hurricane Ian and hear interviews from members and church workers at LCMS congregations in Fort Myers, Englewood, and Naples.
Individuals and congregations in the LCMS, including those in the Florida-Georgia District, who wish to assist with the response are encouraged to contact the district office at flgadistrict.org/lert or call 407-857-5556 or 877-457-5556 (toll-free).
Individuals, congregations and groups wanting to donate to the Synod's response may:
Text the keyword LCMSHURRICANES to the number 41-444 from your text-enabled smartphone or tablet.
Visit lcms.org/givenow/hurricane.
Make a check payable to The Lutheran Church—Missouri Synod, and write "Hurricane Response" on the memo line. Send to The Lutheran Church—Missouri Synod, P.O. Box 66861, St. Louis, MO 63166-6861.
Call 888-930-4438.
The Florida-Georgia District is also receiving direct contributions to support its hurricane response at flgadistrict.org/give. (The LCMS is not sending direct donation appeals into the Florida-Georgia District so that individuals and congregations there do not experience duplicate or competing solicitations.)
For additional assistance or to ask questions about donating, please call LCMS Mission Advancement's Contributor Care Line at 888-930-4438.
Posted Oct. 7, 2022