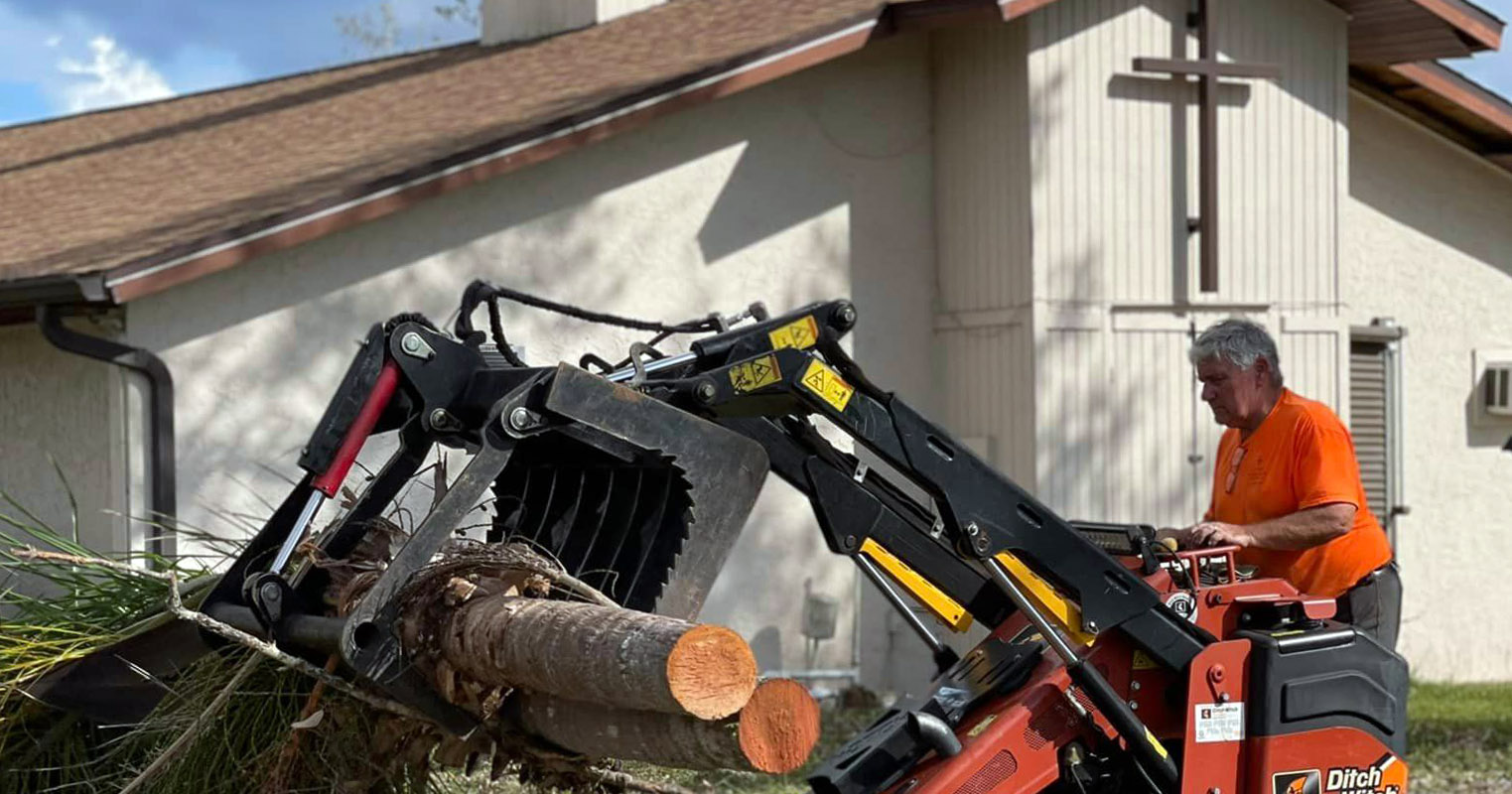 "It's more than just doing chainsaw work — we're bringing the mercy of Christ," said Deaconess Kathy O'Day, district disaster response coordinator for The Lutheran Church—Missouri Synod (LCMS) Northern Illinois District (NID). O'Day also serves as director of disaster response for Lutheran Church Charities (LCC), an LCMS Recognized Service Organization.
On Monday, Oct. 10, a Lutheran Early Response Team (LERT) made up of volunteers from the NID and LCC began working out of Lakeside Lutheran Church in Venice, Fla. The team has so far helped with cleanup at Lakeside and cut down and cleared trees at Redeemer Lutheran Church in Englewood, Fla.
"They were thrilled we cleaned up their property for them. They want school to open on Monday, and now it's safe for their kids to be outside," said O'Day.
The team next serves Trinity Lutheran Church in Port Charlotte, Fla. Trinity had roof damage, many trees down and 10 inches of water inside the sanctuary.
"In catastrophic natural disasters such as Hurricane Ian, we are blessed to have a network of nationwide LERT teams," said the Rev. Dr. Ross Johnson, director of LCMS Disaster Response. "The Northern Illinois and Lutheran Church Charities LERT team is a blessing as it provides trained volunteers, skid-steers and lifts to be able to do advanced work."
After work finishes at the churches, the team will turn its efforts to the homes of congregation members who have requested help.
"We're sharing the love of Christ with those who are hurting, who have just gone through a traumatic event, who just lost everything they own, whose homes are gone," said O'Day.
"People are very willing to drop everything and serve. I have a great group of volunteers. [Our work] is a blessing to people, but we are blessed to serve."
Volunteer to serve on a Lutheran Early Response Team.
Visit the LCMS Disaster Response page.
Individuals and congregations in the LCMS, including those in the Florida-Georgia District, who wish to assist with the response are encouraged to contact the district office at flgadistrict.org/lert or call 407-857-5556 or 877-457-5556 (toll-free).
Individuals, congregations and groups wanting to donate to the Synod's response may:
Text the keyword LCMSHURRICANES to the number 41-444.
Visit lcms.org/givenow/hurricane.
Make a check payable to The Lutheran Church—Missouri Synod, and write "Hurricane Response" on the memo line. Send to The Lutheran Church—Missouri Synod, P.O. Box 66861, St. Louis, MO 63166-6861.
Call 888-930-4438.
The Florida-Georgia District is also receiving direct contributions to support its hurricane response at flgadistrict.org/give. (The LCMS is not sending direct donation appeals into the Florida-Georgia District so that individuals and congregations there do not experience duplicate or competing solicitations.)
For additional assistance or to ask questions about donating, please call LCMS Mission Advancement's Contributor Care Line at 888-930-4438.
Posted Oct. 13, 2022/Updated Oct. 14, 2022