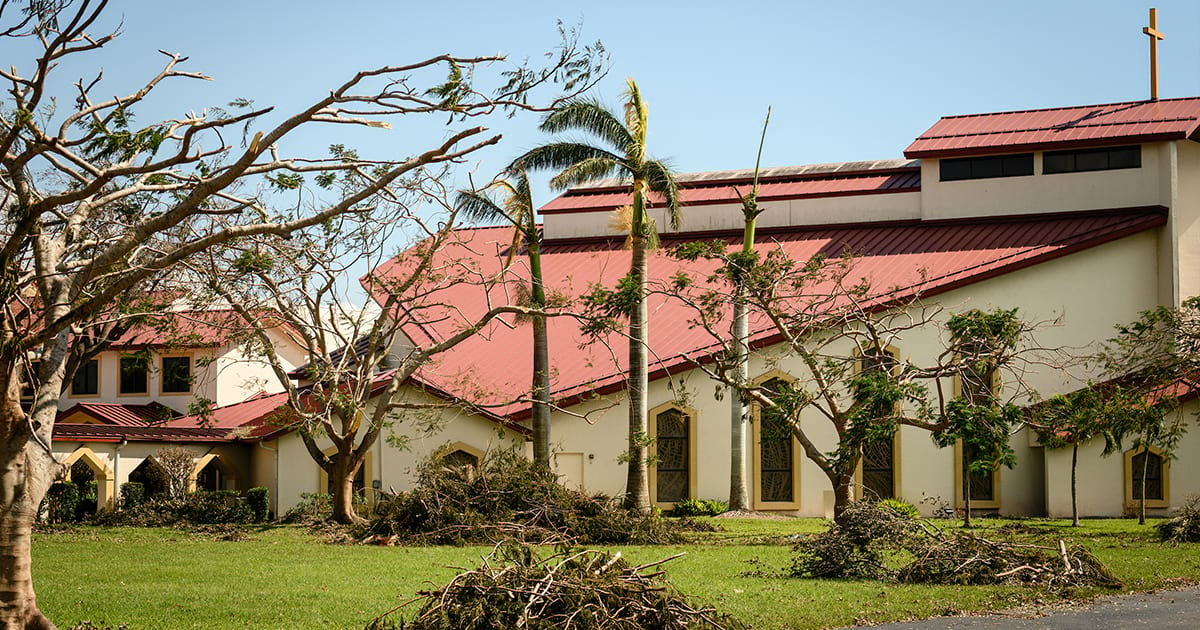 By Sarah Reinsel
Piles of wood and debris extended for a hundred yards along the driveway leading up to Good Shepherd Lutheran Church in Sarasota, Fla. Church members and parents of students at the school had spent three days cutting up and stacking the trees and branches downed by Hurricane Ian.
The Rev. Ed Brashier's task was to haul it away. It took 19 loads in a 10-foot dump truck.
Brashier is the volunteer team leader at Shepherd's Heart Ministry, a Recognized Service Organization of The Lutheran Church—Missouri Synod (LCMS). He also serves as the district disaster response coordinator for the LCMS Southern District.
"The best feeling is helping people do something they couldn't do themselves," said Brashier.
Brashier brings years of experience with tree removal, plus heavy equipment, to the job. His trusty compact skid steer, purchased years ago with a grant from LCMS Disaster Response, has made his work possible through many disasters.
Brashier's team of two worked for two days at Good Shepherd. He expects his team to expand to eight members next week as they head south to serve Zion Lutheran Church in Fort Myers, Fla. They will join the Lutheran Early Response Team (LERT) already stationed there.
"People call us the roving chainsaw crew," Brashier said.
Brashier emphasized the constant need for volunteers in a disaster response situation. "The bigger the base we have, the more people we can pull together for a [LERT] team when a disaster happens," he said.
"The LERT training system is one of the best in the country," said Brashier. "I'm proud of the Lutheran church for going the distance and staying the longest in these disasters, even after other ministries pull out."
Volunteer to serve on a Lutheran Early Response Team.
Visit the LCMS Disaster Response page.
Individuals and congregations in the LCMS, including those in the Florida-Georgia District, who wish to assist with the response are encouraged to contact the district office at flgadistrict.org/lert or call 407-857-5556 or 877-457-5556 (toll-free).
Individuals, congregations and groups wanting to donate to the Synod's response may:
Text the keyword LCMSHURRICANES to the number 41-444.
Visit lcms.org/givenow/hurricane.
Make a check payable to The Lutheran Church—Missouri Synod, and write "Hurricane Response" on the memo line. Send to The Lutheran Church—Missouri Synod, P.O. Box 66861, St. Louis, MO 63166-6861.
Call 888-930-4438.
The Florida-Georgia District is also receiving direct contributions to support its hurricane response at flgadistrict.org/give. (The LCMS is not sending direct donation appeals into the Florida-Georgia District so that individuals and congregations there do not experience duplicate or competing solicitations.)
For additional assistance or to ask questions about donating, please call LCMS Mission Advancement's Contributor Care Line at 888-930-4438.
Posted Oct. 14, 2022