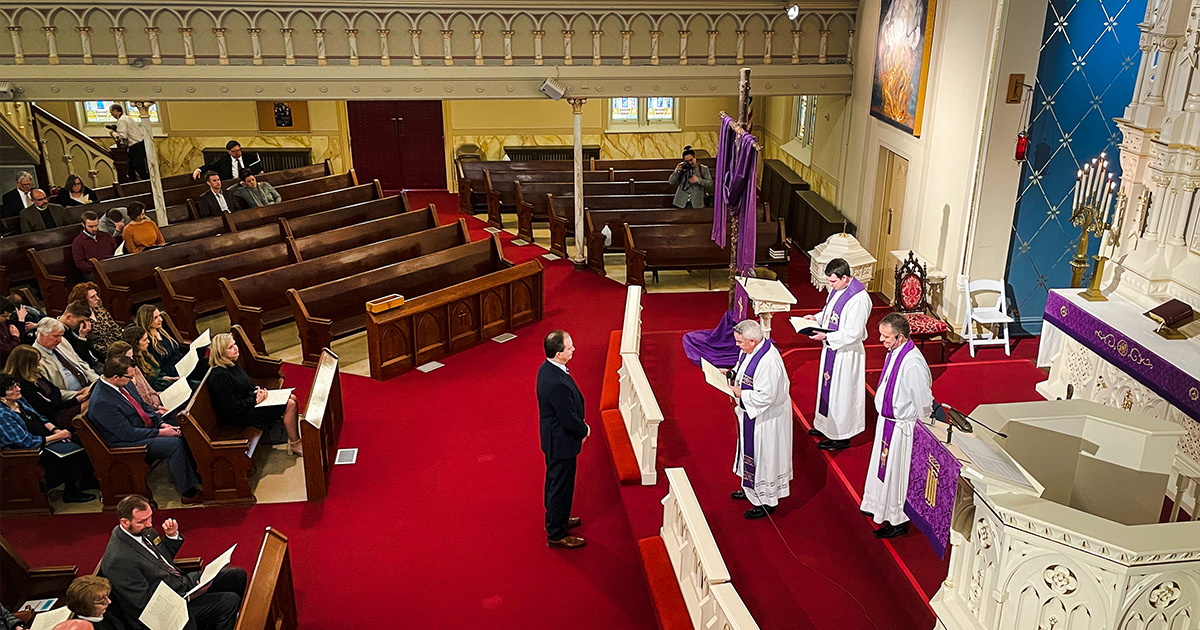 By Stacey Egger
On March 11, people from across The Lutheran Church—Missouri Synod (LCMS) gathered at Holy Cross Lutheran Church in St. Louis for the installation of Jonathan D. Schultz as president and CEO of Concordia Publishing House (CPH).
Schultz has worked for CPH since 1998, serving as vice-president since 2008 and as interim president and CEO since May 2021. He was elected as CPH's ninth president and CEO on Jan. 19.
"It is humbling to know that we at CPH are entrusted with the responsibility to bring the Good News of Christ to a world that so desperately needs it," Schultz said. "By God's grace, the resources we produce today will serve the church long into the future, just as the books and resources created generations ago continue to daily serve and bless the church."
Schultz's brother, the Rev. Jeremy Schultz, preached for the service on John 8:31–36. Reflecting on Jesus' words "If you abide in my word, you are truly my disciples," he said:
"You and all the employees of our publishing house … help us here in the Missouri Synod and beyond to abide in the Word of God, through the materials you all produce: the Sunday school, VBS and confirmation curriculums; the worship resources; the Bible studies and the more meaty theological works. … We give God thanks this day for each and every one of you." 
Jeremy Schultz is the pastor of St. John's Lutheran Church in Arnold, Mo.
The singing of the hymn "Lord, Keep Us Steadfast in Your Word" (LSB 655) in the service echoed this theme, while the first reading reminded attendees: "What becomes of our boasting? It is excluded. … For we hold that one is justified by faith apart from works of the law" (Rom. 3:27–28).
After taking vows to carry out his office in conformity with Scripture and the Lutheran Confessions, as well as the Constitution and Bylaws of the Synod and CPH, Schultz was installed, and the service concluded after several more prayers and hymns.
Schultz holds a law degree from Loyola University, and a bachelor's degree in business management from Concordia University Chicago, River Forest, Ill.
Schultz and his wife, Susan, a Lutheran school teacher, have three children — Thomas (Allison), Mollie and Abigail. They previously served as LCMS missionaries in Guatemala and are members of Glendale Lutheran Church in St. Louis.  
Posted March 29, 2022