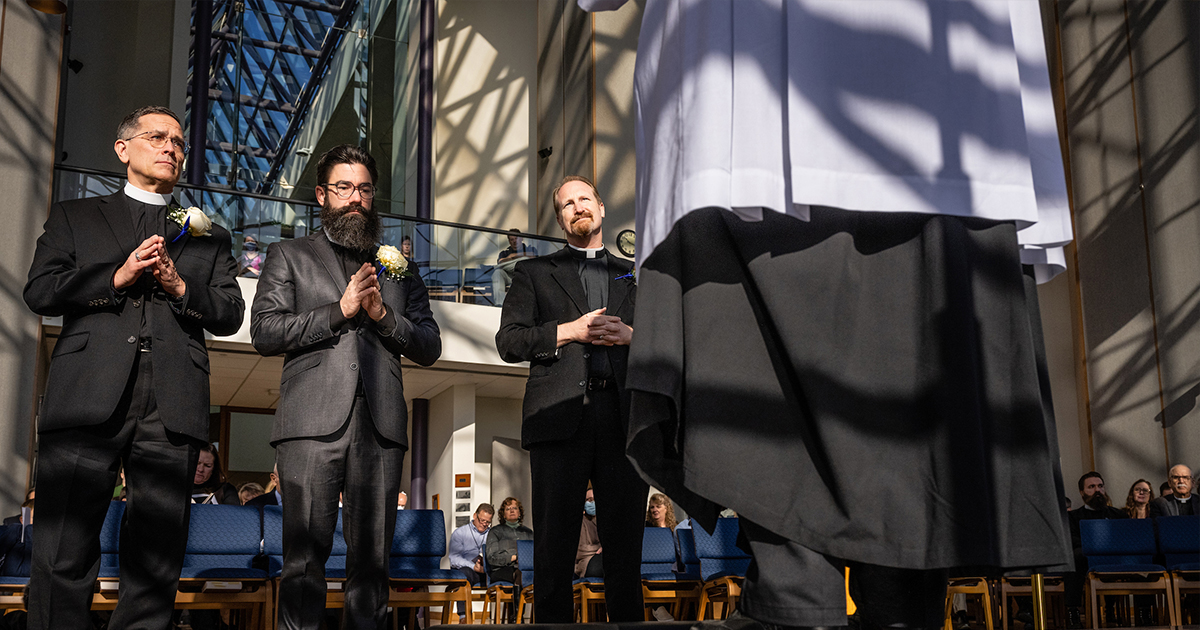 By Stacey Egger
On Jan. 5, during daily chapel at The Lutheran Church—Missouri Synod (LCMS) International Center (IC) in St. Louis, three new LCMS employees were installed: 
The Rev. Dr. Jonathan E. Shaw, director of LCMS Church Relations and assistant to the LCMS president;  
The Rev. Jeffrey B. Hemmer, assistant to the LCMS president; and 
The Rev. Dr. Mark A. Rabe, director of recruitment for the LCMS Office of International Mission. 
Shaw formerly served as a U.S. Army chaplain (Col.), retiring from the Pentagon in October 2020 with 39 years of service in various roles and locations. After his ordination in 1984, he served parishes in Guadalajara, Mexico, and Winchester, Va., and also served as a member and later the chair of the Synod's former Board for Congregational Services. Shaw teaches in the D.Min. program at Concordia Theological Seminary, Fort Wayne, and has published over 50 articles in systematic and exegetical theology. 
"It is humbling to undertake this work," Shaw said. "Church relations is about unity in Christ and His Word — which is promised, which we seek and for which we pray. The LCMS works with about 100 church bodies: our altar-and-pulpit-fellowship partners; our friends with whom we cooperate in theological education, theological conversation and/or mercy ministry; and others. The Synod's Commission on Theology and Church Relations, Office of International Mission and seminaries are vital church relations teammates. God bless our work together for His kingdom." 
Hemmer previously served as pastor of Bethany Evangelical Lutheran Church in Fairview Heights, Ill., where he continues to serve in a part-time capacity. He is also a Ph.D. candidate at Concordia Seminary, St. Louis, and is the author of Man Up! The Quest for Masculinity and the sermon series Behold the Man! and A Noble Army, all published through Concordia Publishing House. 
"I am deeply honored to be called to serve in this position," Hemmer said. "I am simply staggered at all the great work the people in this building do to advance the Gospel of Christ throughout the world, and to count myself among them, among so many capable hands, competent heads and compassionate hearts, is a privilege."
Rabe served from 2015–2021 as an LCMS missionary and theological educator at Mekane Yesus Seminary in Addis Ababa, Ethiopia. Prior to that, he served as pastor of Calvary Evangelical Lutheran Church, Oroville, Calif.; taught at Atemo Bible College and Matongo Lutheran Theological College, Kenya; and served as pastor of Trinity Lutheran Church, Albany, Ga. 
"I am truly humbled to be serving in the Office of International Mission as the director of recruitment," Rabe said. "With such a great need for missionaries to serve in the international field, it is encouraging to have such a talented team to work alongside in this blessed task God has put before us of spreading the Gospel, planting Lutheran churches and showing mercy." 
Shaw, Hemmer and Rabe had all begun serving prior to their installations. 
The Rev. Dr. Matthew C. Harrison, LCMS president, preached during the service of installation on Gal. 4:1–7. "The Lord who brings you into these positions, that same Lord provides exactly the grace you need to accomplish them, and accomplish them to the full," Harrison said. 
"Welcome," he continued. "The year ahead is Christ's. He's at work with His Gospel. And He will work with us, come what may, come difficulty, tragedy, great victory, great setback. Come what may, it's all Christ's."
Posted Feb. 8, 2022