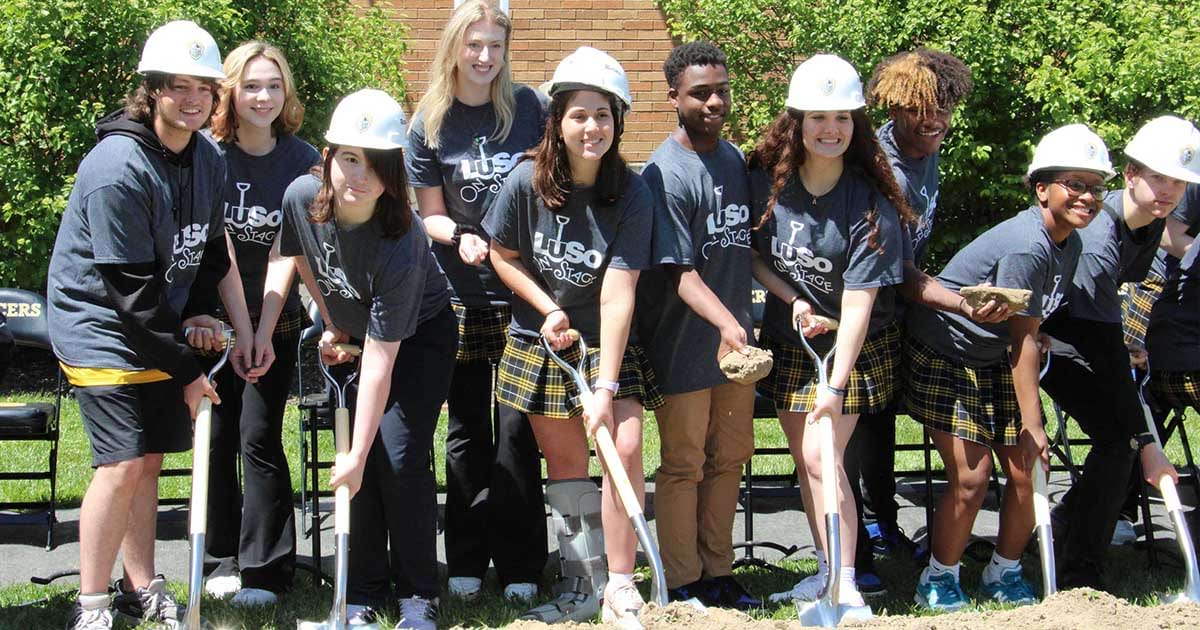 The monthly "Campus Clips" column includes brief reports from LCMS day schools, universities and seminaries.
Ground broken in Mequon and St. Louis
Trinity Lutheran School, Mequon, Wis. — the state's oldest private school, founded in 1839 — broke ground on a 22,000-square-foot classroom addition on Aug. 20. Over the past four years, Trinity has grown by 175%. The new addition will provide much-needed space to welcome more students, expand special needs programming, and continue offering Bible-based Christian education and child care. "We are elated to embark on this significant expansion project, which will enable us to further our mission of creating, sustaining and growing a passion for learning and a heart for Christ in our greater community," said Dr. Sam Seefeld, Trinity's principal.
On May 3, Lutheran High School South, St. Louis, broke ground on its new Jubel Center for the Arts. The $18 million addition will include a state-of-the-art theater, music practice rooms, an art studio, and space for the entire student body to gather in assemblies and worship.
"Such a dream and plan can only become a reality through the generosity of people from the community who believe in the mission of Lutheran South," said Board of Trustees Chairman Jonathan Schultz. "We are so grateful to each and every donor that has contributed to this project."
The 39,000-square-foot expansion includes an entrance and lobby, as well as new administrative offices, a spirit store and concession stand. The anticipated completion date for the project is Fall 2024.
"The new Darren Jubel Charitable Foundation Center for the Arts will serve our school community for decades to come as a space for practice and performance, creativity and collaboration, and for work and worship as we joyfully celebrate our identity as children of the one true King, loved and saved by Jesus," said Head of School Jonathan Butterfield.
Concordia Academy
Students who have earned at least nine credit hours of Concordia University, Nebraska (CUNE), Seward, Neb., dual credit automatically become members of the newly formed Concordia Academy. In Spring 2023, more than 600 of CUNE's 1,700 dual-credit students qualified as members of Concordia Academy. 
"Concordia Nebraska's dual credit program not only allows students to receive outstanding learning opportunities and dual credit through face-to-face instruction on their own high school campus; it also leads to cost savings for students and their families," said Dr. Beth Pester, CUNE director of Dual Credit and School Partnerships. "The formation of Concordia Academy allows us to recognize students who have excelled in the Concordia Dual Credit program at their high school, and it also allows us to give them a sneak peek of the outstanding offerings available at [CUNE]."
Distinctly excellent
Concordia University Chicago (CUC), River Forest, Ill., was recognized by Colleges of Distinction for the 2023–2024 academic year, marking its commitment to helping undergraduate students learn, grow and succeed. While CUC has been named a College of Distinction every year since 2010, this year it was recognized in a new category: affordability.
The Colleges of Distinction selection process comprises a sequence of in-depth research and detailed interviews with colleges and universities, accepting only those that adhere to "Four Distinctions": engaged students, great teaching, vibrant community and successful outcomes. 
"Being honored as a College of Distinction once again shows that [CUC] students are engaged and successful, benefiting from hands-on learning, community involvement and a Christian education in the Lutheran tradition," said Dr. Jamie Kowalczyk, CUC vice-president of Strategy and Innovation.
Seven more years
The School of Business and Economics (SoBE) at Concordia University Irvine (CUI), Irvine, Calif., has been re-accredited by the International Accreditation Council of Business Educations (IACBE) for the maximum possible period of seven years. This accreditation specifically accredits the SoBE's Master of Business Administration (MBA) and its Economics and Business Administration undergraduate programs. It also includes a specialized accreditation for the Accounting program. 
The SoBE achieved the highest possible IACBE recognition by demonstrating a commitment to continuous improvement, excellence in business education, and advancing academic quality in its business programs and operations. The SoBE's career-relevant courses are taught by academically and professionally qualified Christian faculty, and the SoBE places emphasis on developing extensive relationships with external constituencies.
"Continued accreditation of the School of Business and Economics underscores Concordia's commitment to students, alumni and employers to provide quality, career-relevant programs, curriculum and degrees," said George W. Wright, dean of the School of Business and Economics. "Continuous accreditation is significant and rewarding. The accreditation process ensures and validates the quality of our efforts to continuously improve and implement best practices in both the undergraduate and graduate ecosystems of business and economics."
New engineering chair
Concordia University Wisconsin (CUW), Mequon, Wis., has named Dr. Subha Kumpaty as chair of the CUW Engineering Department. Kumpaty comes to CUW from the Milwaukee School of Engineering, where he served as professor since 1997. He holds dual doctoral degrees: a Ph.D. in Engineering Science (Mechanical) from the University of Mississippi and a Doctor of Ministry from Tyndale Theological Seminary in Texas. In November, CUW announced the addition of new chemical and industrial engineering bachelor's degree programs and is now accepting applications for the new programs. Visit cuw.edu/apply.  
Accelerated education degree
Concordia University Ann Arbor (CUAA), Ann Arbor, Mich., has launched an accelerated bachelor's program that offers a degree in lower or upper elementary education along with state licensure in as few as three years. Graduates of the program will be eligible to teach grades K–6. Visit cuaa.edu/apply to get started. 
Welcome, Dr. Ankerberg
Concordia University Wisconsin and Ann Arbor (CUWAA) will celebrate Dr. Erik P. Ankerberg as its new president Sept. 25 through Oct. 3. An eight-day lineup of speakers and events has been planned to allow the CUWAA community to celebrate the next steps in the life of the institution. All events are free, and speakers and ceremonies will be available for viewing via livestream. Featured events include an inauguration ceremony on Friday, Sept. 29, at 2 p.m. Central and a keynote address from Dr. Pano Kanelos on Thursday, Sept. 28, at 7 p.m. Learn more at cuw.edu/inauguration. 
Fulbright scholar
Laura Wangsness Willemsen, associate professor in the Department of Doctoral Studies in Education at Concordia University, St. Paul, St. Paul, Minn., has received a Fulbright U.S. Scholar Program award for the 2023–2024 academic year from the U.S. Department of State and the Fulbright Foreign Scholarship Board. Willemsen has been selected for the Africa Regional Research Program and will conduct educational research in Tanzania.
New academic year
Students, staff, faculty and friends attended the opening service for the 185th academic year of Concordia Seminary, St. Louis (CSL), on Aug. 25 in the Chapel of St. Timothy and St. Titus. CSL President Rev. Dr. Thomas J. Egger preached on "We Belong to Christ," the theme for the year, based on 1 Corinthians 6:19–20 and Romans 14:8–9. The service concluded a week of orientation for the new students, including residential and distance students in both the Ministerial Formation and Advanced Studies departments. CSL Associate Professor of Practical Theology Rev. Dr. Stephen Pietsch, Associate Professor of Exegetical Theology Rev. Dr. Adam Hensley and Assistant Professor of Exegetical Theology Rev. Joel Fritsche, who also serves as director of Vicarage and Deaconess Internships, were installed. In addition, two current professors were installed into new positions: Professor of Historical Theology Rev. Dr. Gerhard Bode as director of the Center for Reformation Research, and Associate Professor of Exegetical Theology Rev. Dr. Kevin Golden as dean of Theological Research and Publication.
Tapestry restoration
Concordia Theological Seminary, Fort Wayne (CTSFW), with the help of the Good Shepherd Institute, is undertaking the restoration of a historic tapestry that once hung in the Student Commons of Craemer Hall.
The 8-foot by 10-foot tapestry, designed in 1966 by Leah O. "Liddy" Fitz-Gerald of Castine, Maine, continues the theme of other artwork on campus that visually expresses the words of the Te Deum Laudamus: "To Thee all angels cry aloud, the heavens and all the powers therein." 
Textiles artist Sara Nordling, wife of CTSFW Professor Rev. Dr. John Nordling, is restoring the tapestry using new silk and other materials. CTSFW hopes to display the tapestry before the end of the year. 
Cafe Concordia 
The joint seminary booth at the 2023 Synod convention served as a filming location for a new series of videos on the booth theme, "Start the Conversation: Recruiting the Next Generation." 
For each video, two individuals — one with ties to CSL, the other with ties to CTSFW — sat down in the coffeehouse-themed booth and talked for 10–15 minutes about their path to ministry, offering additional observations about seminary life and the need for church workers. The nine videos feature the presidents of CSL and CTSFW, members of the seminaries' boards of regents, seminary faculty, and Synod board members and staff.
The "Live from Cafe Concordia" videos are available on the seminaries' Facebook pages.
Posted Sept. 20, 2023