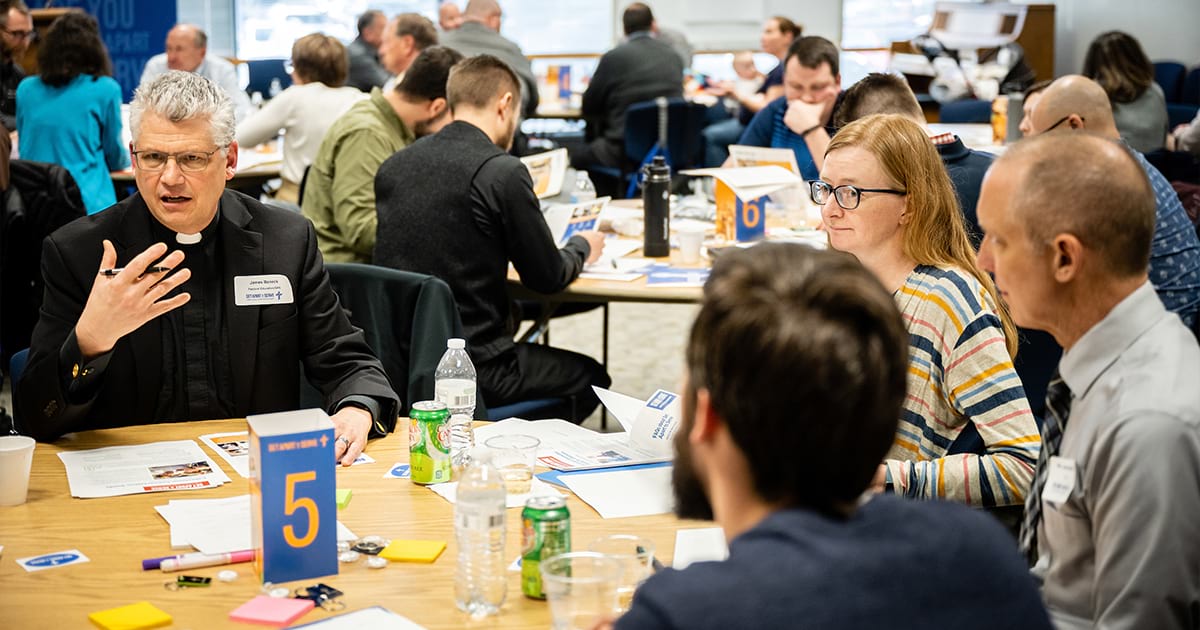 By Stacey Egger
From Feb. 28 to March 1 in St. Louis, the Set Apart to Serve (SAS) pilot program launched with a two-day orientation meeting at the LCMS International Center (IC). Participants from each of the Synod's districts were in attendance, each representing a pilot congregation, school or camp. 
In the coming months, each site will use SAS resources to discuss full-time church work with their youth and to develop long-term plans for nurturing potential church workers in their locations. They will provide ongoing feedback to SAS leadership to improve these resources before they are launched Synodwide. 
The pilot program will run from March through May, with some ongoing communication through the fall.
35 pilot sites, one mission 
The orientation included opportunities to discuss, ask questions and walk through the resources these pilot sites will be testing over the coming months. The resources include conversation guides for speaking with youth of different ages about church work and "journey maps" that provide research-driven benchmarks for youth at various stages of their life in the church.  
"I teach junior high, and one of the things I tell my kids is: You are the future of our church," said Robert Johnson, history teacher at St. Paul Lutheran School in Bonduel, Wis., during one discussion. "Whether you go into church work or any other field, you're going to be the teachers and pastors, the lay leaders, the elders of our church. How do you serve the Lord in your vocation?"
The gathering provided an exceptional opportunity for fellowship and discussions about church work recruitment among a wide swath of people across the Synod — pastors, teachers and principals, camp staff, deaconesses, DCEs and more.
"We have three different time zones represented at this table right now," said the Rev. John Zimmerman, pastor of Immanuel Lutheran Church in Scranton, Pa., gesturing around his lunch table. "This cross-section of different contexts was very useful for the conversation here and will hopefully improve the roll-out of these resources for the Synod this fall." 
"We're in a smaller farming community," said Robinette Flach, principal of Altamont Lutheran Interparish School in Altamont, Ill. "A lot of times we just see ourselves … [but] it's very important to see that this is not just about us and our school — it's about the entire body we are a part of. … We are raising future leaders who may serve anywhere in the United States, or even do mission work in other countries. We aren't the entire body; we're just a part." 
The fellowship begun during the orientation will be ongoing in the coming months. The group was trained in the use of Discord, a discussion platform that will enable them to maintain constant communication with SAS leadership and one another, sharing progress, questions and suggestions. They will also take part in monthly check-in calls to share feedback and success stories with one another. 
During the presentations, attendees heard some sobering statistics about current church worker numbers in the Synod. 
"I always knew that there was a need for church workers, but to hear the data was a bit of a reality check," said Deaconess Raquel Rojas, who serves at Redeemer Evangelical Lutheran Church in The Bronx, New York. "We really need to get on our knees and start praying for those [future workers] and be that example for them." 
Nevertheless, the Rev. Dr. James Baneck, executive director of the LCMS Office of Pastoral Education, reminded attendees that it is not the numbers that drive this work, but Christ's command: 
"We do this because the Lord commands us to do it, and because God desires that all be saved. And the way they are saved is through the Word. The Holy Spirit creates saving faith through the Word, and that's what we commit ourselves to, especially as full-time church workers, pastors, teachers: passing on that faith from one generation to the next, that they may know Christ crucified and have forgiveness and eternal life. I know that that's why you're all here today," said Baneck in his introductory remarks. 
Rollins installed 
Another important step forward occurred during the pilot event as Glenn Rollins was officially installed as SAS manager during daily chapel at the IC on Feb. 28. Rollins began serving in this role in July 2022. He has over 41 years of experience in Lutheran education — as a teacher, principal and head of school in educational ministries across the country, and is eager to bring that experience to the SAS initiative. 
"I'm very thankful to the Lord to be able to be part of Set Apart to Serve," said Rollins. "The Lord is going to make sure that the Word goes forth. But as we hear in Matthew 9, one of the ways that He does that is by providing workers. Set Apart to Serve is our effort to ensure that that Word continues to go out in a world that seems to be increasingly broken."
During the installation, Baneck preached on 2 Corinthians 6:1–10. Discussing the "afflictions, hardships, beatings" and other unpleasant things the text associates with church work, Baneck said: 
"Do we really want to form our children into vocations that may very well cause them dishonor and slander by the world? … Yes, we will encourage our children to serve the Lord all their days. We bear the truth of Christ. … We may be sorrowful in this world, but we rejoice in our eternal salvation. We may be poor, but we are rich in the grace of God. … We may have nothing in this world, but we possess everything in Christ."
After a final half-day of discussion on March 1, these pilot site representatives returned to their own communities to resume their work as the church and to incorporate this additional emphasis as they do so. 
"This is why we're a Synod," said the Rev. Daniel Weber, pastor of St. Luke's Lutheran Church, Federal Way, Wash. "To preach the Gospel, teach the Lutheran Confessions, and raise up and support church workers. So to figure out how to do it better and talk with other people who really care about it — this is a really exciting thing." 
Find out more at Set Apart to Serve. 
Posted April 5, 2023