Nuggets for witnessing through social media based on a KFUO interview with Rev. Mark Wood.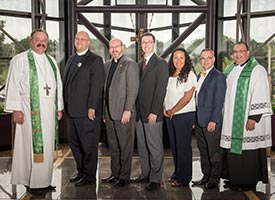 They are the Rev. Marcus Zill, the Rev. Mark Wood, Matthew Bergholt, Deaconess Mireya Johnson and Ross Stroh.
The Rev. Mark A. Wood (left) is director of LCMS Witness & Outreach Ministry, and the Rev. Marcus T. Zill is director of LCMS Campus Ministry and LCMS U.