Concordia Publishing House has announced that the hardback edition of The Lutheran Study Bible is available for purchase — five weeks earlier th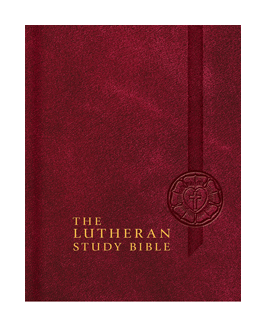 an scheduled — with the leather editions available by the end of September.
Pre-ordering sale prices are still available for the Bible, which had been scheduled for release on Reformation Day, Oct. 31.
The Bible uses the English Standard Version translation, and includes 26,500 study notes, 220 articles, and 90,000 cross references.
"These features guide biblical students to a richer understanding of His Word and how we can apply it to our daily lives," wrote Dr. Kurt Senske, president and CEO of Lutheran Social Services of the South and a member of the Synod's Board of Directors, in a CPH press release.
Taking more than six years of research, development, planning, and writing by more than 600 people, the The Lutheran Study Bible offers distinctively Lutheran notes, commentary, and supplemental content, prepared by contributors from more than 20 Lutheran church bodies.
"Many of the contributors to the Study Bible felt intimidated by the writing task — adding one's own comments to the very words of God is not easy," noted Rev. Edward Engelbrecht, the Bible's general editor.
"The writers' efforts received careful attention from numerous editors, but also from a specially appointed panel of doctrinal reviewers," he said. "The Lutheran church truly owes a debt of gratitude to the doctrinal review team, which did such a thorough job making certain that the notes agreed with the teachings of the Scriptures and the Lutheran Confessions."
CPH's last published study Bible, the Concordia Self-Study Bible, was based on the notes contained in the New International Version Study Bible, a conservative Reformed/Evangelical edition of the Scriptures.
According to Engelbrecht, the new Bible will "lead people to pray for and practice sound catechesis and mission work — the spread of the Gospel at home and abroad." A "mission" icon has been placed next to sections and verses of Scripture that speak of sharing the Good News of the Gospel.
Sale price of the hardback edition of The Lutheran Study Bible (item no. 012030EFO) is $34.99 (regular price $54.99) and a case of 10 (item no. 012050OECS) is priced at $349.90 (regular price $549.90).
Complementary resources, available Oct. 31, include:
Life by His Word, a CD-ROM Bible study with more than 1,500 study lessons to guide readers through The Lutheran Study Bible ($299.99, item no. 20-3488WEB).
The Lutheran Study Bible Journal, men's edition ($10, item no. 01-2028EFO) and women's edition ($10, item no. 01-2029EFO), providing a guided journey through Scriptures that encourages readers' interaction. (The regular price of each is $14.99.)
To order any of the above resources, visit www.cph.org/lutheranbible on the Web or call CPH at (800) 325-3040. Prices quoted do not include shipping charges.
Posted Sept. 23, 2009