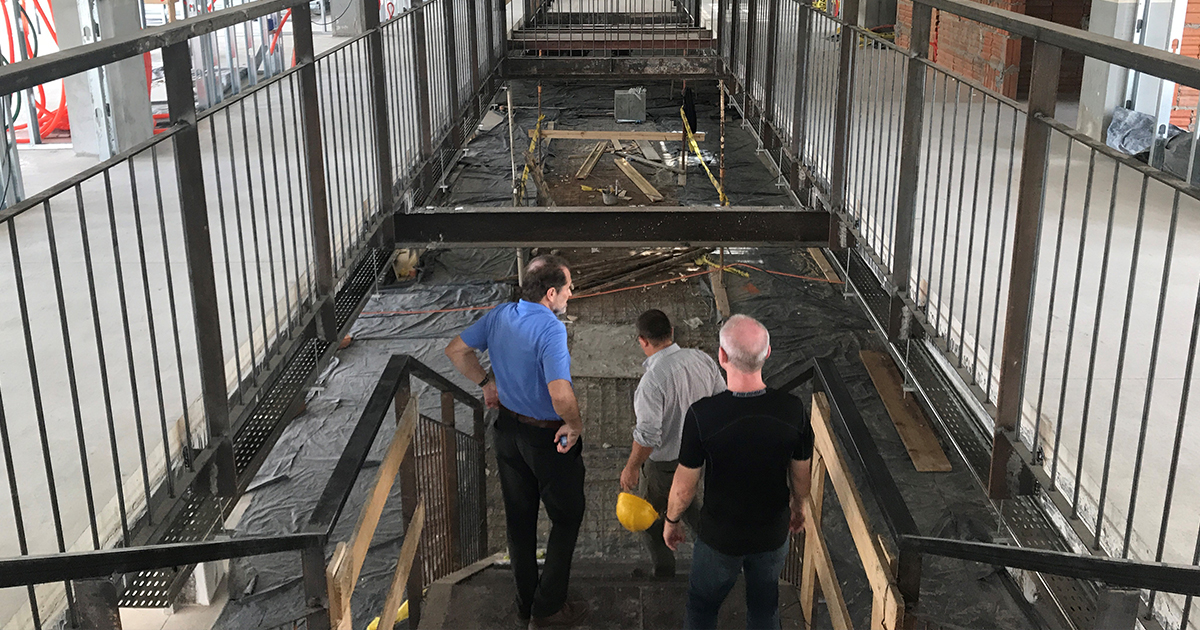 Twenty-two years ago, the Evangelical Lutheran Church of Brazil sent the Rev. Mauro Roll to Montevideo, the capital of Uruguay, to reinvigorate a struggling congregation with a small 150-student school. Two years later, Roll was joined by the Rev. Christian Hoffmann, who has served as pastor and school chaplain and religion teacher for over 20 years.
The Rev. André Müller arrived in 2012 to focus on congregational ministry so Hoffmann could dedicate himself to the school. In 2014, LCMS missionaries Rev. James and Angela Sharp arrived to help the Uruguayan church with their expanded missionary focus. The congregation is growing and now sponsors two missions, one in the downtown area of Montevideo and one in the northern Uruguay town of Chapicuy, with plans to expand to other areas of the city and country.
Meanwhile, that small 150-student school is now a complex, with more than 1,400 students, that covers over two city blocks. The complex, which sits in the shadow of the Uruguayan presidential palace, was developed through the acquisition and renovation of abandoned properties and financed through local small business loans. It has only one current active loan through Lutheran Church Extension Fund.
Several years ago, the school purchased an historic house, the Castillo Soneira, next to the presidential palace. The house was built by a Spanish shipping and construction magnate in 1865.
After the magnate's death, it fell into disrepair, but it remained on the Uruguayan national monument registry. The building is now being renovated, with a plan to use it as the site of a future university. The restoration is being funded through a 20-year lease with a national bank that has opened a branch on one corner of the property. Another part of the property will be leased to Starbucks.
Meanwhile, down the street, the middle school is undergoing a major addition. The school also recently purchased an old watch factory, with a plan to renovate and move the high school students into it.
The Rev. Gary Schulte, LCMS area director for West and Central Africa, recently visited Montevideo and saw the restoration project firsthand. He described it as "jaw-droppingly impressive, especially in a country that is historically the most atheist in Latin America and correspondingly has one of the highest suicide rates."
Posted Jan. 23, 2020