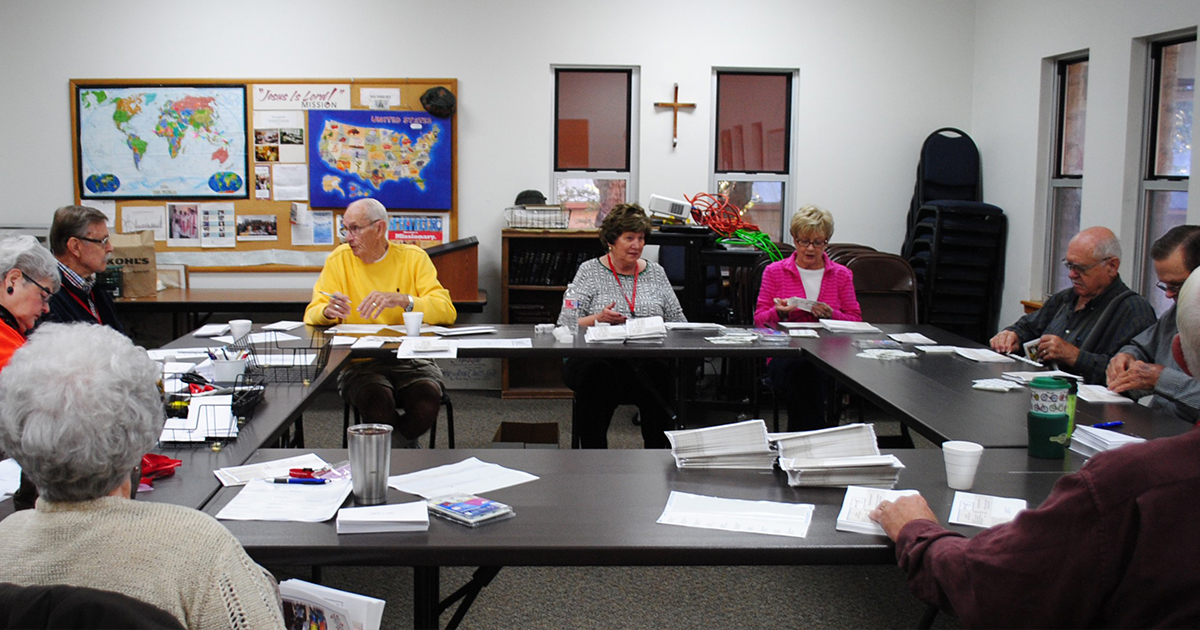 By Tiffany Silverberg
Jesus Is Lord Mission (JILM), a volunteer organization committed to funding global missions of The Lutheran Church—Missouri Synod (LCMS), recently hit a significant milestone. In February, JILM surpassed $3 million in giving to the LCMS Office of International Mission (OIM). 
The milestone was reached with JILM's recent gift of $40,000 for LCMS mission and ministry work in Sri Lanka, Russia and Romania. At this writing, JILM has given $3,014,505, through 322 gifts to over 60 ministries of the LCMS, since October 2003. 
JILM's constitution commits the organization to funding only projects and personnel approved by the OIM, making JILM a vital component of LCMS mission work. 
"Without the support from Jesus Is Lord Mission, the Synod would have to use unrestricted monies for these global mission projects," explained Ross Stroh, executive director of LCMS Accounting and Financial Services. "This would mean that unrestricted monies would need to be taken from other important ministry areas. Unrestricted monies from regular church offerings are decreasing each year." 
Stroh went on to explain, however, that restricted funds, or funds that are tagged specifically for certain projects, ensure the ongoing viability of those projects.
"Nearly 70 percent of the Synod's budget is funded by gifts restricted by donors like JILM to supporting specific activities of interest to them. If this money didn't come from the donors, much of the ministry of the LCMS could not happen," said Stroh. "Jesus Is Lord Mission commits to fund certain projects. They have been faithful and always come through for the projects they agreed to fund."
JILM was started in 2002 as an opportunity for members of the LCMS to learn more about and partner directly with mission work being done around the world and to fund those projects that might not otherwise receive funding. 
Reaching the untouched
"JILM is one of numerous mission societies who support the work of the LCMS, but an essential one in that they have an intense focus on supporting the work of international missions to evangelize and clearly proclaim the Gospel in parts of the world not yet touched by it," said Gregory Rommel, an LCMS mission advocate serving in Texas and surrounding areas. 
"Through the work of this all-volunteer society, over 500 individuals, families and congregations in 40 states have come to better know the mission work the LCMS does and have an opportunity to financially support specific ministry that makes a distinctive impact for God's Kingdom, all for His glory and honor," Rommel said. 
JILM's constitution emphasizes this focus, expressing the organization's desire that "people of every tribe, nation and tongue hear about this joyful Good News of Jesus as Lord, as we respond with eagerness and passion to our Savior's imperative."
Little expenses
JILM operates out of Zion Lutheran Church in Walburg, Texas, supported by an all-volunteer team. According to Rommel, their only expenses are for "postage, newsletter production and incidental costs associated with processing the gifts they receive." The rest of their funds go directly to the projects they support.
Mission projects funded for the 2019–20 fiscal year included Christ's Care for Children: Kenya, church planters and vicars in India, vicar and pastor stipends in Sri Lanka, Russian-language theology education and Alliance missionary in Romania and Italy. 
Joyce Best, current JILM newsletter editor and recording secretary, joined the group in 2011 after reading the JILM newsletter in her church bulletin. "As my husband and I got to know members of the steering committee and other volunteers, we learned that several had been missionaries in years past. Others had worked directly with the mission department at the LCMS. 
"We heard their stories and saw their excitement and joy as they talked about their personal involvement in mission work," Best explained. "Inspired by these volunteers, my husband and I decided that JILM was an organization through which we could be more directly involved in sharing Jesus Christ with people around the world."
'Dynamic global outreach' 
That personal connection with overseas mission work is a big part of why JILM was founded. As stated in its constitution, JILM accomplishes its work "by encouraging called and lay church leaders of the LCMS to provide leadership for dynamic global outreach through prayer, gifts, assisting in recruiting volunteer and career missionaries, by personal example and by enlisting others for membership in this Society."
"It is a way for JILM donors to directly connect with and pray for certain projects and the missionaries involved," said Stroh.
Learn more about Jesus Is Lord Mission at jilmission.org. 
Tiffany Silverberg is a freelance writer and copy editor.
Posted April 30, 2020