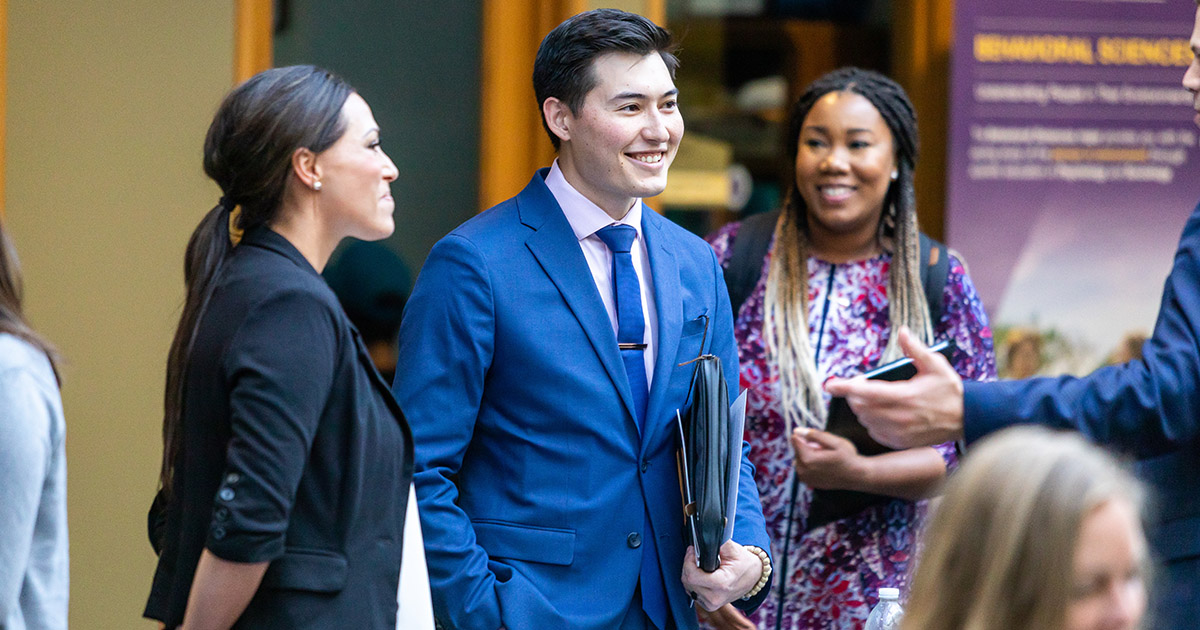 Satisfied students 
Concordia University Ann Arbor (CUAA), Ann Arbor, Mich., administers an annual student satisfaction survey to a representative sample of outgoing undergraduate and graduate CUAA students. The results of the Spring 2021 survey indicate that CUAA's most recent graduates grew in their faith, experienced personal care and felt better prepared to serve and lead in the world as a result of their time at CUAA. Learn more at blog.cuaa.edu/student-satisfaction.
Best college list
Concordia University Wisconsin (CUW), Mequon, Wis., is in the top tier of nationally ranked universities, according to the latest U.S. News & World Report Best Colleges list. The annual list has long been held as the gold standard of college rankings. This year's results show that CUW has maintained its standing among the nation's best four-year universities. Read more at blog.cuw.edu/us-news-ranking. 
Lecture series
This fall, Concordia University Chicago (CUC), River Forest, Ill., launched the Lectureship in Humanities, Christianity and Public Life, a biannual series committed to upholding the biblical teaching that all things were created by and through Christ and that "in him all things hold together" (Col. 1:16–17). The series is funded by Dr. and Mrs. C. Ross Betts. Dr. Gary Saul Morson, a professor at Northwestern University, presented the inaugural lecture, "Do Absolute Values Exist? A Russian Question," examining the outcomes of materialism and atheism when taken to their logical conclusions.
"These events are the embodiment of the university's new strategic plan, particularly as we seek to provide a transformative student experience," said CUC Provost Dr. Erik Ankerberg. "This series will allow us to expose students to a variety of well-known scholars and experts in their respective fields of study."
Equipped beyond college
November is National Career Development Month, and the Office of Vocation & Professional Development (VPD) at Concordia University Texas, Austin, Texas, equips students with resources to launch and grow their careers. VPD advises students and alumni in the career development process through comprehensive career services, including career planning, professional coaching, internship and job search preparation, and networking events. As an active member of the Greater Austin community, VPD is also a valuable resource for the external community, serving as a bridge that connects organizations with highly skilled students and graduates. Discover more about VPD at concordia.edu/meaningfulwork.
Enrollment growth
Fall enrollment at Concordia University, St. Paul (CSP), St. Paul, Minn., was the second-highest in CSP's 129-year history. Official enrollment for the fall term stands at 5,526 students, which is just below last year's record-setting 5,567. The figure includes traditional undergraduate, adult undergraduate and graduate/doctoral programs. CSP remains the second-largest private university in Minnesota. 
Constitution Week
Concordia University Irvine (CUI), Irvine, Calif., celebrated its first annual Constitution Week under the leadership of the Center for Public Policy, Citizenship and Ethics. Also collaborating were the departments of English and History/Political Thought; the Center for Student Leadership and Development; the Associated Students of CUI; the Veterans Resource Center; the CUI library; and CUI's Strategic Communications and Marketing departments.
The primary purpose of Constitution Week was to encourage students, faculty and staff to learn more about the U.S. Constitution through interdepartmental and interdisciplinary events and activities. The week also included a university-wide convocation featuring the Honorable Andrew Guilford, a retired judge who spoke on the Constitution; a visit from a George Washington reenactor; a public reading of the Constitution; a display of replica historical documents in CUI's library; and a trivia night hosted by the student government. 
Alumni art show
As part of Homecoming festivities at Concordia University, Nebraska (CUNE), Seward, Neb., the Marxhausen Gallery of Art hosted the Alumni Art Exhibition: A Concordia Celebration, featuring the work of more than 50 alumni artists spanning a variety of mediums.
"Each year we explore different ways to reconnect with our alumni, especially at Homecoming," Jen Furr, CUNE senior director of alumni and university relations, said. "This idea of connecting with our art alums has been on my radar for a number of years, and after working with Professor Jim Bockelman, we decided that an art show would provide a great way to reconnect and also lift up the unbelievable talent that our alumni have."
Artists were asked to submit a work of any medium, including photography, sculpture, painting, drawing, printmaking, graphic design and mixed media. Alumni artists from Washington to Massachusetts participated. Bockelman, the gallery's director, and a 1989 Concordia graduate, said, "It's wonderful to see the diversity of art and artifacts that people have sent to the gallery, all of which remind me of their ongoing commitment to the significance of art in its variety of expression."
Seminary news
Community partnership
On Sept. 27, Concordia Theological Seminary, Fort Wayne (CTSFW), welcomed Fort Wayne's mayor, Tom Henry, along with business owners and residents to a ribbon-cutting celebrating the new 1.8-mile stretch of Beckett's Run Trail on the seminary's campus. The project was made possible by a partnership among the seminary, Fort Wayne Public Works, Fort Wayne Trails, Jacobs Creek Community Association, Fort Wayne City Utilities and American Electric Power. 
The Rev. Dr. Lawrence R. Rast Jr., CTSFW president, said, "It's been a real pleasure being a part of this community, and having this trail connected to the rest of Fort Wayne just underscores the partnership that exists between the City of Fort Wayne and Concordia Theological Seminary."
Film festival
Christian theology and film aficionados should mark their calendars for the third-annual Faith and Film Festival presented by Concordia Seminary, St. Louis (CSL), Jan. 27–29, 2022. Geared toward people interested in film and theology, the festival is an opportunity for participants to explore Christian themes in movies. 
Participants will be able to attend film screenings and take part in breakout sessions on up to three films. In addition, four finalists from CSL's first short film contest will be screened. Registration is $100 and includes meals. The deadline to register is Jan. 14, 2022. Learn more at csl.edu/faith-and-film-festival.
Posted Nov. 3, 2021