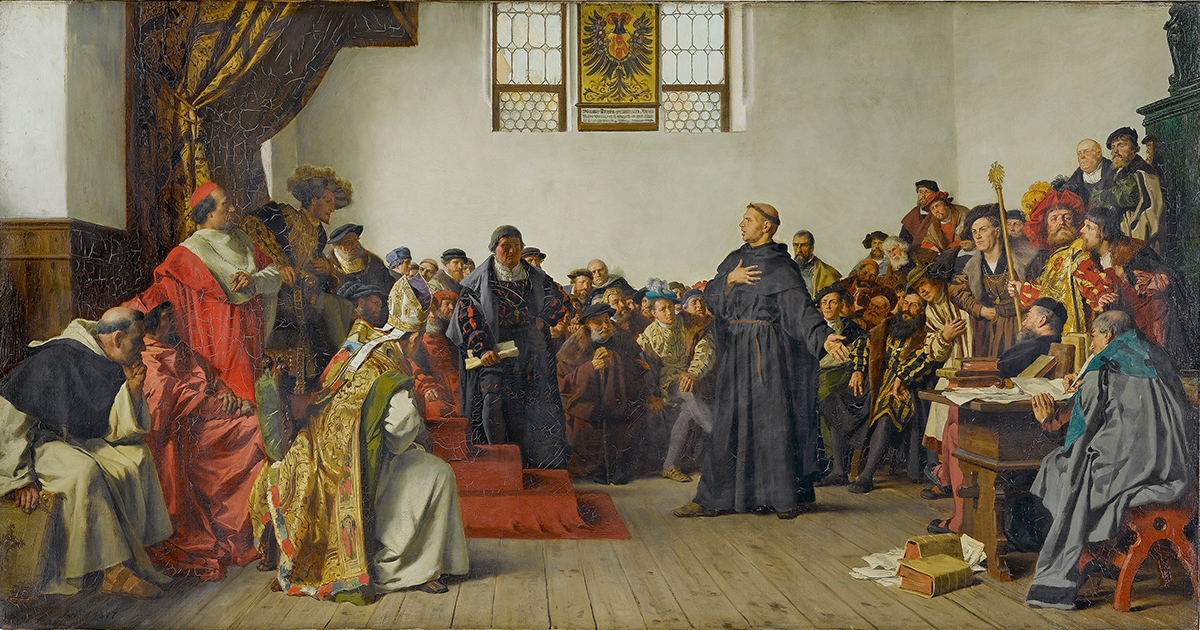 On April 18, 1521, three and a half years after he nailed the 95 Theses to the church door in Wittenberg, Martin Luther made his historic stand at the Diet (official meeting) in the German city of Worms (pronounced "Vorms"). Accused of fostering heresy, he was directed by Charles V and other leaders to recant his teaching about the pure Gospel or face death.
As recounted in his collected works, Luther concluded his statement to the Diet with the words: "Since then your serene majesty and your lordships seek a simple answer, I will give it in this manner, neither horned nor toothed: Unless I am convinced by the testimony of the Scriptures or by clear reason (for I do not trust either in the pope or in councils alone, since it is well known that they have often erred and contradicted themselves), I am bound by the Scriptures I have quoted and my conscience is captive to the Word of God. I cannot and I will not retract anything, since it is neither safe nor right to go against conscience.
"I cannot do otherwise, here I stand, may God help me, Amen" (LW 32:112–13).
On April 18, 2021, the Synod will commemorate the 500th anniversary of Luther's defiant defense of the pure Gospel by observing "Here I Stand" Sunday, as called for by the adoption of Resolution 4–09 at the 2019 Synod convention. The resolution reads, in part:
"WHEREAS, Scripture gives us encouragement with these words: 'Let us hold fast the confession of our hope without wavering, for He who promised is faithful' (Heb. 10:23) … therefore be it Resolved, That April 18, 2021, be declared 'Here I Stand' Sunday throughout The Lutheran Church—Missouri Synod, its districts, circuits, and congregations … and be it finally Resolved, That our churches and people be encouraged to spend time in prayer, asking the Lord to continue to bless the proclamation of the Gospel."
In the coming weeks, congregations and individual contributors may also anticipate further Synod communications on how they might participate in the gathering of a Synodwide thank offering, as called for in Res. 4-09, as part of the anniversary celebration.
Find resources and ideas for celebrating: lcms.org/here-i-stand-sunday
Learn about the history of the Reformation: lutheranreformation.org
Posted March 2, 2021