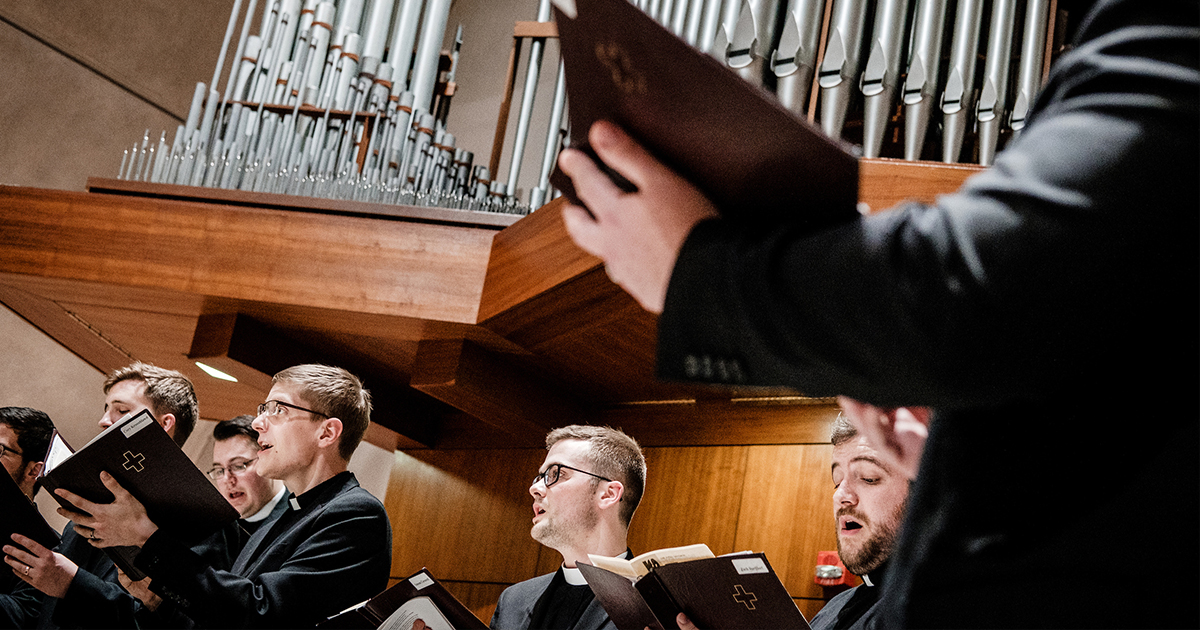 Community service for tuition help
Concordia University Irvine (CUI), Irvine, Calif., has been selected to participate in the #CaliforniansForAll College Corps program. CUI is one of only four private universities in California participating in the initiative, which will subsidize tuition for students who do community service alongside their studies. The program will start in Fall 2022 with 6,500 students deployed to part-time work in Orange County. In exchange for completing 450 hours of service, each student will receive $10,000 toward his or her education. 
The program aligns with CUI's values of forming students into "wise, honorable and cultivated citizens" who serve their communities and the world, said CUI President Dr. Michael Thomas. "We are deeply honored to have been selected for this special program that provides another path for students to serve our local community." 
 Goodbye to Gross Hall
The Concordia University Chicago (CUC), River Forest, Ill., administration and Board of Regents recently decommissioned Gross Hall, with plans of demolishing the building this spring. The demolition sets the stage for continued improvement of the CUC student experience and reinvestment in campus facilities. Later this year, CUC will share details of its new campus master plan, a 20-year strategy to redevelop the River Forest campus. 
Gross Hall will be carefully dismantled so that its materials can be salvaged for reuse elsewhere. Gross Hall, built in 1969 as a student residence hall, was named in honor of the Gross family, strong supporters of Lutheran education for more than a century. 
Nurses needed
Concordia University Texas (CTX), Austin, Texas, recently celebrated the grand opening of the CTX Dallas Nursing Extension Site for its Accelerated Bachelor of Science in Nursing (ABSN) program.
The United States faces a critical shortage of registered nurses, further exacerbated by the pandemic. That's why CTX has expanded its ABSN program, which allows students to earn a nursing degree in just 16 months, getting more nurses into the work force sooner. Learn more at absn.concordia.edu.
New CNA program launched
Registration is now open for the new Certified Nursing Assistant (CNA) program at Concordia University Ann Arbor (CUAA), Ann Arbor, Mich. Over the summer, CUAA received approval from the Michigan Department of Licensing and Regulatory Affairs Bureau of Health Care Services to launch this program, which is its newest offering. Learn more at blog.cuaa.edu/cna.
Champion snow sculptors
Jeff Shawhan, an art instructor at Concordia University Wisconsin, Mequon, Wis., and a professional snow sculptor, was among a team of carvers who took first place at the Breckenridge International Snow Sculpting Competition this year. This was the seventh time Shawhan and his three teammates have competed at the international level and the first time they took home a win. Learn more at blog.cuw.edu/snow-sculpting. 
CUNE choirs on tour
Two of the choirs at Concordia University, Nebraska (CUNE), Seward, Neb., went on tour in February and March, visiting churches and schools in Nebraska, Missouri, Kansas, Oklahoma and Texas. The University Chamber Choir, a 14-voice select choir, visited five stops in Nebraska during its three-day tour Feb. 25–27. The 72-voice University A Cappella Choir performed at 14 stops March 4–13, including full-length concerts, school assemblies and Sunday services. 
Free tuition for pre-sem students
Beginning Fall 2022, Concordia University, St. Paul (CSP), St. Paul, Minn., will begin offering $0 tuition for pre-seminary (pre-pastoral and pre-deaconess) students. Students enrolled in other church work programs will continue to receive CSP's Church Work Tuition Guarantee ($6,000 annual tuition, $3,000 term). Scholarships and grants from a student's home congregation, LCMS district and local community can be stacked on top of this guarantee to further reduce the cost of tuition and living expenses. The Rev. Dr. Reed Lessing will lead CSP's pre-seminary program in addition to leading its Center for Biblical Studies.
Seminary news
Kantorei on tour
The Kantorei of Concordia Theological Seminary, Fort Wayne (CTSFW), went on tour March 6, making stops in Missouri, Texas, Louisiana, Arkansas, Tennessee and Indiana. The final stop on the tour will be at home in CTSFW's Kramer Chapel on March 27 and will be available via livestream at ctsfw.edu/dailychapel or facebook.com/ctsfw. For more information, visit ctsfw.edu/kantorei. 
Urban mission
Concordia Seminary, St. Louis (CSL), and Concordia University, St. Paul (CSP), St. Paul, Minn., are partnering to offer "Missional Leadership in the Urban Context," a new continuing education course. The course will be taught by the Rev. Dr. Leopoldo A. Sánchez M., professor of Systematic Theology and director of the Center for Hispanic Studies at CSL; the Rev. Dr. Mark Koschmann, associate vice-president of Faith and Ministry and chair of the Theology and Ministry Department at CSP; and the Rev. Dr. Gerard Bolling, pastor at Bethlehem Lutheran Church, St. Louis, and assistant professor of Leadership and Theology at Concordia University Texas, Austin, Texas.
"We will explore the dynamics of city life and reflect on the theology and practice of mission and ministry among and with city neighbors," said Sánchez.
The course, which is fully online, begins April 20. The cost is $100, and the deadline to register is April 4. Learn more at thelc.ms/missional-leadership-urban-context.
Posted March 11, 2022