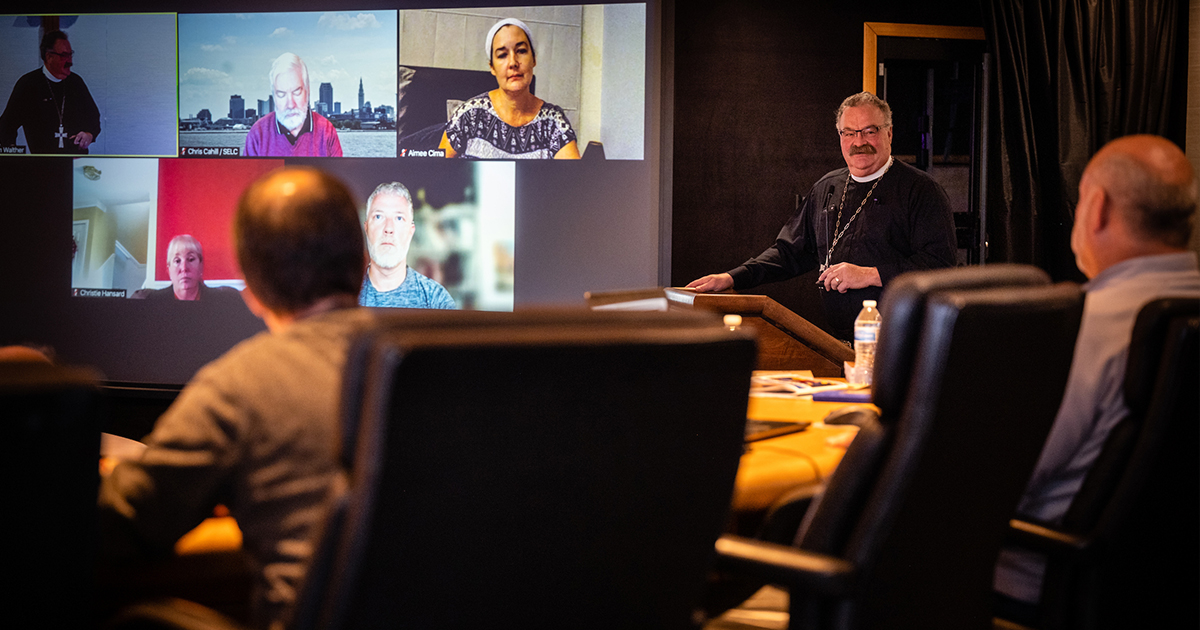 By Stacey Egger
Members of the Synod's Ministerial Care Coalition (MC2) gathered at the LCMS International Center (IC) in St. Louis Nov. 10–12, 2021, for meetings and presentations.
MC2 has been meeting since 2013, when it was organized by Concordia Plan Services (CPS). The coalition — a collection of representatives from each LCMS district, various LCMS Recognized Service Organizations (RSOs), the LCMS Office of National Mission and CPS — supports and fosters conversations about church worker wellness across the Synod.  
"Our pastors, church workers and their families need support, and they need care. So we join together and share our resources and experiences with each other — we don't have to reinvent the wheel — and then take those back to help those in our own districts," said Angela Payne, who was at the conference representing the LCMS Texas District.
This collaboration culminates in an annual meeting of the coalition. Over 20 participants attended this year's meeting, including several participating via Zoom.
Working for wellness across the Synod
Representatives from many LCMS districts reported on the work that has gone on in their districts, particularly in light of the COVID-19 pandemic. Areas of discussion included:
Counseling for church workers — Resources to reduce the stigma surrounding counseling and to help church workers find good counselors who will support their faith. Some districts are working to create lists of counselors vetted for LCMS church workers. "Just because they're Christian counselors doesn't mean they're coming from our biblical, Christ-centered, doctrinal position," said the Rev. Dan Ramthun, MC2 representative from the LCMS Michigan District.
Conflict resolution and reconciliation — Resources and training for church workers on resolving conflicts within congregations and/or preventing them before they occur.
Creating awareness — Getting the word out to church workers and congregations about the resources already available from the Synod, and from various districts and RSOs, relating to church worker wellness.
Care in the time of COVID-19 — Help for church workers navigating the losses of the COVID pandemic as well as the impact of things such as isolation and conflict in congregations and wellness checks on pastors and other church workers during the pandemic. "Workers had to sort through not just how to deal with mitigation measures, but also the psychological effects of things like not worshipping in person, of the things that we still need to grieve and celebrate: everything from how people missed funerals to how the Lord brought us through these hardships," said the Rev. Chris Whitby, MC2 representative from the LCMS Northern Illinois District, which issued reports offering guidance for congregations and schools on both the closing and reopening process during the COVID lockdowns.
Educating congregations — Resources and training for congregations on caring for their workers.
After these presentations, the coalition members divided into smaller groups and took time to discuss more about the work they are doing in their districts and to set goals for the upcoming year.
"The annual gathering of the Ministerial Care Coalition is a blessing to further the collaboration and networking among the districts, the Synod, CPS and LCMS RSOs as we serve together providing the needed care and support to our church workers," said Deaconess Tiffany Manor, a member of the MC2 Planning Committee and the director of LCMS Life Ministry.
"It was a joy to gather to learn from one another and establish goals and plans which take into account what we have heard the workers say they desire and need," Manor continued. "It is a priority to promote and nurture the spiritual, emotional and physical well-being of all our workers because Christ died and was raised for them, and because He has sent them to serve in His harvest fields."
Worker care in the U.S. and abroad
The Rev. Robert Zagore, executive director of the LCMS Office of National Mission, updated the commission on some of the work the ONM is doing in areas related to worker wellness:
15 respite retreats for pastors and church workers sponsored by ONM in the past year in partnership with DOXOLOGY: The Lutheran Center for Spiritual Care and Counsel, an RSO. These retreats have helped around 450 church workers recover from the stresses and isolation associated with the COVID-19 pandemic over the past year, and 15 more are scheduled for the coming year. "The big push through [the pandemic] was isolation, isolation, isolation," said the Rev. Michael Meyer, director of LCMS Disaster Training. "We as the church needed to push back against that and say we're called to be together."
A mental health task force assembled to carry out the work, called for by 2019 Synod Res. 3-04A, of identifying what the Synod should be doing to foster church worker wellness.
The Soldiers of the Cross and Veterans of the Cross programs, which provide financial support and pastoral care to current and former LCMS church workers.
"Nothing has really changed since COVID. COVID just made everything seem worse," said Zagore of feedback the ONM has received from church workers during this time. "They're experiencing the same issues, the same trouble, the same problems. And, honestly, the solutions are the same. …
"We had one session in one of the last [respite] retreats where I just talked to them about how much the Lord loves them. And, in that retreat, it was the highest-rated session, because people who are church workers tend to hear this professionally and not as receivers of the Word," said Zagore.
The Rev. Richard Koehneke, MC2 representative from the LCMS Indiana District, concurred: "A lot of times in church work, I … mostly see Jesus as 'my boss.' And I report to Him, and He expects certain things from me. …
"And I think what … finally really dawned on me is that, much more than that, He's the lover of my soul [and] my best friend. He gave His life for me. He loves me. Church workers need to be reminded of this."
Aimee Cima, mercy manager for the LCMS Asia region, presented to the board via Zoom about worker wellness care on the international mission field, particularly during the pandemic.
"Much of Asia is still locked down because of COVID," said Cima. "We still haven't been able to gather in person for around two years."
In these circumstances, Cima said, intentional worker care has been conducted virtually, through regular one-on-one check-in meetings between missionaries and their supervisors, online sessions on a variety of relevant topics provided through the regional team and the LCMS Office of International Mission, and a recent online virtual regional gathering.
"[These virtual gatherings] have created opportunities for collaboration across regions. … So even though COVID has created great challenges, there has also been a blessing that we've seen through greater opportunity to connect online," said Cima.
The Rev. Dr. Matthew C. Harrison, president of the LCMS, also spoke to the coalition, asking for the group's feedback on the ongoing impact of the pandemic and restrictions in their districts.
Participants discussed how the pandemic — and divisions about how to respond to it — has caused strains within congregations that have impacted pastors deeply, forcing them to navigate waters they never anticipated having to navigate.
"The devil is prowling about like a roaring lion seeking whom he may devour, and we are all vulnerable," said Harrison. "Whenever I hear of a pastor suffering mental illness or … some kind of incident, I think of myself, and how vulnerable I am as well. … So we pray that we can love one another and make a difference in each other's lives, and encourage one another, especially those who are hurting.
"The Lord works His best things through crosses, as Luther emphasized over and over again, and as we know from the cross itself."
Posted Jan. 18, 2022