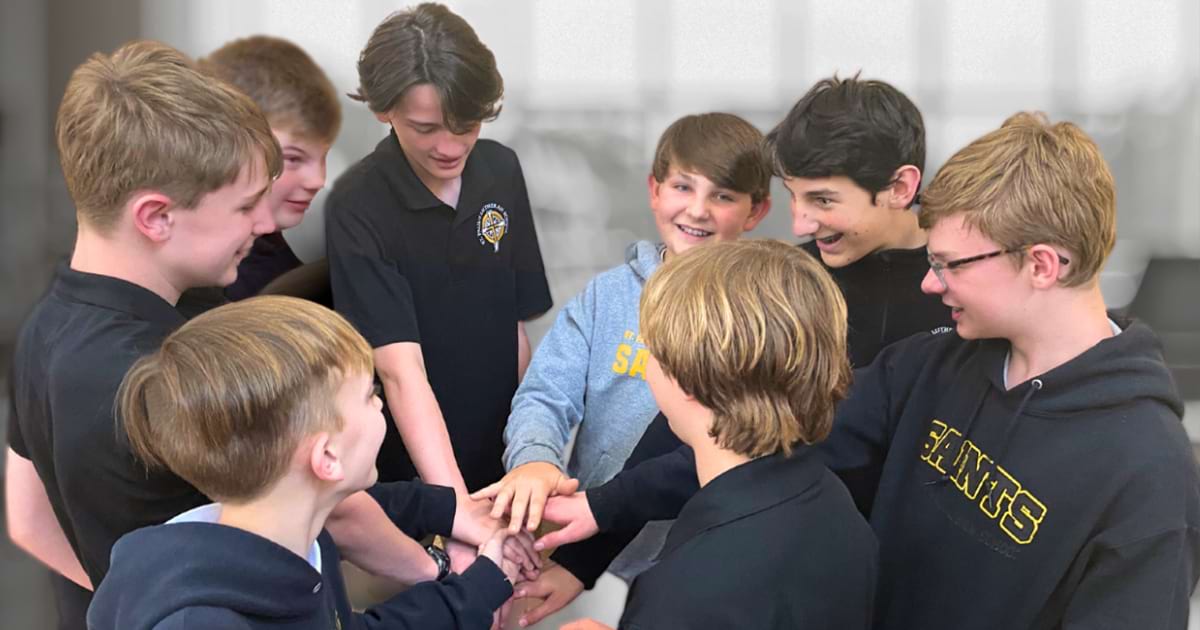 The monthly "Campus Clips" column includes brief reports from LCMS day schools, universities and seminaries.
Robotics champs
It's been a historic spring for the middle school STEM department at St. Paul's Lutheran School, Des Peres, Mo. Teacher and Robotics Coach Kevin Rudzinski led two robotics teams to the Missouri Regional Championship of the FIRST LEGO League competition in January. Both teams advanced to international competitions.
The Gilded SPOTICS team (7th and 8th grades) placed second out of 32 teams, which qualified them to compete in the World Festival in Houston in late April. The SPOTICS Steampunk Chicken team (5th and 6th grades) qualified for the regional Razorback Open Invitational in Fayetteville, Ark., in mid-May. 
Meanwhile, on May 18, the same day he left to join the SPOTICS Steampunk Chicken team in Arkansas, Rudzinski was named one of the top five finalists for the Loeb Prize at the Saint Louis Science Center. The prize, which provides a combined $7,000 to five classroom teachers, is designed to award and recognize math and science teachers who significantly enhance student performance. The St. Paul seventh-grade class accompanied Rudzinski to receive his prize.
Student Lily Claus said, "My science teacher, Mr. Rudzinski, is one of the greatest teachers of all time. … He not only makes our science lessons easier to understand, he brings them to life with labs and hands-on experiences."
"We are certainly proud of Mr. Rudzinski and our robotics students! With Mr. Rudzinski's leadership, the students work hard to apply their knowledge of science and mathematics to their projects and have developed a passion for this field," commented Principal Dawn Walker.
Cost reduction
Effective Aug. 28, Concordia University Wisconsin and Ann Arbor will reduce the cost of some of its most popular graduate and adult accelerated programs by up to $100 per credit. The reduction is offered for several of the university's most sought-after programs, including the MBA, Master of Science in Leadership, and Master of Science in Business Analytics. To view a list of eligible programs, visit blog.cuw.edu/reduced-tuition or blog.cuaa.edu/reduced-tuition. 
Candidacy approved
The Doctor of Physical Therapy (DPT) education program at Concordia University Ann Arbor (CUAA), Ann Arbor, Mich., has recently been granted candidacy for accreditation by the Commission on Accreditation of Physical Therapy Education. This milestone achievement allows the department and university to proceed with enrollment of its inaugural CUAA DPT cohort. The first class is scheduled to begin this fall. Learn more at blog.cuaa.edu/dpt-accreditation. 
VPs named
At Concordia University Chicago (CUC), River Forest, Ill., Dr. Jamie A. Kowalczyk has been named vice-president of strategy and innovation, and Dr. Eli V. Hestermann has been named vice-president of academic affairs.
"I am pleased to be able to support the advancement of two talented individuals within our organization," said CUC President Dr. Russell Dawn. "Dr. Kowalczyk possesses exceptional drive and creativity, as well as the ability to build strong coalitions across the organization. Dr. Hestermann is highly gifted at program development, academic administration, and finding solutions that support the needs of faculty and the university."
Kowalczyk is an eight-year veteran of CUC, having served as associate professor of curriculum and instruction, assistant provost and interim provost. Hestermann arrived at CUC in 2021 as professor of biology and founding dean of the university's College of Health, Science & Technology.
Presidential visitation
The "In Ministry Together" program at Concordia University, Nebraska (CUNE), Seward, Neb., allows for networking and support opportunities between CUNE and Lutheran churches and schools. The goal is for CUNE President Dr. Bernard Bull eventually to visit each LCMS school in the U.S., beginning with high schools.
Bull's visits began in Spring 2022. He plans to visit five or six schools and congregations each semester. Visits look different at each campus: He may lead a devotion with students, give a presentation in theology class or speak to students about church work vocations. But at every visit, he seeks to create relationships that can be built upon in the future.
Award-winning faculty
Dr. Caleb Karges, assistant professor of history at Concordia University Irvine, Irvine, Calif., has been named a Fulbright U.S. Scholar by the U.S. Department of State and the Fulbright Foreign Scholarship Board. He is one of more than 800 U.S. citizens who will teach or conduct research abroad for the 2023–2024 academic year through the program.
Karges will be based at the Université Laval in Quebec City, Quebec, Canada, where he will research the treatment of prisoners of war in early 18th-century Europe. His research is part of a collaborative project funded by an Insight Grant from the Social Sciences and Humanities Research Council of Canada and the Canadian Department of Defence. 
The Fulbright Program is the U.S. government's flagship international educational exchange program. It is funded through an annual appropriation made by the U.S. Congress to the U.S. Department of State's Bureau of Educational and Cultural Affairs. Fulbrighters engage in cutting-edge research and expand their professional networks, often continuing research collaborations started abroad and laying the groundwork for forging future partnerships between institutions. 
Upon returning to their home countries, they share their stories and often become active supporters of international exchange, inviting foreign scholars to campus and encouraging colleagues and students to go abroad. 
Spring commencement
Concordia University, St. Paul (CSP), St. Paul, Minn., held its Spring Commencement ceremony on May 5. Between the St. Paul and Portland, Ore., campuses, the event had approximately 750 attendees, indicating a 28% rise in graduates participating compared to two years ago. On May 5, CSP held a Service of Sending to recognize graduates eligible to serve the LCMS as commissioned workers such as Lutheran teachers, directors of Christian education, directors of Christian outreach and directors of parish music. The staff and faculty of CSP extend their congratulations to all graduates and give thanks to God for another successful academic year.
High honors
Concordia Theological Seminary, Fort Wayne (CTSFW), presented five special awards at the annual commencement concluding CTSFW's 177th year.
Leo S. Mackay Jr. of Alexandria, Va., was presented with the Doctor of Humane Letters, Honoris Causa. Mackay has been a member of the CTSFW Board of Regents for the past 13 years and served as the guest speaker for commencement.
Walter C. Dissen was awarded the Doctor of Laws, Honoris Causa, for his long and faithful service to the cause of confessional Lutheranism and, in particular, for his strong support of the seminaries of the LCMS.
Charlotte Ford of Madison, Wis., was presented with the Miles Christi Award for her generous support of CTSFW for the past two decades.
Dwight and Sherry Puls of Shelby, Mich., were also presented with the Miles Christi Award. Both have generously supported student aid at CTSFW.
The Rev. Daniel E. Conrad received the Alumnus of the Year Award. A 1984 M.Div. graduate of CTSFW, Conrad serves as a theological educator for the LCMS Office of International Mission.
Seminary authors honored
Faculty members from Concordia Seminary, St. Louis (CSL), who have written or contributed to published books or other publications during the 2022–2023 academic year were honored at the annual Concordia Seminary Author Reception on May 16 in the Kristine Kay Hasse Memorial Library. The event was co-hosted by Concordia Publishing House.
See a full list of authors honored at csl.edu/newsroom.
Posted July 25, 2023