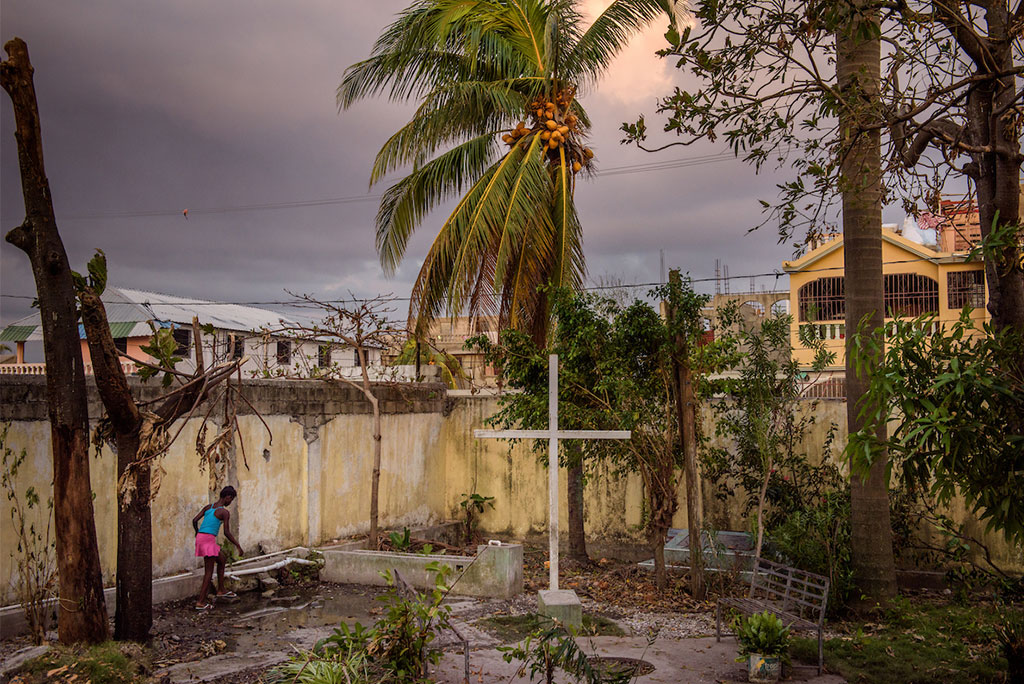 By Roger Drinnon
In the wake of Hurricane Matthew, LCMS Disaster Response looks to broaden aid to victims, after having seen the tragic effects of the hurricane firsthand in both Haiti and the Carolinas during Oct. 10-13 visits to the hardest-hit areas.
LCMS Disaster Response Director Rev. Ross Johnson visited Haiti, as an outbreak of cholera was complicating recovery efforts there. His visit revealed specific needs of the victims not already being addressed by various government and nongovernment agencies responding to the catastrophe.
"We're currently working to provide an initial 10 wells — with a goal of providing up to 50 wells — for clean water and also to provide tin roofs for some 50 area pastors and possibly 50 churches without roofs in Haiti," said Johnson. "This is a focused response to the destruction and sanitation issues brought about by the storm, while other agencies are providing for medicine, food and other necessities."
He estimates each tin roof could be provided for roughly $1,000. He also estimates each well could cost as much as $10,000, noting that the extent of the Synod's response is contingent upon what God provides through the Church.
"We do all of this in Jesus' name, because we want people in distress to hear the Gospel and receive Christ's comfort," said Johnson. "Drilling wells next to safe churches to be staffed by secure pastors is part of the focused LCMS strategy to bring those in the community close to where they can receive care of body and soul. They come to see the Lutheran Church as part of Christ's body, the very Savior who cares for them after other relief agencies and news crews are gone."
Immediate and long-term response
Johnson deployed to Haiti to assess further aid to victims following the Synod's initial response right after the storm.
Thanks to compassionate people in the LCMS who respond generously in the wake of disasters, and using funds already on hand for disaster-response work, two aircraft were chartered to airdrop some 60,000 packaged meals and supplies to the people in the hardest-hit areas of Haiti.
On Oct. 6, LCMS leaders approved a $10,000 grant to Ministry in Mission, an LCMS Recognized Service Organization (RSO) coordinating this vital airdrop.
Another 60,000 meals were provided for by other partner organizations. U.S. Air Force C-17, C-130 and military-contracted commercial aircraft also delivered 318 tons of immediate humanitarian aid to Haiti, according to Air Mobility Command spokesman Maj. Nick Plante.
"Now we're looking to provide a phased response that helps victims in the longer term in those areas not being addressed by other responding agencies," said Johnson. "This also allows us to continually assess the progress of the response and adjust where needed to ensure we're responding effectively where it matters most."
Adding to the effectiveness of the response, he said, is that parts of northern Haiti can provide materials and supplies necessary for the roofs and wells, since the hurricane primarily struck Haiti's southern Tiburon Peninsula. Johnson also said in-country resources help LCMS Disaster Response work best through area RSOs most capable of facilitating ongoing aid to Haiti, and these RSOs are acting on behalf of the Synod's disaster-response network.
After strengthening to Category 5, Hurricane Matthew later became a Category 4 storm with reported destructive winds in excess of 140 miles per hour as it moved through the Caribbean and up to the U.S. southeastern coastline.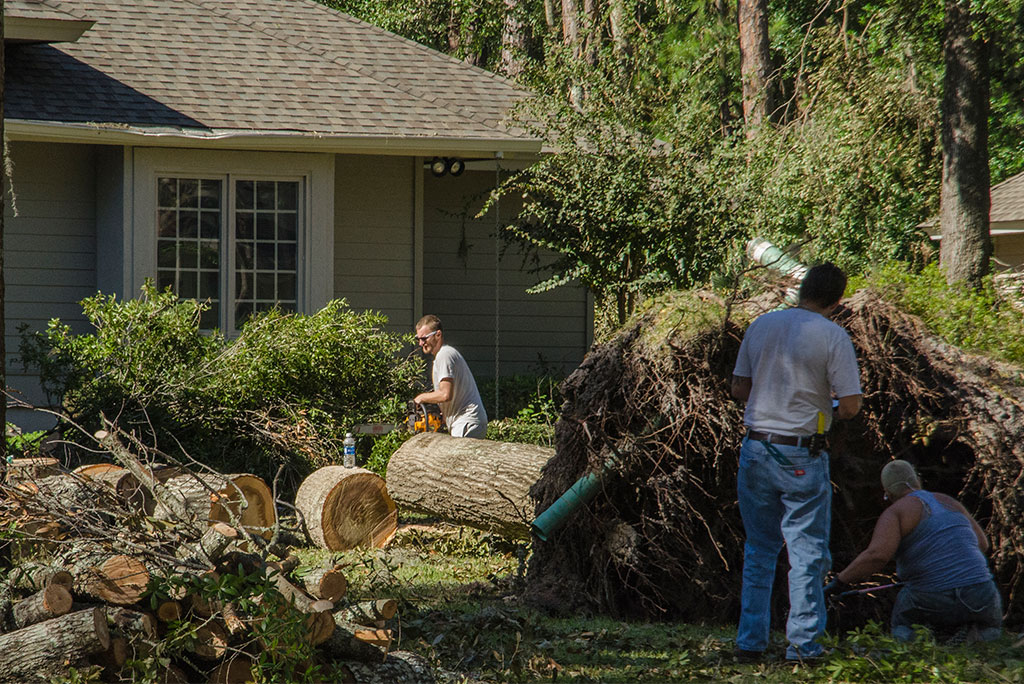 Assessing impact along the East Coast
Not long after Johnson left for Haiti, LCMS Disaster Response Manager Rev. Michael Meyer joined LCMS Southeastern District President Rev. Dr. John Denninger, so the two could travel together through some of the hardest-hit areas in North Carolina and South Carolina, which took on torrents of rain and fierce winds as the hurricane moved up the coastline.
"In North Carolina, it's primarily a flood event," said Meyer, noting that during his visit, rivers were cresting with after-flooding still likely in some areas. "[The] Lumberton and St. Paul areas have some of the worst flooding, and right now, we're providing spiritual care for families living in emergency shelters and distributing gift cards for essential, immediate needs."
"In some places, it's the wind damage, and in others it's the flooding or downed trees. The overall challenge of recovering from this storm is the hurricane's wide swath, so we're working to organize our efforts to respond effectively to all the affected areas," said Denninger. "The immediate challenge is getting safe access to these places. The second challenge is understanding what has happened and what will happen later, as tributaries continue to crest. The assessment process has to be a continual process for at least a couple of weeks to understand the complete impact of the storm."
Meyer noted how the LCMS Florida-Georgia District donated hundreds of "flood buckets" filled with disaster-response supplies for Southeastern District responders. Areas within the Florida-Georgia District reportedly had minimal damage from the hurricane.
"In South Carolina, they had a lot of rain, but they also had more wind, so there are a lot of trees down, so tree and debris removal will be key to ensuring the safety of victims in the area," said Meyer, who at the time was visiting a victim who had a tree fall on her house. "We're partnering with Shepherd's Heart Ministry to have chainsaw crews remove trees all up and down the coast for homeowners who are facing difficulties with insurance providers and local contractors in the aftermath of the hurricane."
Insurance providers in the area purportedly base home-repair deductibles on a percentage of the home's value, once a hurricane is named officially, based on local insurance coverage policies. Compounding the insurance-coverage problems, at least one victim reported that a local tree-removal company was asking for $9,000 to remove a single tree from the victim's property that posed a serious safety hazard.
"Trees were just blowing back and forth and back and forth, and I said, 'Oh boy, this is going to be scary,'" said Marion Bogle, a member of Risen Christ Lutheran Church in Myrtle Beach, S.C., as she recalled the night the hurricane struck. "Also with that was the noise of all the branches and pine cones hitting the top of my roof, which sounded and felt like a war-zone. The next morning, it looked like a war zone. I had a very tall tree fall on my house, but luckily, it didn't hit my windows."
'Chainsaw Ed'
"The mission of Shepherd's Heart Ministry is showing the love of Jesus after natural disasters by offering free tree and debris removal, especially to uninsured, under-insured and low-income families," said the Rev. Ed Brashier, director of Shepherd's Heart Ministry and LCMS Southern District disaster-response coordinator whose previous work in the aftermath of disasters earned him the nickname "Chainsaw Ed." "The skills of the Lutheran Early Response Teams who are trained in chainsaw safety and operation are extremely valuable in times of natural disaster."
Southeastern District disaster responders are calling for volunteers to cut and remove tree debris, to muck out flood-damaged homes and to help with home repairs for the hurricane victims, once affected areas become safely accessible. Those interested in volunteering should contact Liz DeMik at 703-899-7244 or etdemik@aol.com or Sally Hiller at 703-971-9371 or sjhiller@se.lcms.org.
Recovery and relief efforts in the aftermath of the hurricane come as LCMS Disaster Response resources have been stretched this year amid the ongoing response to the recent flooding in Baton Rouge, La., and after the Synod's response to this year's California wildfires.
If you would like to assist the LCMS in responding to these disaster-response efforts through a donation, please call 888-930-4438 or go to lcms.org/givenow/disaster.
Donate online
To donate by check, make checks payable to "The Lutheran Church—Missouri Synod" (or "LCMS"). On the memo line, write "Disaster Response/Relief." Mail your donation to The LCMS, P.O. Box 66861, St. Louis, MO 63166-6861. Gifts are tax-deductible as allowed by law.
Gifts also may be designated specifically for the response to Hurricane Matthew in the memo line of checks or by specifying in an email to mission.advancement@lcms.org.
Related videos, photos:
Roger Drinnon (roger.drinnon@lcms.org) is director of Editorial Services and Media Relations for LCMS Communications.