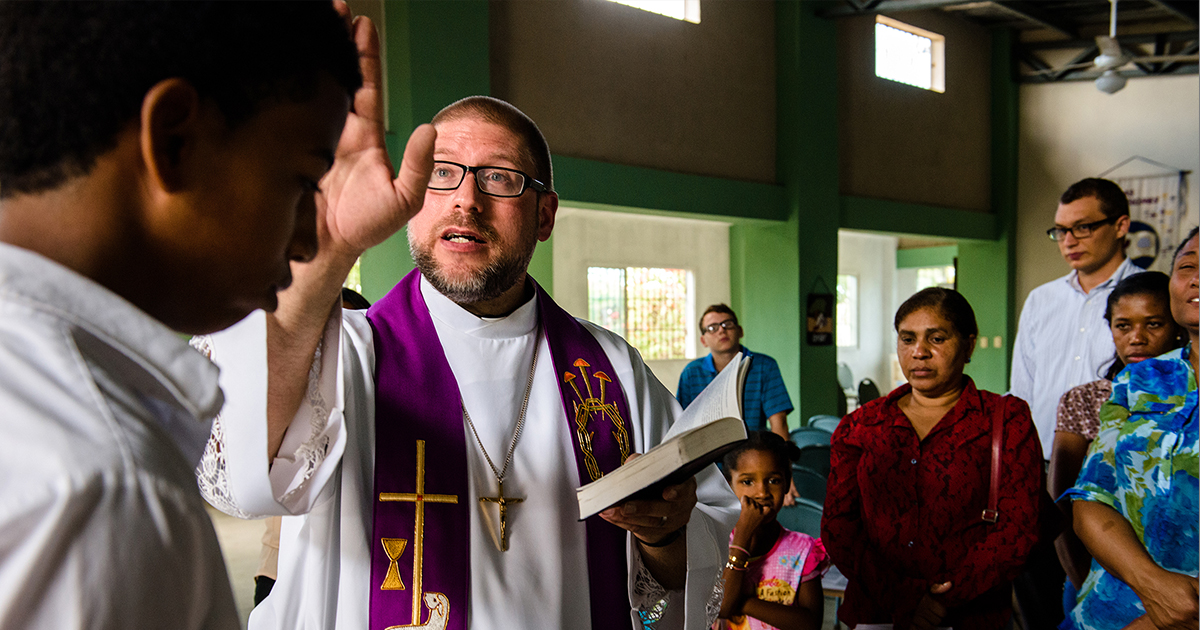 By David Strand
ST. LOUIS — Meeting here May 18–19, the LCMS Board of Directors (BOD) adopted a fiscal year 2019 operations budget of $69.4 million, a figure nearly $8 million lower than that of the current fiscal year, which ends June 30. The adopted budget reflects a $1.0 million improvement in the Synod's unrestricted, undesignated net-asset position (assuming a $500,000 expense contingency remains unspent). 
Facing stiff financial constraints owing to far more numerous available mission opportunities than could be credibly addressed with anticipated revenues — a pattern that's been in play, with occasional exceptions, for decades — the Synod's Operations Team, working in concert with the Office of the President and unit executives, held intensive discussions. The Operations Team consists of Chief Financial Officer Jerald Wulf, Chief Administrative Officer Frank Simek and Chief Mission Officer (CMO) Rev. Kevin Robson.
The bulk of the $7.9 million decrease in budgeted operating expenses — $6.7 million — derives from the Office of International Mission (OIM), but it is important to note that the reduction will have little material effect on the day-to-day operations of missionaries, mission leaders and support staff. This is because the lion's share of the OIM's cuts, $6.5 million, comes from initiatives that mission personnel would like to pursue but only if and when funds were already in hand. With no guarantee that contributions for some or all of these optional projects would be realized, the Operations Team, striving to be conservative in its revenue projections, made the more realistic recommendation that these hoped-for dollars simply be taken out of the equation, and the BOD agreed.  
"The adopted budget proposal reflects ongoing aggressive measures to increase organizational efficiency and improve our management of processes that result in higher impact in the mission fields in the U.S. and around the globe," said CMO Robson. "Outstanding stewardship of resources means that more people will meet their Savior Jesus Christ in His Word and Sacraments. The joyful contributors who make these efforts possible have given us a sacred trust, which we intend to uphold on their behalf."
Other substantial reductions included $100,000 in the Office of National Mission — net of adjustments for the Lutheran Center for Religious Liberty, which was established as a separate legal entity in the past fiscal year. 
Meanwhile, the Office of the President will shed $329,000, much of this due to the "Reformation 500" celebration being over; Information Technology will drop $221,000; KFUO Radio, $161,000; and the office of the Chief Administrative Officer, $133,000. 
Comparing the upcoming FY19 with the current FY18, the number of LCMS Inc. workers at the International Center will fall by 14. Since 2010, the year of convention-mandated Synod restructuring, the total number of LCMS Inc. personnel (who are distinct from employees of the LCMS Foundation, Concordia Plan Services and Lutheran Church Extension Fund) has dropped 30 percent.
The members of the BOD, despite the significant austerity built into the FY19 budget proposal, nevertheless granted limited salary increases to most Synod employees, even if this meant cutting back on the anticipated FY19 budget surplus built into the proposed budget. Specifically, while officers, unit executives and certain others will receive no raises, all those with pay classifications below them will be given an increase averaging 2 percent. 
"I would like to thank the leaders in the various programs and entities for showing discipline, making sacrifices and coming up with a responsible budget in the face of tough challenges," said BOD Chairman Rev. Dr. Michael L. Kumm. "It is noteworthy that several units within the program areas have underspent their budgets, demonstrating their dedication to responsible use of resources. This type of action certainly shows confidently that the work of the church, thanks to its generous people, will continue in God-pleasing fashion in a myriad of ways."
Many blessings
In keeping with the sentiments of the Board chair, Mark Hofman, head of LCMS Mission Advancement, while acknowledging the challenge of fully financing the Synod's work over the past 40 years or more, nonetheless focused attention on several bright spots. 
"People today tend to fixate on problems," he said, "however, there is much we can pause to appreciate — a long list of the blessings God continues to provide."
For example, in the disaster-riddled months of 2017, individuals and organizations gave more than $10 million for hurricane and other types of disaster relief, with little to no discernible negative impact on giving to other areas of the Synod's core ministry work. Giving to support missionaries has increased nearly $2 million this year, and several fundraising goals were met before the end of the fiscal year. 
Further, "we're seeing more contributors exhibit trust," Hofman said, one significant sign being an impressive jump in unrestricted gifts — monies the Synod can apply wherever the financial need or mission opportunity is greatest. "I think our recent certification by the Better Business Bureau/Wise Giving Alliance as an accredited charity — and let me say that those certification standards required us to provide significant documentation — shows that we meet and, in some instances exceed, objective, independent benchmarks for transparency and accountability."
This year, the "number of actively giving contributors is substantially higher," Hofman said, now numbering 47,000 of the Synod's households and 6,100 congregations. Even some non-LCMS contributors have "come on board after learning about our way of reaching people with the Gospel."
President's report
In his report to the BOD, Synod President Rev. Dr. Matthew C. Harrison said "the district convention season is in full swing," and that, judging by the resolutions being considered at those gatherings, things are "remarkably calm."  
To date, Harrison has traveled to 10 of the 25 district conventions he plans to attend, with First Vice-President Rev. Dr. Herbert C. Mueller Jr. and the Synod's other vice-presidents representing Harrison at the other 10. Every district convention delegate is receiving a copy of "Joy:fully Lutheran: A message to the Church about the challenges we face and how to face them," written by Harrison. The booklet contains biblical background on the concept of Christian joy, discusses the Synod's current demographic decline, and offers some solutions and encouragement to the congregations and church workers of the Synod.  
According to Harrison, two topics receiving particular attention at district conventions have been ecclesiastical supervision and licensed lay deacons, both of which were brought up at the Milwaukee convention in 2016. Regarding licensed lay deacons (LLDs), he said Synod leaders have held "good discussions" with the board of directors of the Northwest District, where some 225 of the church's 590 LLDs are based.   
Mueller agreed that "a good beginning" has been made "in seeking to recognize these ministries for what they are" and "continuing the conversation on how best to use" LLDs, noting that the definition of "deacon" varies from district to district. He added that more clarity should come about when LLDs meet a July 1 deadline to decide on their future course as specific-ministry pastors, alternate-route pastors, colloquized pastors, residential students at the seminaries leading to master of divinity degrees, or other options. 
Harrison spoke optimistically about "significant steps" being made to reduce the Synod's internal borrowing against designated funds (down from $16.2 million in October 2010 to $11.4 million as of April 30) and trimming the historic debt of the Concordia University System (down 40 percent since 2010 — from $22 million to $12 million). "We're definitely going in the right direction on debt," he said. 
"On the ecumenical front," he continued, "we are moving closer to holding formal talks with the Malagasy Lutheran Church in Madagascar," and that today "more than a dozen overseas churches are applying for membership in the International Lutheran Council," a body of 36 confessional Lutheran church bodies worldwide including the LCMS.
Finally, Harrison gave thanks for the Rev. Robert M. Zagore, formerly of Trinity Lutheran Church, Traverse City, Mich., upon his accepting the call to serve as executive director of the Office of National Mission. 
'Synod's Foundation'
In a guest presentation to the Board, David Fiedler, president of the LCMS Foundation, quoted the Rev. Dr. John Behnken, the Synod's president at the time of the Foundation's founding 60 years ago, in saying "the Foundation is the Synod's organization," not an organization unto itself.  
He laid out the mission of the Foundation: providing gift- and estate-planning services to LCMS members and ministries and investment-management expertise when those gifts are received.  
He said that, in FY17, the Foundation distributed $37 million from realized gifts to LCMS congregations, schools, universities and seminaries, and the Synod itself. Looking to the future, he noted that in FY17 alone, LCMS members, assisted by Foundation gift-planning counselors, created estate plans worth $178 million in potential expectancies for Synod ministries.   
The Foundation is in "solid financial condition" Fiedler said, and looks forward to "strengthening its partnerships with LCMS entities and increasing awareness of the organization throughout the Synod."
In other action, the BOD: 
adopted a capital budget of $1.7 million and a 2019 Synod convention budget of $2.2 million;
approved St. Louis as the host city of the 2022 convention — contingent on acquiring acceptable pricing for hotels and convention-center services; 
accepted a bequest of 310 wooded acres near Cape Girardeau, Mo.; 
OK'd requests from Concordia University Chicago and Concordia University Nebraska relating to construction projects and property refurbishment;
authorized the creation of a legal entity in Papua New Guinea to facilitate better management of mission work there; and,
consented to appoint a director responsible for improved coordination and supervision of the Synod's international schools in Hong Kong, Shanghai and Hanoi. 
The next meeting of the BOD will be Aug. 24–25 in St. Louis.
Posted June 8, 2018