Media Advisory
To schedule interviews and for individual high-resolution photos, please contact:
Roger Drinnon, Media Relations, The Lutheran Church—Missouri Synod
314-996-1217 or roger.drinnon@lcms.org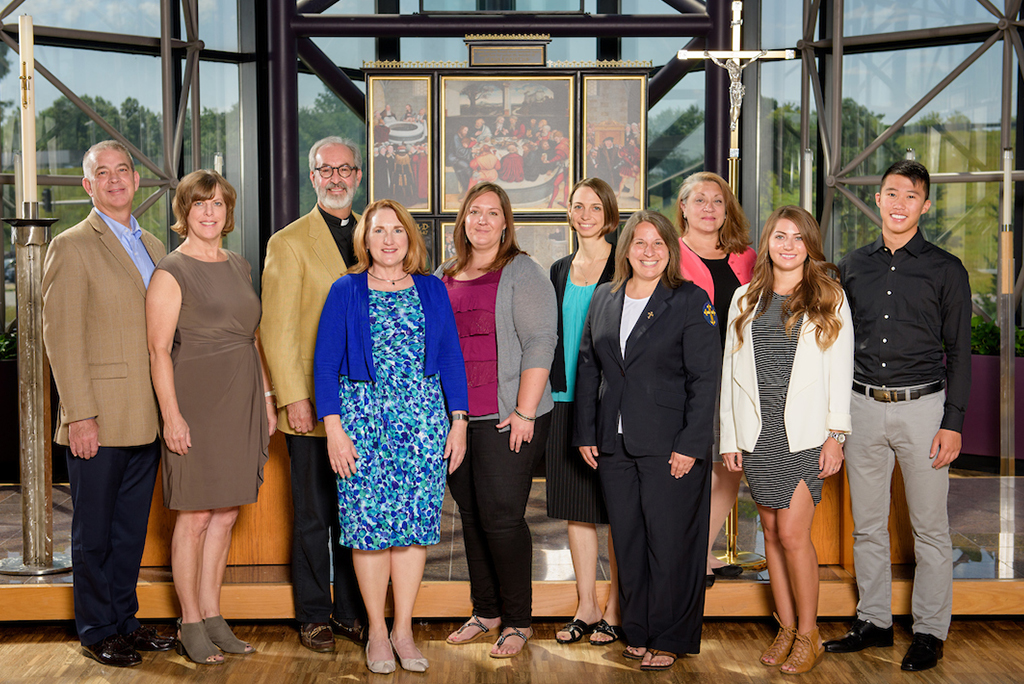 Missouri Synod missionaries from across U.S. accept calls to serve abroad
ST. LOUIS — The Lutheran Church—Missouri Synod (LCMS) has announced 10 missionaries accepting calls to serve in seven countries around the globe.
The Synod's newest missionaries serve in Germany, the Czech Republic, the Dominican Republic, Hong Kong, Peru, Spain and Uganda. All 10 attended a July 3-14 orientation at the LCMS International Center in St. Louis. These missionaries, their hometowns and countries of service are:
Deaconess Kim Bueltmann of Springfield, Ill., Carl and Karen Cecil of Ashburn, Va., and Deidre Christiansen of Shorewood, Wis. – Germany;
Nichelle Dykema of New Plymouth, Idaho – Peru;
Natalie Howard of Port Washington, Wis. – Dominican Republic;
Dr. Arthur Just Jr., of Fort Wayne, Ind. – Dominican Republic and Spain (also as needed in Mexico and Uruguay);
Kevin Kong, San Francisco, Calif. – Hong Kong;
Rachel Meyer, Milwaukee, Wis. – Uganda;
Cindy Zirbel Wrucke of Beaver Dam, Wis. – Czech Republic
Bueltmann, the Cecils and Christiansen work with the Selbständige Evangelisch-Lutherische Kirche (Germany's Independent Evangelical-Lutheran Church, an LCMS partner church), as it reaches out to Middle Eastern refugees who are fleeing to Germany due to war and unrest in their home countries.
"They're seeking refuge in another country, and I get to tell them, 'Hey, there's an even greater refuge in Christ,'" says Bueltmann.
Just, a longtime professor at Concordia Theological Seminary in Fort Wayne, says he's "very excited" about his call to serve part-time as a professor at a Lutheran seminary in the Dominican Republic and as a pastor, professor and missionary in Spain. At the same time, Just will continue in his position at Concordia Theological Seminary.
"Being asked to serve at the new seminary in the Dominican Republic, he says, "is a great honor and privilege and one of the most exciting ventures I have been a part of, along with helping to start a seminary in Siberia in 1996."
Dykema will be based in Lima, Peru's capital, as a short-term mission team coordinator and communication specialist for the Synod, supporting efforts to share the Christ's mercy in the Latin America mission region.
Howard will be based in the Dominican Republic's city of Santiago, supporting efforts to share Christ's mercy in the Synod's Latin America and Caribbean mission region as a Globally Engaged in Outreach business administrator.
"The LCMS actively engages with people of Latin America through church planting, training pastors and ministries including Good Shepherd Lutheran Home for people with disabilities in the Dominican Republic," says Howard. "I am beyond blessed and excited to join this team."
Kong serves as the Director of Christian Education (DCE) intern at Church of All Nations. In this role, he ministers to and shares the Gospel with the junior high and high school students who attend Hong Kong International School.
Meyer, who has taught primary students at Concordia Middle School in Taiwan for the past three years, will serve at least two years as a missionary in Uganda, East Africa, where she says "there is a need for teachers."
"When God calls, then you listen, you follow, right? God calls us all to trust in Him, but to also share [His Word] with others." Whether that's in your own backyard or on the other side of the globe," says Meyer.
Wrucke will become the Eurasia region's director of communications for the Synod. In this role, she will develop communication strategies to support other missionaries in the region.
"With the fall of communism, people in Eurasia now have the freedom to learn about Christ and worship in cathedrals that sat empty for decades," says Wrucke. "The flood of [Middle Eastern] refugees into Germany also presents unique opportunities to provide humanitarian care along with Word and Sacrament ministry."
The LCMS has been involved in worldwide mission and outreach since 1851, when it established its first mission board. In 1894, the Synod sent its first overseas missionary, Rev. Theodore Naether and family, to India.
###