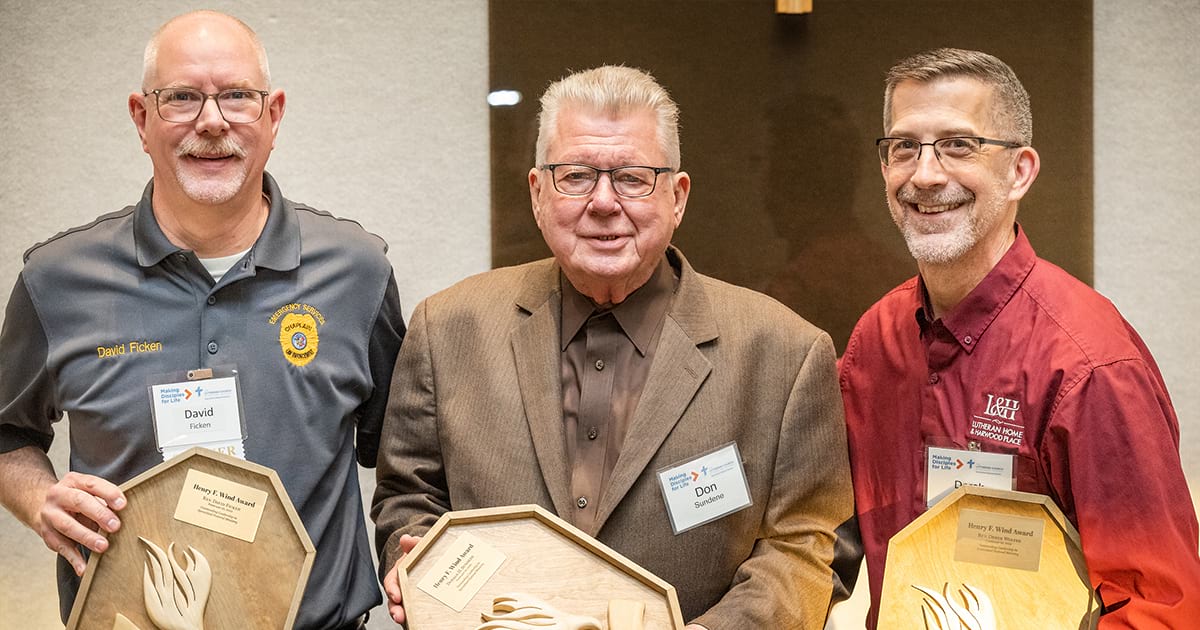 Earlier this month, The Lutheran Church—Missouri Synod (LCMS) Office of National Mission hosted two conferences at the LCMS International Center in St. Louis. Both were hybrid formats, with options to attend either in person or online. The Specialized Pastoral Ministry (SPM) Conference took place Feb. 28–March 1, and the Life Conference took place March 2–3. Attendees have online access to all sessions for an additional 90 days.
SPM Conference
The Synod's SPM program trains and supports ordained and commissioned workers who serve in specialized settings such as institutions (e.g., hospitals), workplaces, emergency services and prisons. Those who work in SPM serve people who are ill, imprisoned, aging, troubled, conflicted and isolated. They offer comprehensive care that includes Word or Word and Sacrament ministry.
On the first day of the conference, SPM Manager Rev. Brian Heller and Deaconess Dr. Tiffany Manor, managing director of LCMS Human Care and Ministerial Support, gave a brief overview of SPM and coming developments, including:
The creation of three distinctively Lutheran pathways to SPM endorsement through the Synod;
A pilot SPM training program; and 
Increased opportunities for those working in SPM to collaborate with and support one another. 
"It can be difficult for our SPM workers, who are serving in so many different contexts, to feel connected to the church and to each other," Heller said. 
During the first plenary on March 1, the Rev. Dr. Richard Marrs, professor of Practical Theology at Concordia Seminary, St. Louis, spoke on "Spiritual Care Basics." He began by listing comforting passages of Scripture that SPM workers often share, such as John 10, Romans 8 and 1 Corinthians 15. Be "theologians of the cross, not theologians of glory," he counseled, as he urged attendees to emphasize the Word of God, use good listening skills, and gently speak both Law and Gospel.
Later, he reminded listeners to carry each other's burdens. The care of souls in hospitals, assisted living facilities and other settings can be heavy work, and soul care givers need the support of others who understand the challenges of the role. 
"We know that massive vertical love that [God] has shown to us really can reach out horizontally to love our human neighbors," Marrs said. "We can bear one another's burdens and so fulfill the Law of Christ."
Breakout sessions during the conference covered both theological and practical topics. In "The Joys and Challenges of Ministering in a Mixed Context," presenter Rev. David Strattman noted that those who serve in SPM often work with people from non-Lutheran backgrounds. When questions of doctrine come up, whether in routine conversation or life-and-death situations, what should LCMS workers say?
Strattman, who serves as chaplain at Breeze Park, a Lutheran Senior Services community in St. Charles, Mo., emphasized that they should remain true to their vows and "love people in the way of Christ." During the conversation that ensued, the Rev. Derek M. Wolter, chaplain at Lutheran Home and Harwood Place in Milwaukee, Wis., said, "The best thing you can do is be Lutheran and show the love of Christ. That is how you carry on in the ministry."
A highlight of the conference was the presentation of the 2023 Henry Wind awards. The award was created in 2018 as a way to recognize SPM workers for outstanding leadership in advocating for and promoting SPM and is named after the Rev. Dr. Henry F. Wind (1891–1966), who was the first executive secretary of the LCMS Department of Social Welfare, which operated from 1953 until 1967. 
There were three recipients of this year's award:
The Rev. David Ficken, a third-career pastor who previously served as a field representative for GE Aircraft Engines and as a financial representative for Thrivent Financial. Ficken is pastor of Beautiful Savior Lutheran Church in Plover, Wis., and serves as a volunteer police and fire chaplain in Portage County, Wis.
The Rev. Derek Wolter, who has served as an institutional chaplain for 27 years, including in the Air National Guard, as a health care chaplain, and in long-term and memory care. Wolter is director of spiritual care at Lutheran Home and Harwood Place in Wauwatosa, Wis. 
Donald Sundene, executive director of Lutheran Ministry Services Northwest, an LCMS Recognized Service Organization that provides pastoral and spiritual care in Seattle-area hospitals, nursing homes and jails/prisons. 
LCMS President Rev. Dr. Matthew C. Harrison preached for Vespers at the close of the conference and then held a Q&A for participants. Harrison said, "Thank you for the specialized spiritual care that all of you provide in your sacred professions. … In your lives, you deal with people who [have] all kinds of different things bombarding them from every side. I've had my share of dealings with people in need, in desperate situations. …
"There's a rock that is our center. … Being justified by faith, we have peace with God through our Lord Jesus Christ. … The important thing for … your work is that God justified the world 2,000 years ago. … The hard work is done. … And through a word, through a preacher, through a counselor, through a caregiver … this fact of justification comes to individuals."
Learn more at lcms.org/spm.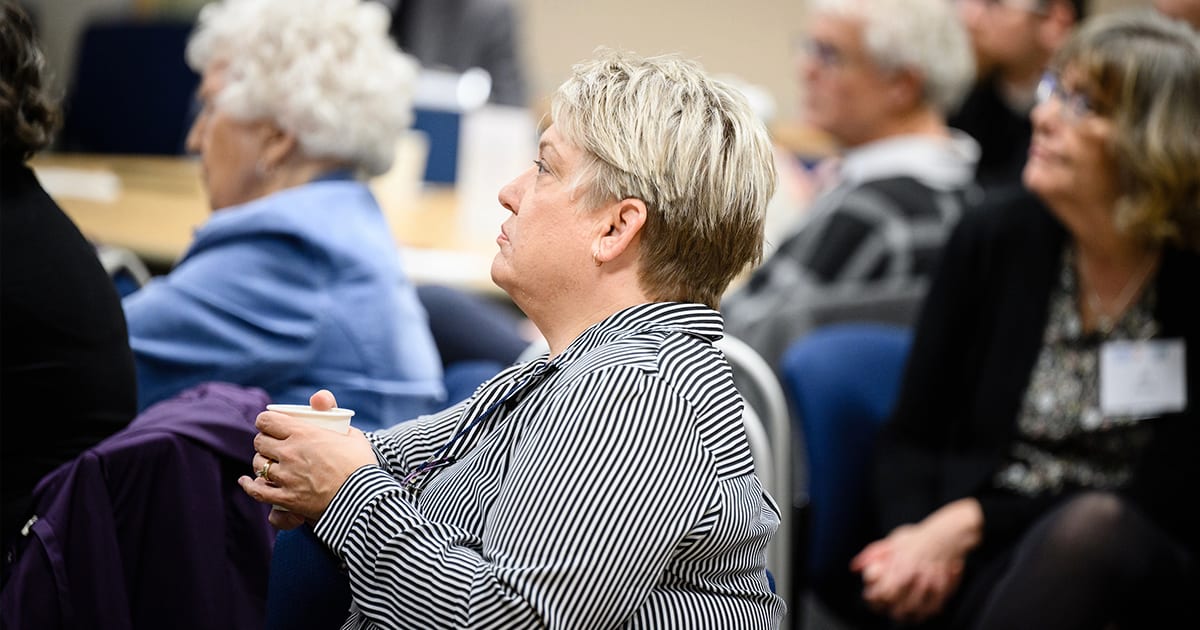 Life Conference
Sessions at the Life Conference covered a range of topics, from ethics to apologetics to mental health to daily life.
The Rev. Dr. Matthew Durance, pastor of Zion Lutheran Church in Harbor Beach, Mich., discussed "Teaching Life through the Divine Service," highlighting how parts of the liturgy uphold the sanctity of life. The Gloria condemns abortion by celebrating Christ's nativity; the Nunc Dimittis condemns assisted suicide by reminding us that our days are numbered and our life in God's hands; and, when we make the sign of the cross, it calls to mind Baptism and answers the question "Who am I?" in a way that contemporary ideologies never can.
In his talk, "Martin Luther's Amazingly Modern Advice to Those Suffering Mental Illness," Dr. Stephen M. Saunders, professor of psychology at Marquette University, used examples from Luther's personal correspondence to demonstrate the similarities between Luther's advice to those with mental health struggles and modern cognitive behavioral therapy. "Luther thoroughly understood that thinking and behavior affected how people feel," said Saunders. Luther's manner of advising healthy behavior and addressing negative thinking, along with his kindness and his emphasis on the theology of the cross, provide an example today for pastors and laypeople alike.  
There were several sessions that addressed end-of-life issues. The Rev. Dr. Kevin E. Voss, director of the Concordia Center for Bioethics at Concordia University Wisconsin, Mequon, Wis., presented on "Biblical Reflections on the End of Life and Physician-Assisted Suicide." He discussed the Christian view of care at life's end and provided updates on euthanasia and assisted-suicide legislation around the world, including in the U.S.
The Rev. Michael Mohr, president of the LCMS Central Illinois District, presented on the "Ars Moriendi," or the Christian art of dying. He encouraged the use of specific rites such as the Commendation of the Dying and the Rite of Visiting the Sick; however, he also described how preparations for and reflections upon death are present throughout our worship and prayers, including in over 400 hymns in Lutheran Service Book, which "train us in this most sacred art of dying" every week.
Lutherans for Life Director Rev. Michael Salemink discussed "Speaking the Truth in Love: Engaging Abortion Advocates' Arguments and Objections." Salemink encouraged listeners to respect the dignity of others in conversations about life issues and to show them that they, too, have value as human beings. He walked through specific pro-abortion arguments, responding to them with clear science and the hope of the Gospel. "Our ultimate goal as Lutherans is to proclaim the grace of God to the broken one right in front of us," said Salemink.
In his homily for conference's opening chapel, Harrison preached on Hebrews 4:14–16: "Since then we have a great high priest who has passed through the heavens, Jesus, the Son of God, let us hold fast our confession. For we do not have a high priest who is unable to sympathize with our weaknesses, but one who in every respect has been tempted as we are, yet without sin. Let us then with confidence draw near to the throne of grace, that we may receive mercy and find grace to help in time of need."
Harrison asked the assembly, "What has the fall of Roe v. Wade taught us?" He said the answer, as seen in the continued battle to protect life around the country, is that the church cannot save America. "That's God's job," Harrison said.
"We bear witness in word and deed," Harrison continued. "We are put on this earth to hold fast to our confession, to know that we have a high priest who has gone before us, and we shall follow Him where He goes, come life and come death, and serve Him joyfully in His name — to be a blessing, even us … wretched sinners, even us today. Let us hold fast the confession. In the name of the Father, and of the Son, and of the Holy Spirit, Amen."
In remarks before the conference's closing worship, Manor said, "Our Making Disciples for Life triennial emphasis … is about making resources available and learning from one another. We are learning from you just as much as you are learning from these speakers." She went on to encourage those who care about the sanctity of life to get involved, particularly in their own congregations and communities, noting that, in the "new frontier" of post-Roe America, "the encouragement that we truly have is in God's Word." 
Learn more at lcms.org/life.
Megan Mertz, Stacey Egger and Sarah Reinsel contributed to this story. 
Posted March 27, 2023